LITTLE ROCK, Ark. (KTHV) -- It's called a smartphone for a reason. Your cell knows your exact location but in an emergency, there are times, 911 doesn't.
Add to that, allegations of a local 911 problem some say cost the lives of a Little Rock mother and son.
Pulaski County Operator: "Hey, Little Rock. This is Pulaski County. I've got a lady and a small child in a car that has slid off into a pond. "They're going to be on Cooper Orbit and Rushmore. She's on the line here with us." "I'm gonna let you talk with Little Rock, ok?
Yi: "Yeah"
Little Rock Operator: "Ma'am?
Yi: "Yes - I am falling into the pond and I feel the water in my car right now."
It was Jan. 14, 2013. Jingli Yei hit a patch of ice in Little Rock. Her five year old son Leo was in the back seat.
Yi: "I'm falling down into Cooper Orbit, at uh, Pinnacle here."
Little Rock Dispatcher: "Ok. So you said you and your child are in the car?"
Yi: "Yes"
Little Rock Dispatcher: "What is your name, ma'am?
Yi: "My name is Jinglei. J-i-n-g-l-e-I"
Little Rock Operator: J-i-n-l-e-i?"
Yi: J-i-n-g-l-e-i
Fifty-three minutes ticked by before rescue crews pulled Jinglei from the freezing water and 70 minutes for Leo. The mother and son later died. In 2013, the city told THV11 the Little Rock operator failed to dispatch police and fire, which caused the delay. Recently, THV11 found more allegations.
"And you said you're on Cooper Orbit?"
Yi: "Yes."
Little Rock Operator: "Hang on with me alright?"
Yi: "Yes"
Little Rock Operator: "Why is this not taking it?
THV11 tried to answer the operator's question, but because of a pending lawsuit, the city of Little Rock declined our request.
Our 2013 archives with police show the operator was forced to override the address in order to get help.
"She wouldn't have had to execute the override if the city had properly maintained the 911 system," says Carter Stein.
Stein is the lawyer for the Dayong Yang, the victims' husband and father. He says Little Rock failed to add the Cooper Orbit/Rushmore intersection to their 911 map.
In response to the lawsuit, the city denies those claims.
Stein provided THV11 with three other documented instances where a 911 call was placed from that same intersection. He says each time the operator had to override the address.
Call-taker procedures show Little Rock operators "will advise their shift supervisor anytime they must override a street address."
The purpose?
Stein explains, "So that they can get the intersection, or the address, or the address range updated in the system. THV11's Ashley Blackstone asks, "And do we know if that happened?" Stein responds, "Not until after this tragic event."
And while Stein blames the city's mistakes and the operator's errors for their deaths, he also agrees time was lost with Yi's initial call.
"In a perfect world, the cell phone that you're calling 911 from, which is how most people call 911 now, that cell phone will know which jurisdiction it's in.
Pulaski County 911 answered Yi's first call for help. But she wasn't in Pulaski County. That's because the address of a nearby cell tower determines which 911 center calls go to, and not the physical location of your cell.
There were 97,000 911 calls in Pulaski County last year and 94 percent of those came from cell phones. Shift supervisor Roy Baker says about half of their calls have to be rerouted because they've reached the wrong center.
"Sometimes it's a gamble as to where they're going to be."
911 centers across the country are seeing a significant drop in the number of emergency calls that deliver a dispatchable address.
Your phone knows where you are but the phone company and the 911 center have to pull your location through the tower. Sometimes it gives no location. When it does, it can take 30 seconds or longer. Even then, that location is not exact.
Baker says, "That coordinate depending on the phone carrier can be anywhere from five yards to 500 yards."
But David Simpson, the chief of FCC's Public Safety and Homeland Security Bureau admits sometimes the tower location can actually be miles away from where you are.
We asked the state for data on how many cell phone calls come into 911 without the callers location, but Arkansas doesn't keep track.
Gannett journalists across the country found the numbers vary widely, but in some states like California, Colorado and Minnesota, emergency responders could have trouble locating cell phones roughly half the time.
Simpson says, "My boss, the chairman of the FCC, tells me all the time, 'Dave, not on our watch. Let's work to close these gaps, to make 911 a better system than it's ever been before, by examining each of these shortfalls and one by one working to close the gaps."
In Atlanta, a woman, trapped in her sinking, car called 911.
She said, "Ma'am, I'm losing air very quickly."
The dispatcher responded, "Give me the address one more time. It's not working."
She died before help arrived.
Simpson says, "With the technology that's available to us in this day and age, we've got to pull the community together to bring better capabilities to bear than we have today to respond to situations such as this."
Under recently adopted rules, within two years the FCC wants carriers to be able to locate 40 percent of all wireless calls. Within three years, half of all wireless calls. Within five years, 70 percent and within six years, 80 percent. Even by 2021, cell phone carriers won't be required to locate one out of every five calls.
But the rules do not address the persistent issue of wireless calls reaching the wrong 911 center. Updated standards still rely on the tower's address for deciding which call center gets the call.
In Arkansas, there is a legislative committee that is currently studying the 911 system in the state. They are working to identify everything from a lack of technology, to a lack of funding. It will likely be 2017 before the report is complete.
911 calls in Arkansas in 2013 – 2,749,079
Wireline calls in Arkansas in 2013 – 340,543
Wireless calls in Arkansas in 2013 – 2,408,536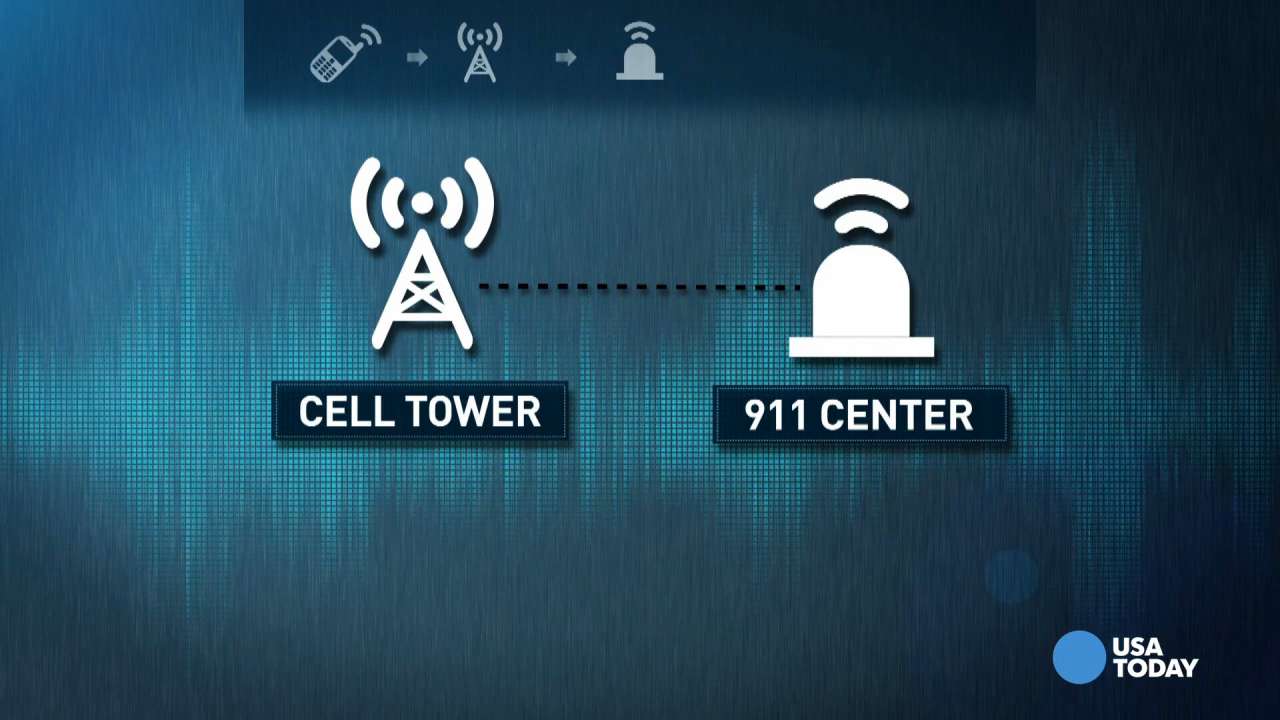 The 911 system was designed for landline telephones, transmitting your call and your location instantly over a hard-wired connection.
Today's cellphone system does not automatically send location data when you dial 911. After the call comes in, the dispatcher's computer transmits a digital request to the cellphone network seeking the phone's location. The data exchange can take seconds or even minutes. Sometimes, it doesn't return a location at all.
The most high-tech 911 centers automate the process, digitally requesting the location every few seconds. If the system can't locate the device, cellphone carriers' systems will use nearby towers to estimate. These methods sometimes do net location information later, although public records show some call centers see major gains as calls go on and others see only marginal improvement. Often, 911 calls end before that digital back-and-forth yields a specific location for emergency responders.
In short, your phone's apps are connected directly to the GPS unit inside the phone. The 911 system relies on getting that information through a relay process, although the FCC's Simpson said the agency wants to work with companies such as Google and Uber that have mastered location services to build a 911 app. The more immediate focus is to make continuous improvements to systems to "close the gap between Americans' expectations of what 911 will do for them and what it can really do."
The quest to make cellphone calls to 911 more useful to emergency crews began in the mid-1990s. The FCC set a deadline: Two-thirds of cellphone calls would transmit location to 911 by 2002. That rule was written when cellphone calls were mostly made outdoors, and the industry says it can meet the goal when applied only to outdoor calls. The deadline got pushed back several times since then.
The proliferation of mobile phones means a problem impacting a tiny share of calls fast became a problem for most calls. In many homes, a cellphone is the only phone. Exponentially more calls are made indoors, creating more interference for networks trying to get a location fix.
Even when 911 does receive a location, it's sometimes wrong. Test calls by Gannett journalists working with 911 centers in the Denver, Washington, Minneapolis and Charlotte areas resulted in calls without location data or with coordinates that were off by hundreds of feet.
Green Bay Police Chief Thomas Molitor wrote FCC Secretary Marlene Dortsch in December lobbying for fast movement on the issue, saying dispatchers and callers face enough stress during a 911 call, but public safety teams can't provide a solution without a location, which they have with less frequency.
"An estimated 10,000 people each year would be saved with accurate location standards from indoor cellphone calls," Molitor wrote, citing an FCC estimate for the number of lives that could be saved by a one-minute reduction in emergency response times. "Whatever hang-ups they have cannot be more important than 10,000 lives."
Have you heard of Smart 911? It's designed to give 911 valuable information about yourself, family, home, pets, and more that will automatically display on the call-taker's screen when you make an emergency call. Create your profile here.