MCCRORY, Ark. (KTHV) -- A McCrory police officer was laid to rest Tuesday. 26 year-old Aaron Barker was killed in the line-of duty on September 16, after hitting a deer in his patrol car.
The McCrory was on his way to back up a Woodruff County sheriff's deputy early that morning.
"We stand behind law enforcement, firefighters, and first responders in this country, every day. We will continue to do so, and nothing will deter us from that," said Jerry Ashby, assistant director of the Arkansas Patriot Guard Riders, who held the flag line for Barker's service.
"Aaron loved his job; that's what he always wanted to do. I remember sitting with his sister, and his father, and him. He told me, what he wanted to do in life, was to be a police officer," said Barker's minister, to the crowd of friends, family, and law enforcement.
"Of course, we've got a small community but you can see here the support that's pouring out for this family in the face of this tragedy," said McCrory Mayor, Doyle W. Fowler.
Dozens of police, fire, and EMS departments, from as far as Memphis, turned out for the service to show their support.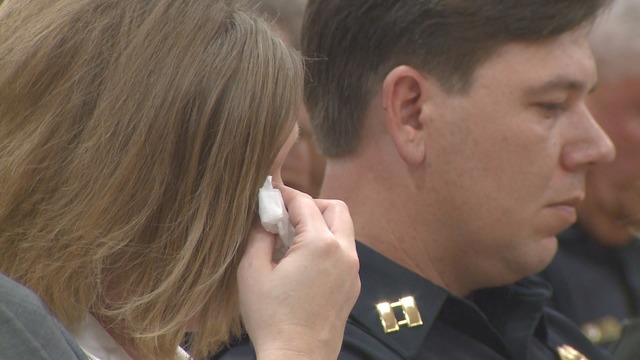 "One thing that can be said of Aaron: if you gave him trouble, he would knock you out. But, he would be courteous doing it. He'd be polite," said the minister. He added that Barker worked for three different police departments and served as a volunteer firefighter.
"Aaron was a fine young man, with a beautiful smile, a great sense of humor. I know he is a child of God."
A sea of blue surrounded Barker's casket as his body was escorted by members of over a dozen different police departments to his final resting place in Fisher.