LITTLE ROCK, Ark. (KTHV) -- Midtown Billiards, a historic billiards hall, caught fire Monday, leaving first responders and bar employees to try to figure out what caused the fire and what to do next.
Midtown Billiards stayed on South Main when few other businesses did, and managers said they are ready to rebuild the restaurant.
"I don't know when, but we will reopen," said Midtown Billiards general manager, David Shipps.
He was already making plans to reopen the bar, even as firefighters clean up the fire damage and investigate its cause.
"We just shut the doors at 10:20. We were all headed out to lunch when it happened," Shipps added.
Thankfully, no one was inside Midtown Billiards or Raduno, next door, when the fire broke out.
"When our first crews arrived at the scene, they said they had heavy smoke showing out of the structure. They went in and quickly extinguished the fire, and within 20 minutes, the fire was out," explained Captain Edwin Woolfe with the Little Rock Fire Department.
The heat was a real issue for first responders, and not just inside the bar. When firefighters got out of the bar, many fell to their knees just outside and started peeling off all of that heavy gear.
"They have to really make sure they're hydrated. We also have MEMS here on the scene," said Woolfe. He added the fire was mostly contained in the kitchen area.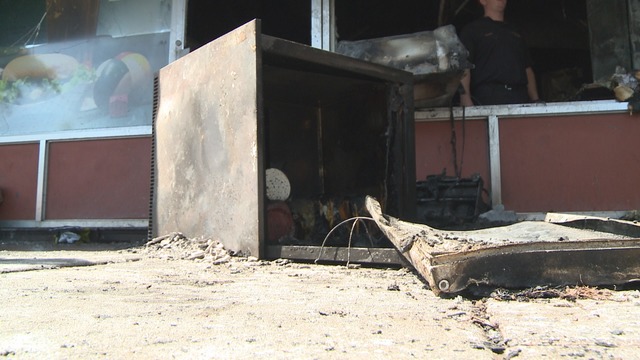 Smoke damaged the back of the bar, the ceiling, and the surveillance system. Fire Marshals took the cameras with them to help determine the cause.
The smoke also made its way next door to Raduno, where the owners were trying to secure fans to blow out the smoke.
"I thought it was going to be pretty bad," said Raduno co-owner, Eric Nelson. "It was really thick smoke, but it was really not that bad. The power is out for probably today, and we will be open I guess in a couple of days."
Shipps said he's eager to reopen Midtoen Billard so his employees can get back to work, as most of them don't have another job to fall back on.