Tackling tough car lines using technology
NORTH LITTLE ROCK, Ark. (KTHV) - Among the many positives that come with living in Arkansas are few traffic headaches like other places across the country. That's true except for about an hour every day around many schools in the Natural State.
Parents and grandparents have car-line horror stories, but the middle school at the Lakeside district in Hot Springs is using technology to make improvements.
"The main thing for us is always going to be for us to load our kids up as safely and efficiently as possible in a way that we know we got them to their parents and guardians," said assistant superintendent Bruce Orr.
He and principal Jamie Preston prowl through a double line of cars that stretches off the property. Daily it's about 150 to 180 cars long.
To alleviate the rush. the district is the first public school in the state to sign up for Car Rider Pro. It's a mash up of tools like automatic toll collectors and gate fobs.
"Instead of having to put them all out there at one time and have them all searching," Orr said. "Middle school kids can't see over those big cars. So they know that when we dismiss for car riders, those 20 are already out at the front. We only send out the kids when we know their cars are out there."
Every parent or caregiver signed up to get a mirror tag. It has a bar code and is numbered. The tag passes a solar-powered scanner and registers on computer screens in the school. Students and teachers can see exactly where mom, dad or their grandparents are in the queue.
And from there, the car-riding students go out in batches, load up and then cars leave in groups of about 20 at a time.
In the first three weeks of the school year, Preston and Orr have gone through the line to make sure everyone has a tag and that the software picked it up. They say so far, so good.
Parents say they've already seen improvements this year.
"Yeah I think it goes a lot smoother. A lot smoother," said Randy Hughes, a father of a 6th grader.
"I think it's going to be great," said Leanna Guse, who was trying the car line for the first time year to pick up her granddaughter. "Last year was kind of a fiasco."
"We get through the line a lot faster with the Car Rider pro," echoed Cindy Stephens, who has three kids already in the district including one who moved through the middle school four years ago.
"Traffic is moving a lot smoother the way they've got it set up now," said Vickie Acrey, who had her customary spot first on the line both before and after the tech upgrades. "When they announced they were getting it I was like 'Go Rams' because they really need it."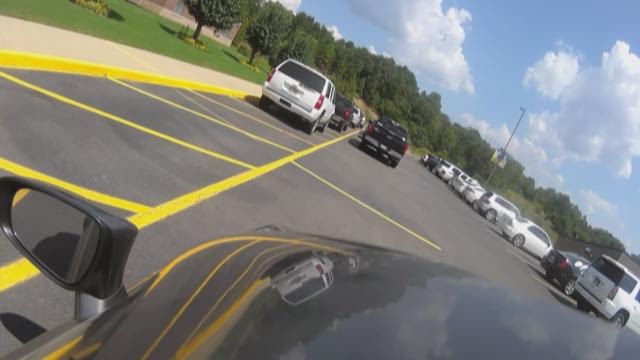 The Lakeside Rams leaders already have quantifiable results after three weeks.
"It was probably taking us with cars kind of backed up a good 20 to 25 minutes," said Orr. "We've had a few kinks, but we're down to about half that …10 to 15 minutes."
Orr says Lakeside is one of the biggest roll-outs for Car Rider Pro so far.
And it hasn't cost taxpayers anything either.
"IT's software-based. We wanted to use the scanner, but all you need is the software and an iPhone," said Orr. "For smaller districts, this something I could see a P.T.O. doing because it really is something that really helps parents."