LITTLE ROCK, Ark. (KTHV) - It is something most people do not talk about a lot, but the statistics are staggering.
Suicide is a silent epidemic and the third leading cause of death for people age 15 to 24, and Arkansas ranks higher than the national 3% average.
Alex Johnson, a 17-year-old from Little Rock, took his own life in December of 2015. His family hopes by sharing his story, they will help prevent this from happening to someone else.
"He was very thoughtful and kind with his friends, very loving," said Alex's mom, Sarah Johnson. A high school junior, his mom describes him as always being surrounded by friends with a passion for sports.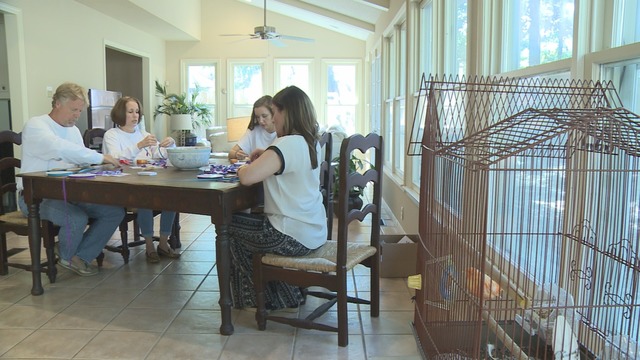 "He loved baseball; he was a big baseball player. He played soccer. He liked to surf. He loved to skateboard," said Johnson.
On the outside, Alex seemingly had it all.
"He was just a typical 17-year-old boy," said Johnson.
However, that changed on December 19, 2015 when Alex committed suicide. His mom describesdit as a nightmare that will never go away.
"It will never heal and that's why we have to do something. Because my child is not here anymore and that is not OK," said Johnson. "There is a stigma attached to it, but we've got to stop that."
Instead of remaining silent, Johnson and her family have chosen to speak up. This month, they are passing out 5,000 turquoise and purple ribbons along with a card with Alex's photo on it, as part of Suicide Awareness Month. They plan to pass out the ribbons to local businesses and schools in the community. They have also made a website and created a Facebook page. They describe the sites as an outlet for those who may be suffering in silence.
"He wanted to be an outlet for people. We are trying to be that with private messages and our website with hotline numbers to provide people with that resource that we need," said Alex's sister, Anna Johnson. "That was something he wanted to do, too.
"It's not just a September issue. It is year round and we are just trying to bring it to the forefront."
Johnson said she hopes Alex's story gives hope to those that feel they are alone.
"For my son to do this, anybody can do this. He had the world, and he didn't know," said Johnson.
To learn more about Alex's story, you can visit the Facebook page, 'Alex's Army 17.'
For more information on the warning signs and symptoms of teen suicide and suicide hotline information visit Alex's website.