Bullets zip, buildings go boom and wise-cracking crackles in "Bad Boys For Life," courtesy – once again – of Will Smith and Martin Lawrence's snarky Miami detectives who have a penchant for the destructive when they're not looking to loft a vulgar dig at the other. Maybe you didn't need to be reminded of what the "Bad Boys" series made its name on when it bowed in 1995, but then again, maybe you did—especially considering it's been a whopping 17 years to get from "Bad Boys II" to this latest entry. After all, "Rush Hour," another buddy cop action-comedy franchise at least partially inspired by "Bad Boys's" authority-defying antics, pumped out three movies in almost half that time.
So, yeah, it's been a while – as in, the industry's reliance on old-school action fare has completely changed – since we've seen Smith's Mike and Lawrence's Marcus battle South Florida crime, typically while laying waste to heavily-populated areas and creating anxiety for Joe Pantoliano's twitchy Captain Howard, who also returns for a third trip around the action spectacle sun. And while director Michael Bay, who helmed the first two installments, isn't applying his bombastic touch this time, co-directors Adil El Arbi and Bilaal Fallah (styled as Adil and Bilall) do their best impression of him with another series entry that's high on powder-keg testosterone and higher on its body count.
Gunfights and car chases are still as annoyingly loud as they are visually frantic, if not quite as stylized as Bay's gore-happy vision, though it's worth wondering what "Bad Boys for Life" brings that, say, last summer's "Hobbs and Shaw" does not...aside from this movie reminding us that blood typically spurts when it's punctured by bullets, glass shards and other deadly objects. Yes, the franchise still loves its violence.
George W. Bush was still in office the last time we saw Mike and Marcus on the big screen, and "Bad Boys for Life" delights in showing how much time has passed in the world of the movie as well. Mike is dying his goatee, Marcus is a grandfather now – meaning that, once again, he's mulling retirement and ending the bad boys' ride early – and the duo's legend has grown to mythic status…to the point where it's Mike being targeted by mysterious killers from across the border that spins the plot into motion. "Bad Boys for Life" was written by Chris Bremner, Peter Craig and Joe Carnahan – the third set of scribes to take a stab at the series – and they pay exponentially closer consideration than previous franchise screenwriters to crafting villains with deeper, more interesting and more personal motives than its previous forgettable foes. For the first time, it's Mike and Marcus who are being hunted instead of doing the hunting, and the story proves innovative in its surprises but outdated in its stereotyping (as much a series staple as anything) when a Mexican antagonist referred to as "La Bruja" has intent that barely expands beyond the malicious.
In fact, "Bad Boys for Life" – fascinatingly – finds itself caught in trying to compromise between different Hollywood eras, different industry attitudes about what passes for acceptable in action movies, that most popcorn-y of film fare. Women have more active roles than the 25-year-old franchise has ever seen, yet the depiction of Kate del Castillo's murderous matron borders on the demonic in one early scene. The series has moved fully past using homophobia and sexism for its punchlines, but I wouldn't exactly call Mike and Marcus's humor progressive (that might mold the series's identity into something unidentifiable).
And while the still-effective formula of Smith and Lawrence's caustic bickering is the reason fans will flock to their big-screen return, the story of this third installment contains more gravitas than "Bad Boys" and "Bad Boys II" combined, influenced perhaps by the tendency of recent guys-with-guns franchise entries (think "Mission: Impossible" and Daniel Craig's Bond adventures) to make the stakes personal when, once upon a time, the stakes amounted to the outrageously hyperbolic. Because we expect "Bad Boys for Life" to hum along on the comedic chops between Mike and Marcus, the movie's eventual re-focusing on another relationship in its deadly-serious second hour has the tendency to inject pathos into spaces where pathos doesn't quite fit, not when we expect a "Bad Boys" payoff to be of anything but the emotional kind. At least I found myself guessing more than either of the first two "Bad Boys
movies, and not just numbed to the spectacle.
Elsewhere, it's a treat to see Smith just having fun again on the big screen, and it's nice to see Lawrence on there at all—the latter's turn as the coked-out Captain Wack in 2019's "The Beach Bum" reinforced how strong a comedic force he can still be, in what was his first movie in the better part of a decade. Smith, on the other hand, spent the 2010s practically trying to will into existence the kinetic personality that skyrocketed him to fame in the '90s, to results either dull ("Bright," "Suicide Squad") or horrifying ("Aladdin").
Adil and Bilall, thankfully, do the best of any filmmakers in recent years to revitalize the classic Smith persona. "Bad Boys" was always at its best when it centered on its bad boys volleying vulgar dialogue to the point where it feels like playful improv. You get the sense at times that Smith and Lawrence are sticking tightly to rehearsed lines more than they have before in "For Life," but it doesn't totally deplete their R-rated charm; the movie still finds laughs in Marcus's futile journey to become a pacifist, as well as the requisite man-beyond-his-time tropes.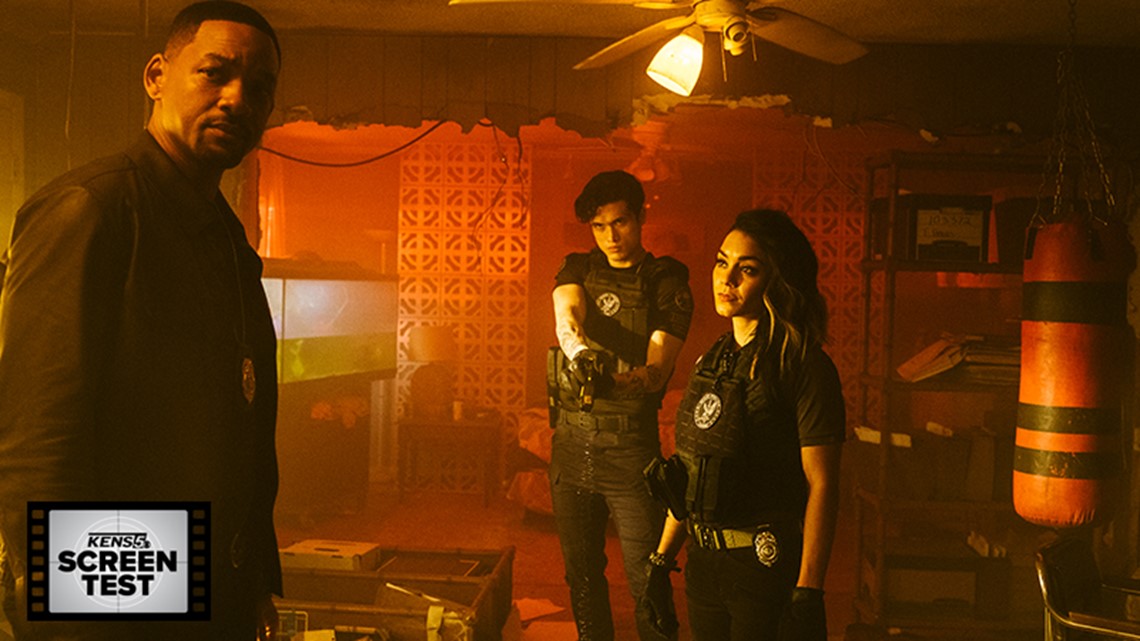 It isn't just that we have the opportunity to catch up with Mike and Marcus, celebrating 25 years of partnership early in the movie before mayhem arrives on their doorstep. "Bad Boys," too, has plenty of catching up to do with a genre that, over the past 17 years, has become interested in re-purposing yestercentury's masculine avatars for contemporary fish-out-of-bloodthirsty-water stories; think of Rambo as a grizzled, misunderstood grim reaper, or John McClane clashing with cyberterrorists.
"Bad Boys for Life" resurrects its detectives in a similar, albeit more merciful way, pitting them against new-school ways of law enforcement. Enter the attractive, buff young crimefighters (played by Vanessa Hudgens, Alexander Ludwig and Charles Melton) of the new task force AMMO, along drones and laments about not jumping into the fray to take care of business the old fashioned way.
Smith and Lawrence – both in their 50s, if you can believe it – do more than enough to hold their own, and it says something about the movie's reluctance to stray too far from the comfy abodes of rollicking 90s action cinema that old-school run-and-gun tactics eventually re-emerge over the use of shiny new tech. "Everybody's way too serious," Mike says at one point during an AMMO-led operation. "Raids are supposed to be fun." When "Bad Boys for Life" prioritizes fun above all else, it's at its best. After all: Who in their right mind would prefer a drone over a gun-toting Will Smith?
"Bad Boys for Life" is rated R for strong bloody violence, language throughout, sexual references and brief drug use.
Starring Will Smith, Martin Lawrence, Joe Pantoliano, Paola Nuñez
Directed by Adil and Bilall
OTHER SCREEN TEST REVIEWS: