Vote on your favorite 2018 Drain Smart art!
Organizers with Drain Smart, a program aimed at communicating the link between street litter, storm drains, and water equality, have opened up online voting to the public!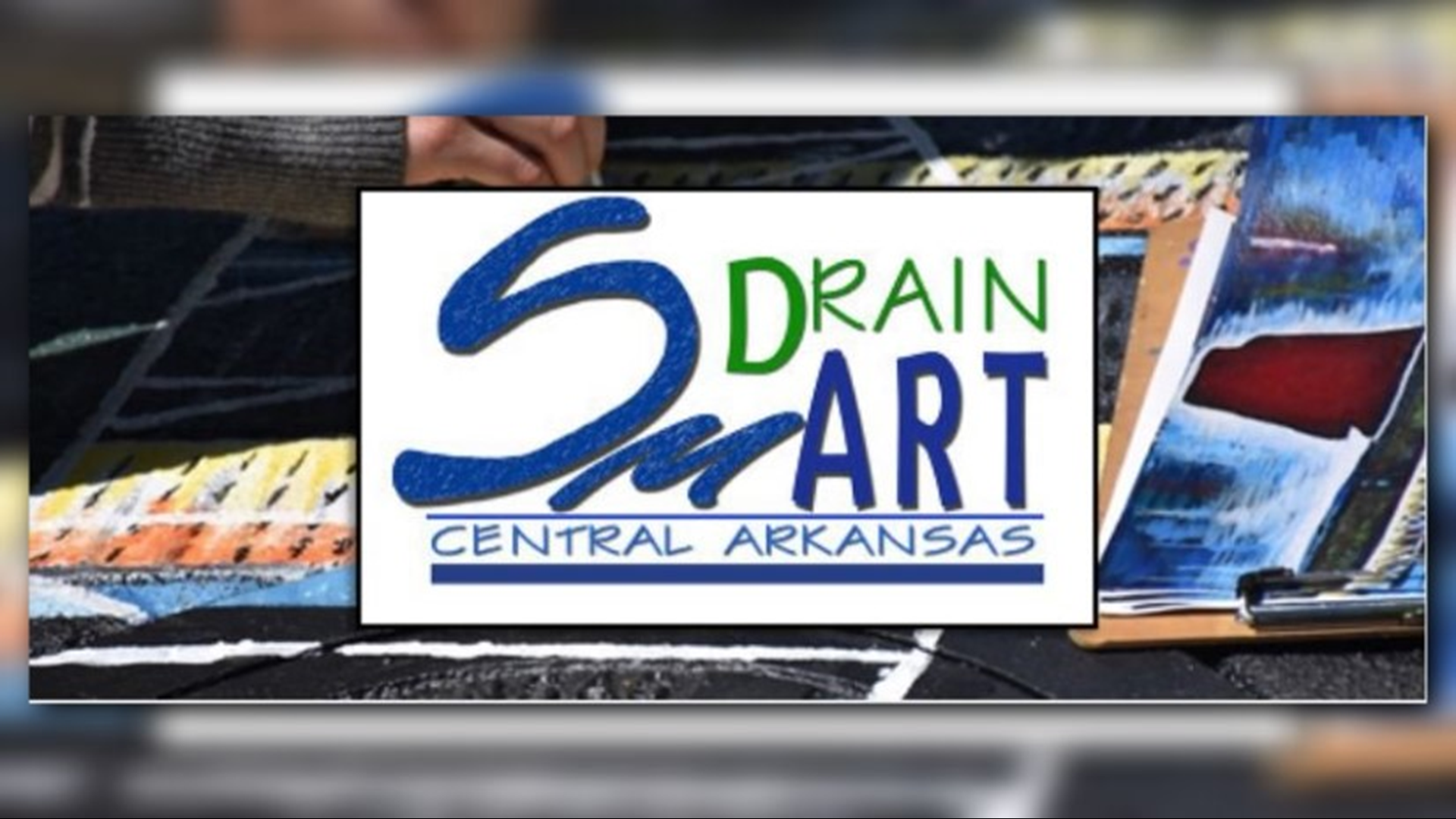 DRAIN SMART 2018
:
Organizers with Drain Smart, a program aimed at communicating the link between street litter, storm drains, and water equality, have opened up online voting to the public! Take a look at the 2018 Drain Smart Central Arkansas art below and cast your vote for your favorite!
"Drain Smart" is a public art program aimed at raising awareness on education and protection of local streams.
Like most cities, Little Rock's storm drains flow directly into our streams. When it rains, water picks up everything in its path and carries it through storm drains into streams and creeks. Drain Smart is an engaging public-education and environmental program that uses art to communicate the importance of reducing the litter that flows into storm drains.
Cast your VOTE below
:
You can only vote once
Diann Blevins
:
"Flows to the Ole Fishin' Hole"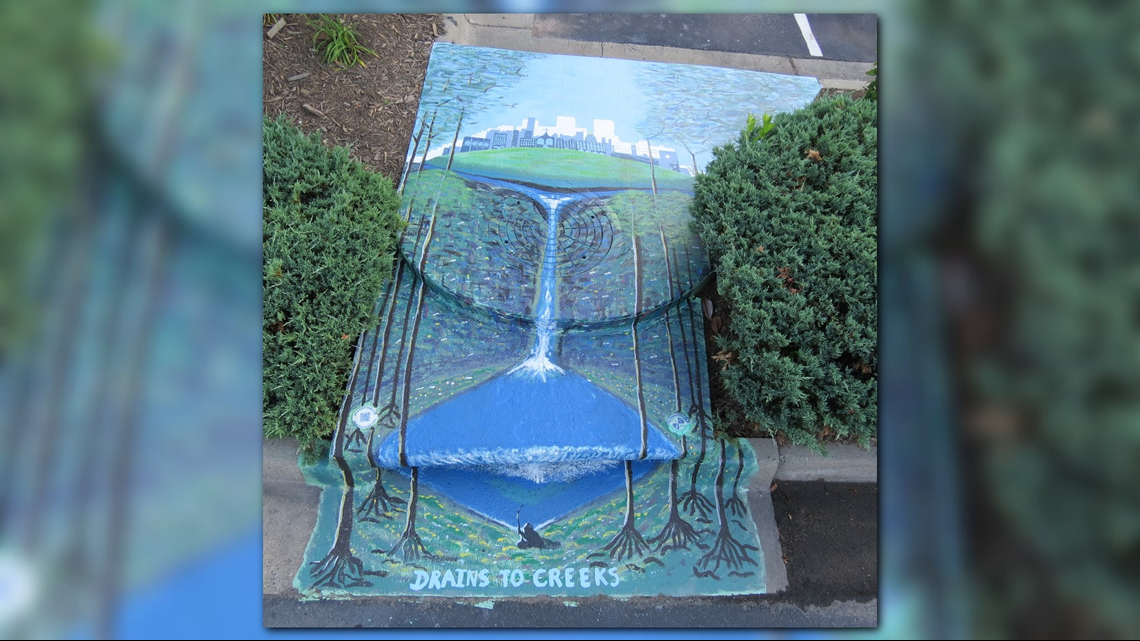 The mural is the essence of Drain Smart's vision, to show the significance and impact that we in Little Rock have on our environment, particularly our waterways.
With the silhouette of Little Rock crowning a beautiful, cascading waterfall that crescendos then flows into a magical serene pond where one lone fisherman enjoys his ole fishin' hole, Diann tried to show how universal the need is to protect these beautiful oases of humanity. She wanted to not only make people aware of this need but also instill in them a sense of ownership, a desire to want to protect their own private oasis. Also, to show them that Drain Smart's vision can be their vision, too. That it takes all of us here in Little Rock to keep our city's precious environment clean by one simple act, watching and monitoring what we allow to go down the drains.
She is a native born Arkansan, having lived here for 63 years, 25 of those in Little Rock. She is a retired CPA, and have discovered her love of painting only in the last two years. She has already won more than 20 first and second-place ribbons at the Saline County Fair and the Arkansas State Fair. She also won a best of show at the State Fair. She has exhibited in juried showings at the Argenta Library in North Little Rock and the Garland County Library in Hot Springs. She's had a few lessons but is really a self-taught artist. Diann is a member of the Arkansas Arts Center and has taken lessons there. She now has a growing clientele of people commissioning her work for portraits, fur baby portraits, and have started her own art business called Paint2Motivate. She loves to give thought-provoking insights into her paintings and love giving comfort to people through the portraits they request. She has also assisted people in their home design incorporating my pieces.
Kristen Farmin
:
"AR Symbols"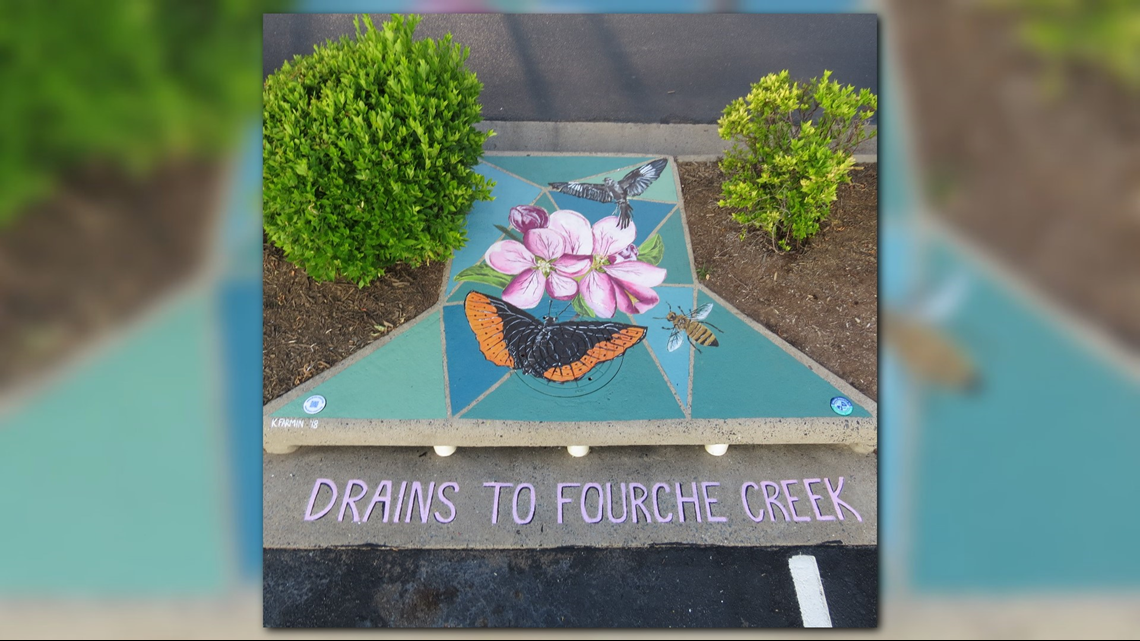 This piece displays some of our state symbols, representing exactly what we must strive to protect in our "Natural State." The organic forms of the mockingbird, apple blossom, honeybee, and Diana Fritillary butterfly are contrasted by a geometric design in the background. This juxtaposition illustrates a harmony between nature and the infrastructure of our city.
Kristen Farmin graduated from UCA in 2012 with a degree in art education. Currently, she teaches graphic design and photography at North Little Rock High School and enjoys freelance design as a side gig. As an art lover, there aren't many art-making techniques out there that she hasn't at least tried. Kristen is a firm believer in the transformative power art can have not only on an individual but on society as well.
Hannah Walz
:
"This Does Not Taste Right"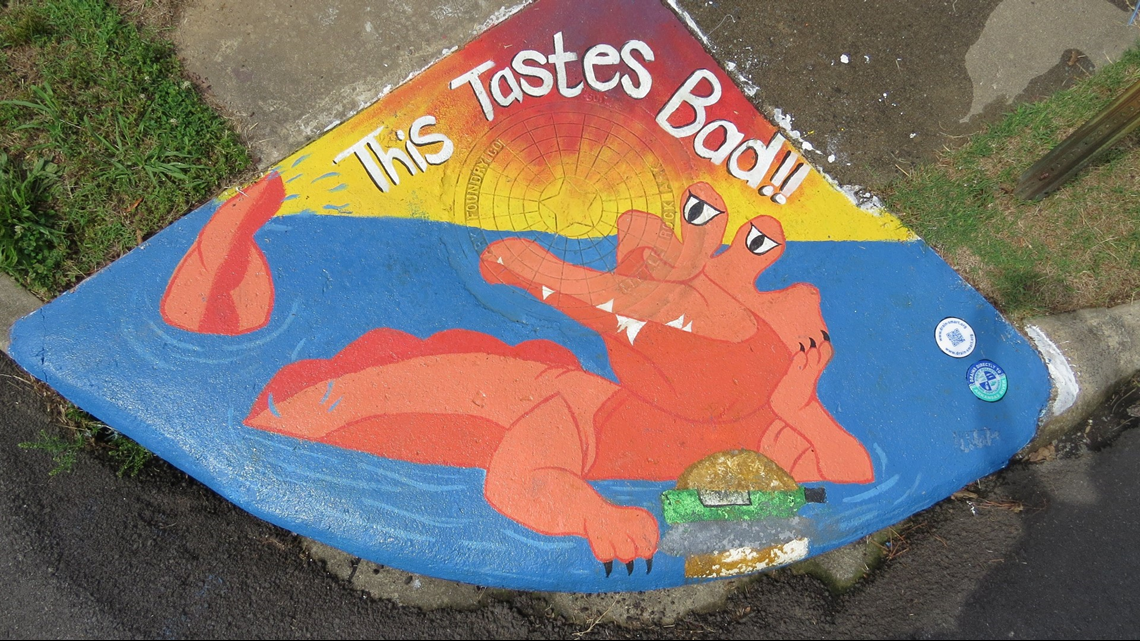 All of the trash that we let go into our water damages many different animals that are eaten by other animals. So once they are eaten they might "taste" different, which might damage the other animals that not only live in the water but eat the smaller animals. Many people like to fish and eat the fish that they catch from our rivers. They might get sick because the fish is sick. So, putting trash in the water might not only affect animals but affect us too.
Hannah graduated with the class of 2018 from Maumelle High School. She was an art student for three years and a band student for seven years. She started out with just markers and then went to charcoal. She only recently picked up painting, and have learned a lot from painting that she has applied to other mediums. Hannah learned a lot from her two art teachers John Van Horn and April Smith.
Patricia Graves
:
"Type Flow"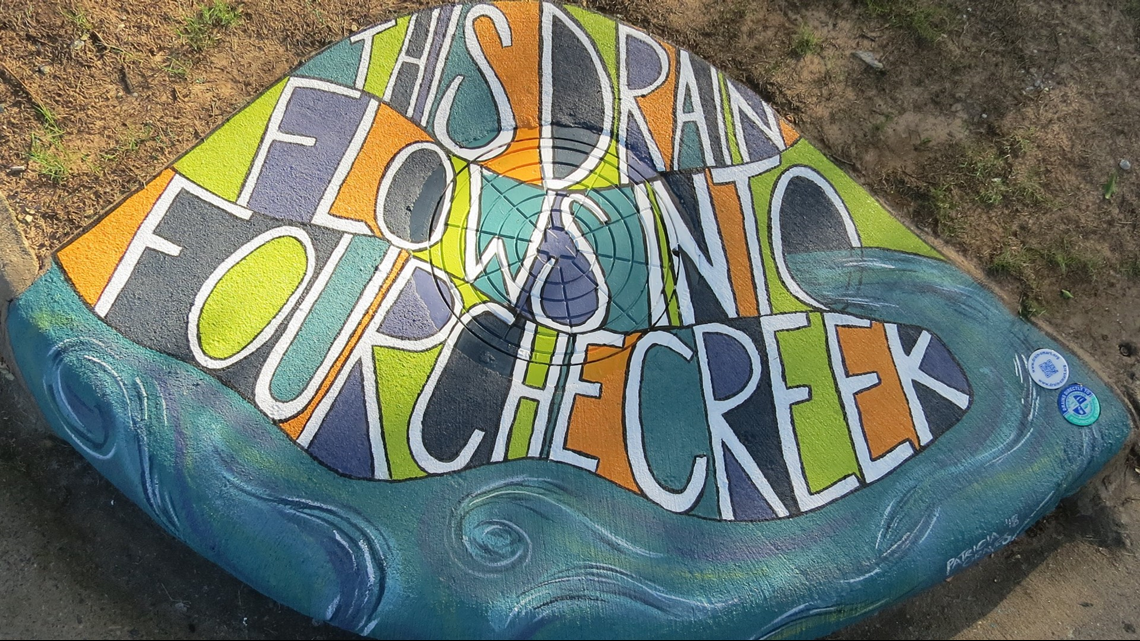 As a graphic design teacher, she loves lettering. This design ebbs and flows like a stream over the drain cover. The water coming out of the O in "into" turns into the Arkansas River with a small illustration of Pinnacle Mountain at the bottom.
Little Rock native Patricia Graves is a freelance graphic designer and design teacher at Bryant High School. She loves the mixture of natural beauty and city culture that Little Rock has to offer. Her passion is sharing the love of art and design with others. With each project, she hopes to make the world a more interesting place.
Debbie Doss
:
"More Life Less Litter"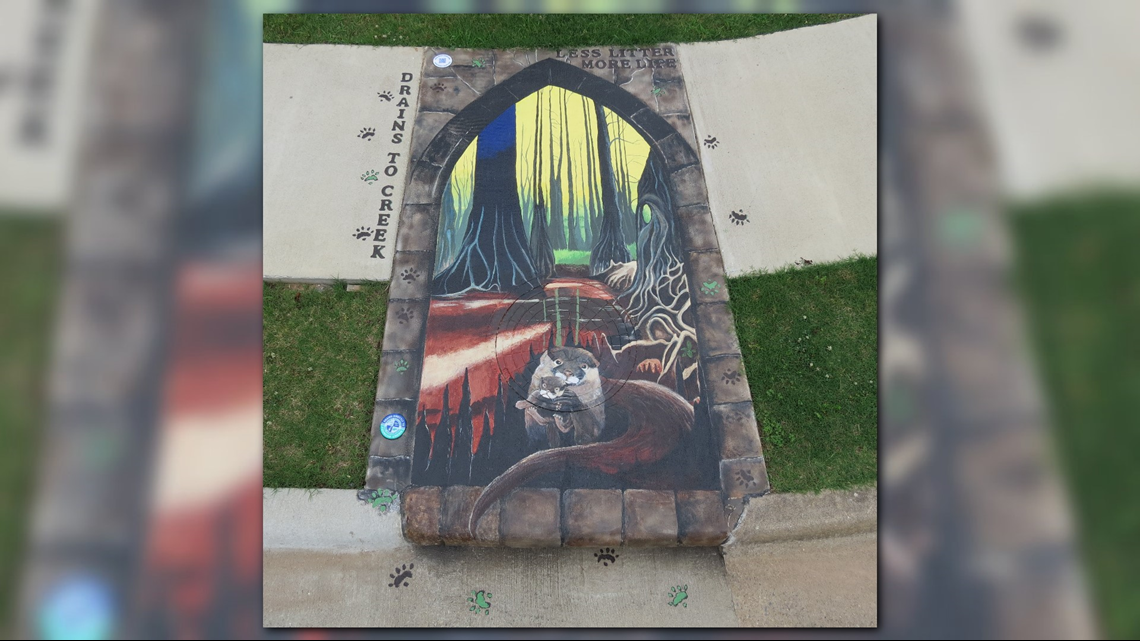 A mother otter is holding her baby in a wetland scene, framed by a Gothic arch, with colors similar to stained glass. Debbie thinks of it as the Madonna of Fourche Creek. Otter tracks lead in and out of the drain.
Her father was a high school art teacher and she has been painting most of her life. She has a degree in history, biology, and most of the requirements for a degree in art, plaus an M.S. in Psychology. She's recently retired from a career in public schools. She has worked on conservation projects and building paddling trails in the Arkansas Delta. Debbie recently took up painting again and has become serious about improving her skills and producing more work. Her focus is on realist nature studies inspired by the Delta area.
Ana Sofia Camargo Montenegro & Obed Gonzalez
:
"Messy Neighbors"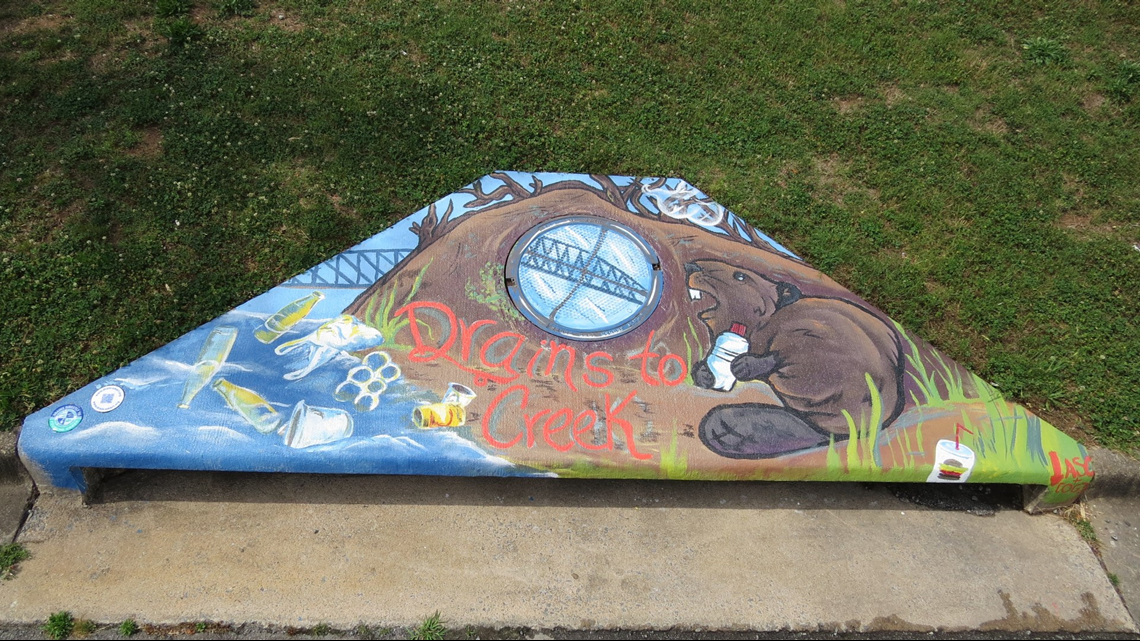 Our collaborative painting depicts a beaver holding a plastic bottle inside its lodge, threatened by the stream in front of his lodge that carries pieces of garbage, illustrating that what goes through our drains ends up in our waterways and homes of native wildlife. We believe that this illustration makes the viewer conscious of the consequences that our actions bring to animal life.
A millennial native to Panama, Ana Sofía Camargo is an Art and Strategic Communication major at the University of the Ozarks in Clarksville. Her art explores, through different mediums, diverse themes related to her identity as female, and her Panamanian and Latin American culture. Her imagery is both narrative and conceptual, drawing references from art history, popular culture, and the different social contexts she has been exposed to.
Obed was born in Piedras Negras Mexico and is a naturalized citizen with a passion for art and education. He is a recent graduate from the University of the Ozarks with a B.A. in Art Education. He currently resides in Fayetteville. Originally a graphic designer, Obed discovered his love for illustration early in his artistic development. His illustrations cover a wide spectrum of subjects, from complex symbolic portraiture to more as he lovingly refers to "refined doodles." He is currently working on a series of digital illustrations of little known endangered animals from across the world to spread their awareness.
Keela Cleghorn
:
"Just Bearly"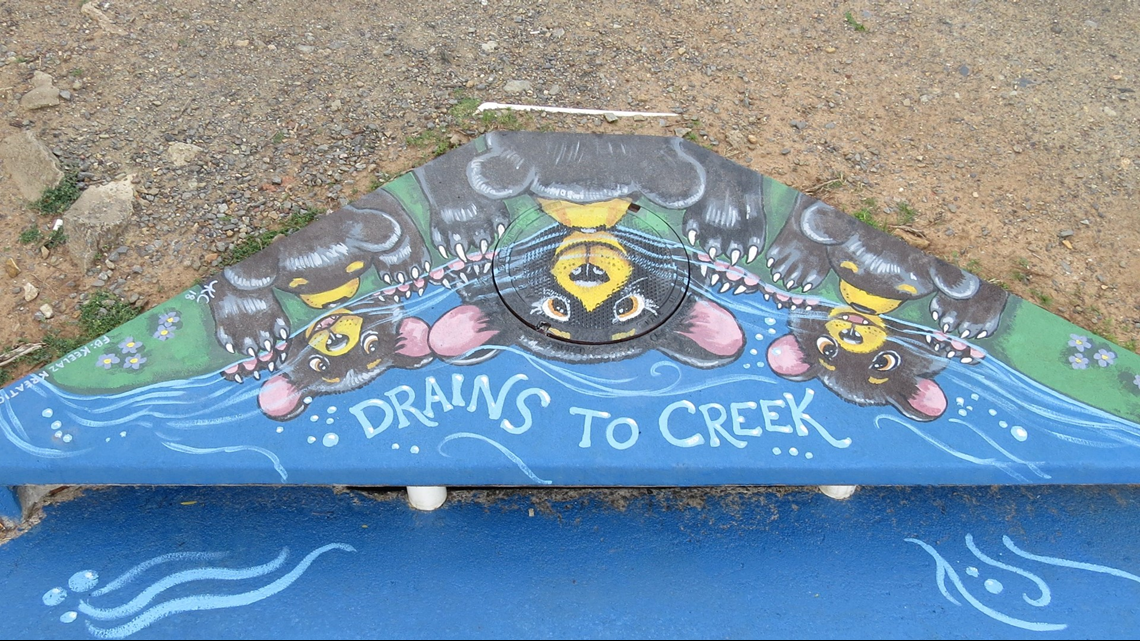 A family of Arkansas Black Bears playfully gaze at their reflection in the water.
Keela is a self-taught artist, learning this thing called art for the last 30 years or so, and plans to keep on learning. Keela likes to focus most of her creative energy on whimsical characters in paintings and illustrations. Keela also enjoys graphic design, decorative painting, and crafting "upcycled" art. You can find Keela on Instagram, Facebook, and Pinterest. She lives in Redfield with her husband, their three munchkins, three dogs, two cats, and four chickens.
April Smith
:
"Save the Babies"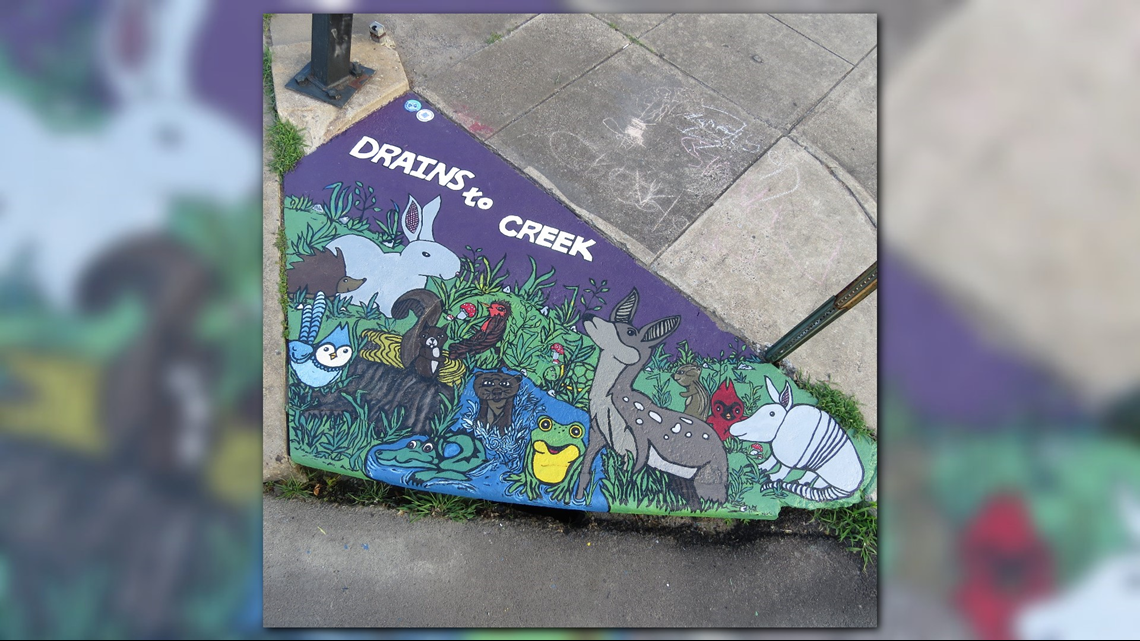 April wanted to bring attention that all wildlife can be affected by pollution in the river. Arkansas is home to such diverse wildlife and they all depend on water sources to survive. She really wanted people to know that the candy wrapper or water bottle they leave on the ground can end up in the environment of mammals, reptiles, birds, and more.
April Smith is an art teacher at Maumelle High School. She teaches kids every day to appreciate art and take time to stop and really see the world around them. She wants her students to really understand the color, line, and form of things in their everyday lives. With an interior design and fine arts degree, April has transferred her technical knowledge and love for the arts to countless students over the years.
Brynn Nasello
:
"Don't Hurt Bambie"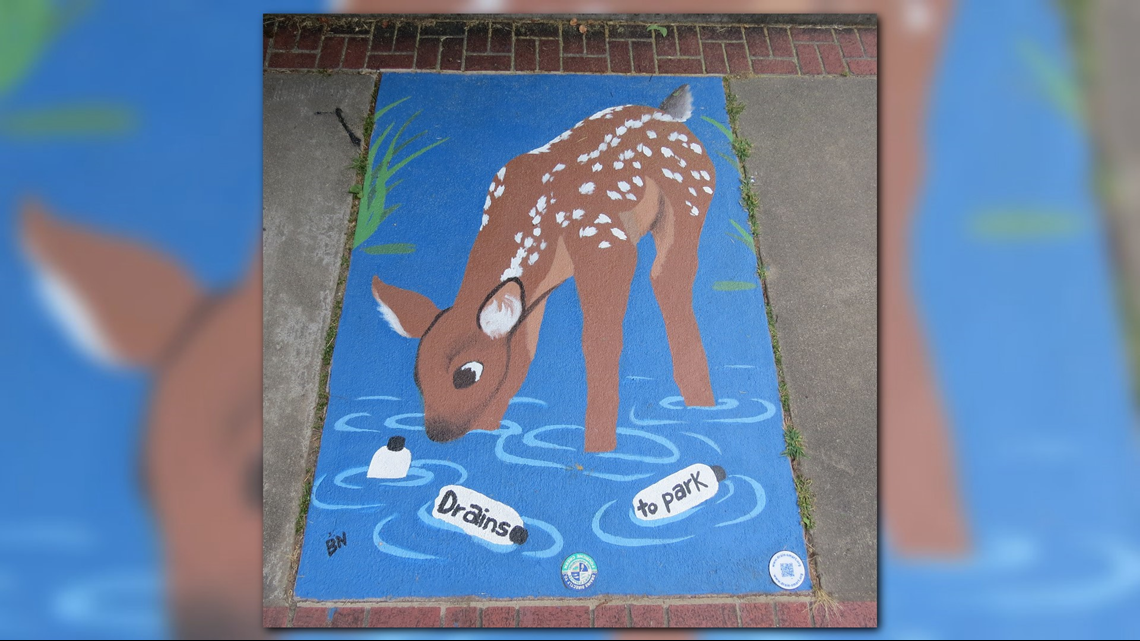 Brynn wanted the viewer to see the outcome of trash being left in the street and washing downstream to the places where animals live. This work shows what could be if we did not stop the litter from washing downstream.
Brynn wanted to make a difference and help wildlife. Seen many deer in the neighborhood. It makes her disappointed to see trash on the side of the road or in lakes. The wildlife that lives around us doesn't deserve to be negatively affected by us.
Lindsey Knight
:
"Refresh"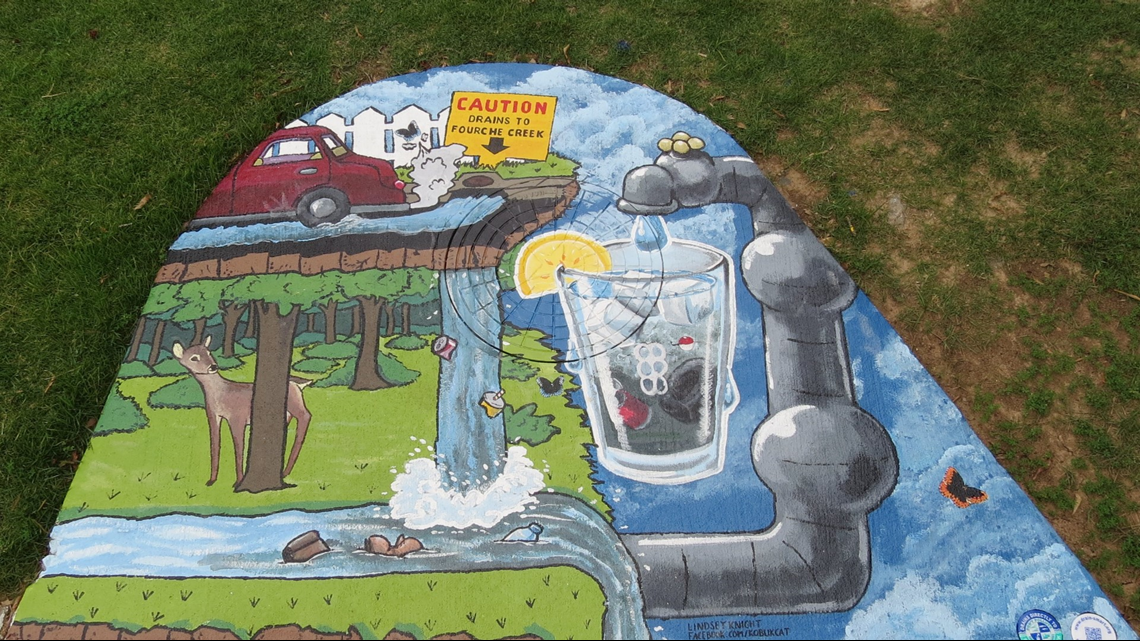 Her concept is designed to show the interconnectedness of the involved environments. She preferred style is sequential art such as comic-strips and illustrated books. Lindsey chose to omit the layout structure of putting my sections in panels, instead of showing each environment as though it exists in the same place. Through figurative graphic story-telling, she is depicting the water flowing straight down from the storm drain directly into the creek. The presence of the White-tailed Deer shows the impact on the animals. The Diana Fritillary butterfly is present throughout the piece to further connect the spaces. A pipe cartoonishly gulps in the filthy water into an over-sized glass that is garnished with lemon, and has ice-cubes and condensation, yet is filled with a toxic mess of our own making. The glass is the largest element and draws the greatest attention because the average consumer of the message will be the most emotionally moved by the part that affects themselves directly.
Lindsey attained a B.A. in studio art with an emphasis in illustration at the University of Arkansas at Little Rock. She currently works at the Arkansas Arts Center and does freelance illustration and other commissioned artwork on the side. She lives in Jacksonville with her husband Anthony, her daughter Celestial (age 11), and her son Gabriel (age 1), with whom she loves to share her love of art and nature.
Sarah Brown
:
"Sunny Side Up"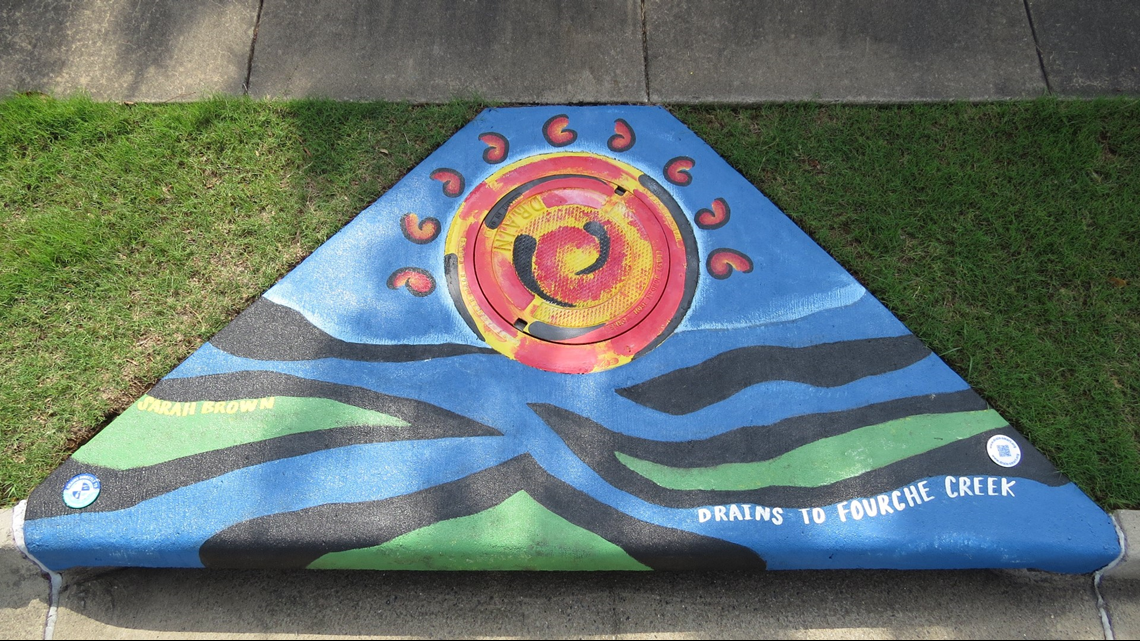 Sarah's inspiration comes from several paintings that she has done over the years. She thought the sun would be a perfect fit for a drain mural. Also, has always loved the quote by Anthony J. D'Angelo, "Wherever you go, no matter the weather, always bring your own sunshine."
Sarah Brown is a Pre-K teacher at Chicot Early Childhood Center in the Little Rock School District. She graduated from the University of Arkansas at Little Rock in 2008 with a degree in Early Childhood Education. In her free time, she enjoys playing tennis, painting, crafting, and reading. Sarah has created a few pieces for her home but mostly gives her art away as gifts.
Audrey Davis
:
"Rainbow"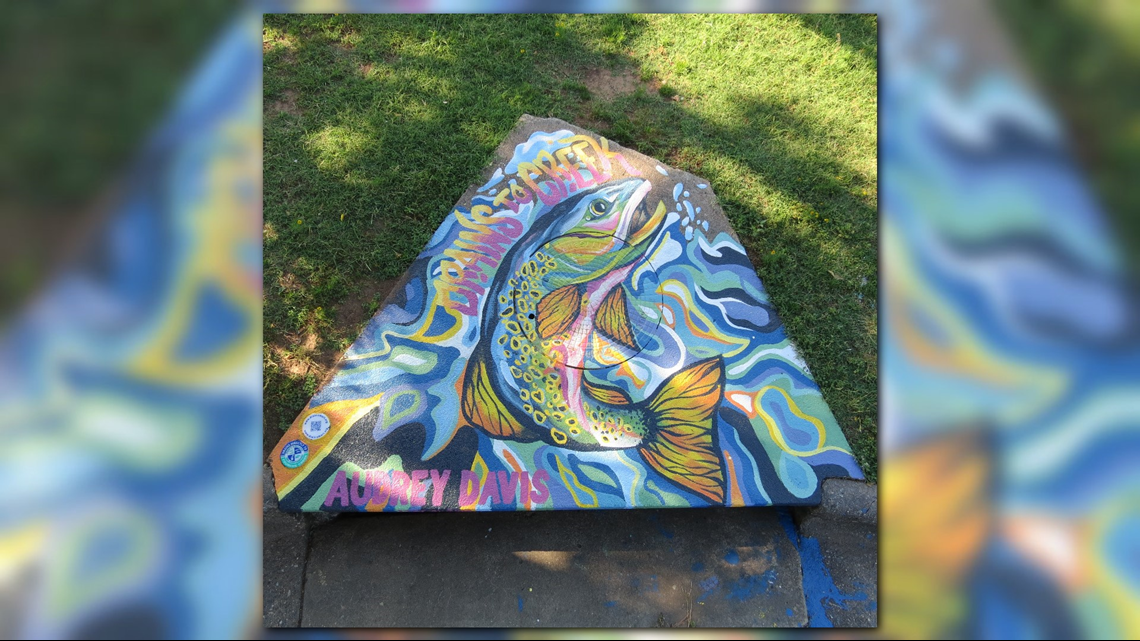 She wanted to create a piece that is attention-catching, colorful and bright. It depicts one of the beautiful native fish affected by the water that flows down storm drains, using movement and contrast throughout the drain. Most people do not know where these drains flow to; She certainly did not before she found out about Drain Smart.
Audrey is 18 and a junior at Little Rock Christian Academy. She is attending the University of Arkansas next fall and will be majoring in art and communications. She is deeply involved in the art programs at her school including being President of our art club. She is the Student Body Vice President for the Student Government and has designed the t-shirts, tickets, and posters for all of our events this past year. Audrey received multiple awards for her art and participated in the Arkansas young Artists Association. She has also worked on designing and painting murals at Full Potential, Our House, the Little Rock Zoo and the 2017 Drain Smart project.
Maya Griffin
:
"Tub the Turtle"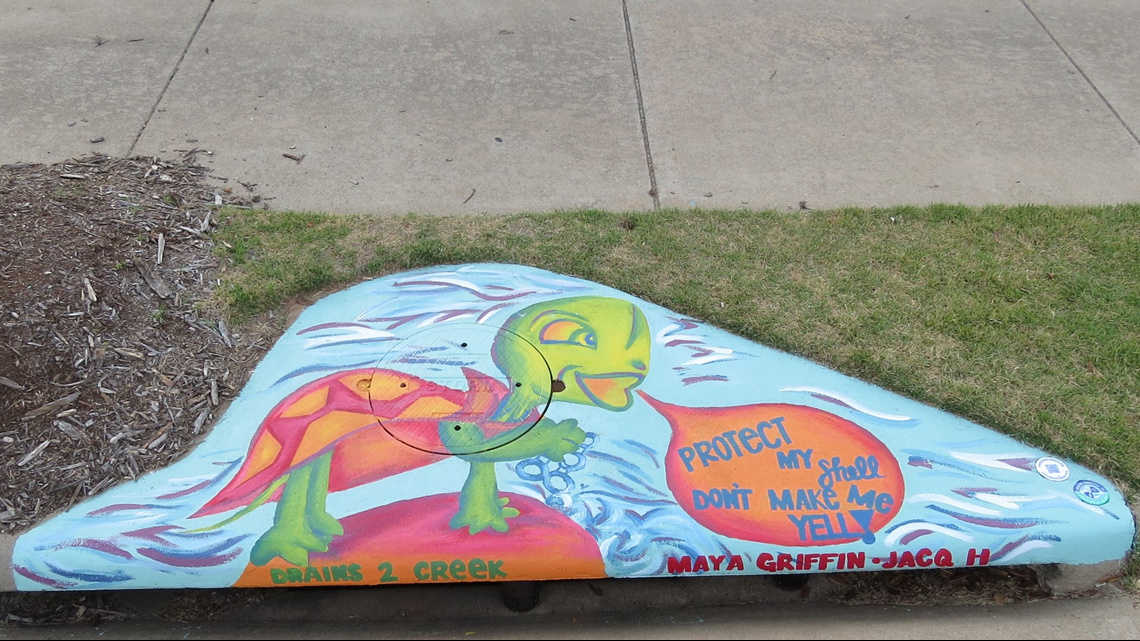 In this piece, Maya created an endearing, lovable, and youthful turtle with a contrasting personality. Having him filling the space commands the audience's attention and draws them in to listen to the turtle's words. With the use of a pun, the turtle hints at the slightly explicit word to make the audience aware of the turtle opinions while still leaving his precious appearance and personality intact. This catches the observer's attention using humor in a playful way which makes sure that the remark is not offensive. The main purpose of this piece is to use the turtle as an advocate for promoting cleanliness within the Arkansas rivers and stand as an example of an animal that can be affected by pollution at home.
Maya is 18 years old and a senior at Little Rock Christian Academy. She has always been interested in art but lately, it has become a true passion. She has been a figure skater for 16 years and is ranked as a double gold level figure skater. Last year she participated in the 2017 Drain Smart competition and was thrilled to participate for 2018's. One of her paintings has won 2nd place in the Fine Arts competition at her school and another painting won "Best Painting" in the 2017 Governor's Young Artist Competition. Maya has experience in graphic design through an internship at Boulton Creative in North Carolina during January of 2017. Recently, the Arkansas Art Center chose her painting, "Skipping Stones," as 1 of 8 pieces from Arkansas seniors for the Young Arkansas Artist Exhibition.
Tina Oppenheimer
:
"Angels Eye View"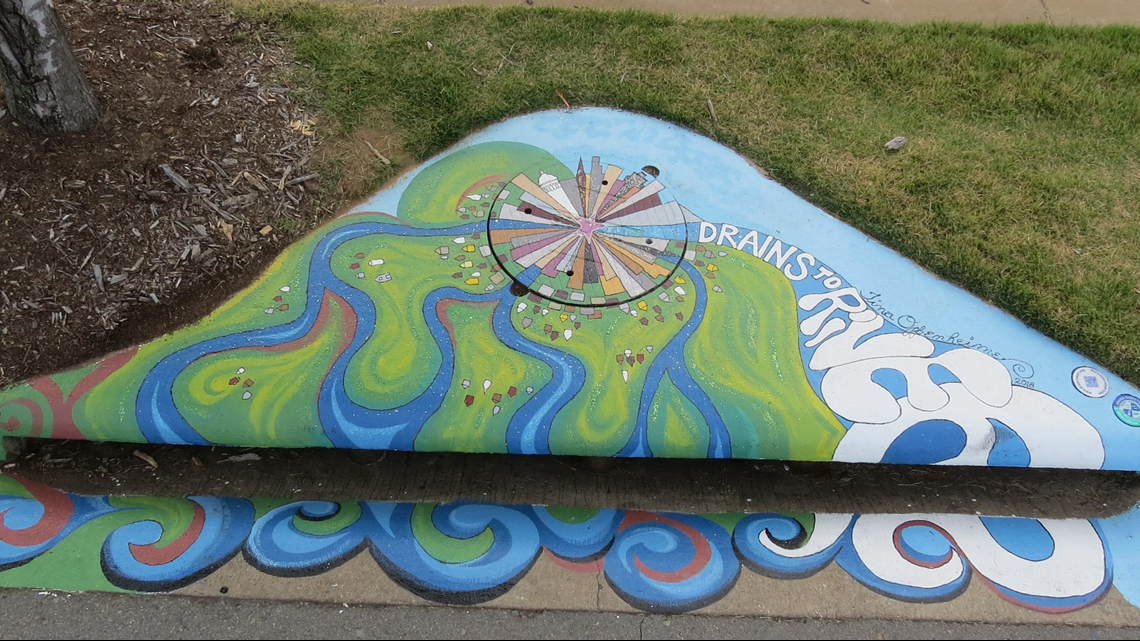 This Angles Eye View has the city and surrounding countryside gravitationally being drawn, blending and flowing together into the rivers.
A relentless individualist, she was always "artistic" and particularly liked to draw. She was enveloped in the ornamentalism of old European craftsmanship while a teen at Moseley Road School of Art in Birmingham, England. "Wall" art started to seem frivolous to me. At that point, she committed her own creativity to art that was functional. Though she always continued drawing, she poured her "art" into crocheting. The hook was her brush, the yarn her paint; creating things to be used, worn, walked on, sat upon, wrapped in and snuggled under. In the 70s, she came to Arkansas as a gypsy back-to-the-lander. With a continued commitment to utilitarian art, she began her greeting card business, Ozark Cards, 25 years ago. Her original, hand-glittered cards are widely available throughout Little Rock, Northwest Arkansas, and at ozarkcards.com. Tina makes a living making these greeting cards. In February 2018 she had a show of her crocheted art at The Bank Of Fayetteville. In 2013, she started painting storm drains & utility boxes in Fayetteville.
Tanya Hollifield & Emanuela Limoncelli
:
"Tears of a Frog"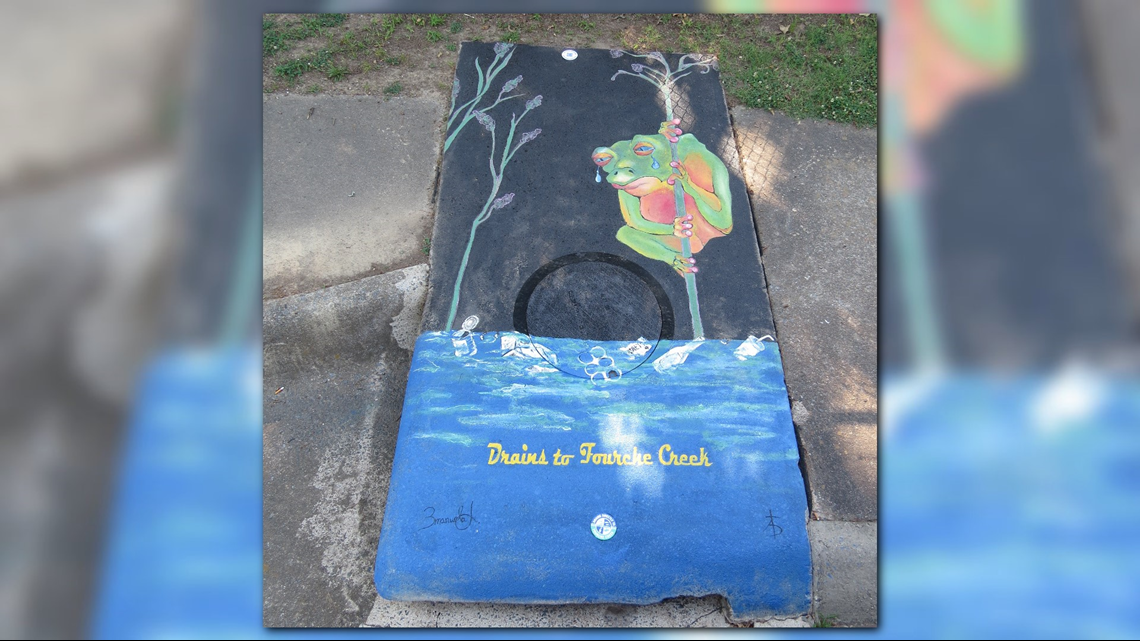 At the bottom is the trash flowing into the drain with the statement "Drains to the Creek." Then the frog is holding itself up out of the trashed waterway with tears.
She studied art at Garland County Community College, UA-Little Rock, Art Students League of New York, and the Arkansas Arts Center. Her career spans graphic art, clay sculpture and various painting mediums. Her most recent project has been restoring a 1902 historic apartment building in Capitol View, The Peacock Apartments. She participated in Drain Smart with a previous exchange student. Emanuela and I painted on the most recent Peace Week Mural on 7th Street.
She is a 17-year-old CCI Greenheart Exchange student from Salerno, Italy. In Italy she went to an art school; this year she is a senior at Little Rock Central High and she takes painting and drawing classes. She participated in the creation of a mural for Peace Week. She returned to Italy in June 2018.
Emmanuel Rice
:
"Oh! What A View!"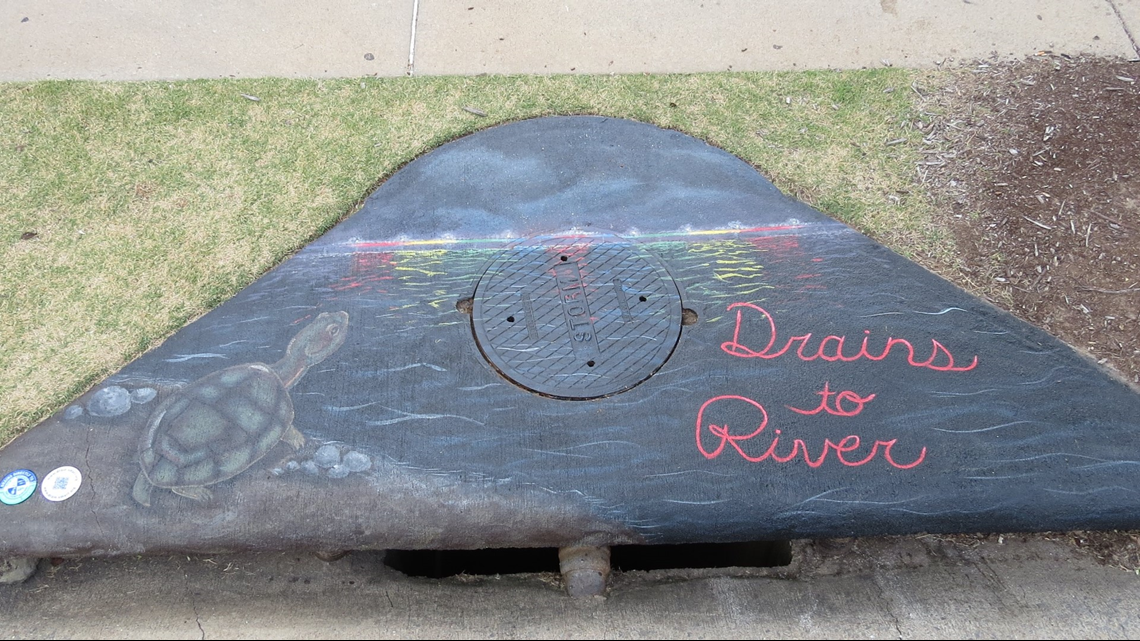 He knows the importance of wildlife conservation because he was raised in the Natural State. In Emmanuel's piece, he wanted to show the city from nature's point of view.
Emmanuel is originally from Pine Bluff and passionate about art. Ever since he can remember he's been surrounded by art. He manages security at the Arkansas Arts Center. Working there keeps him in the world of art that he has come to love so much.
Kimberli Alston
:
"Don't Clutter the Gutter"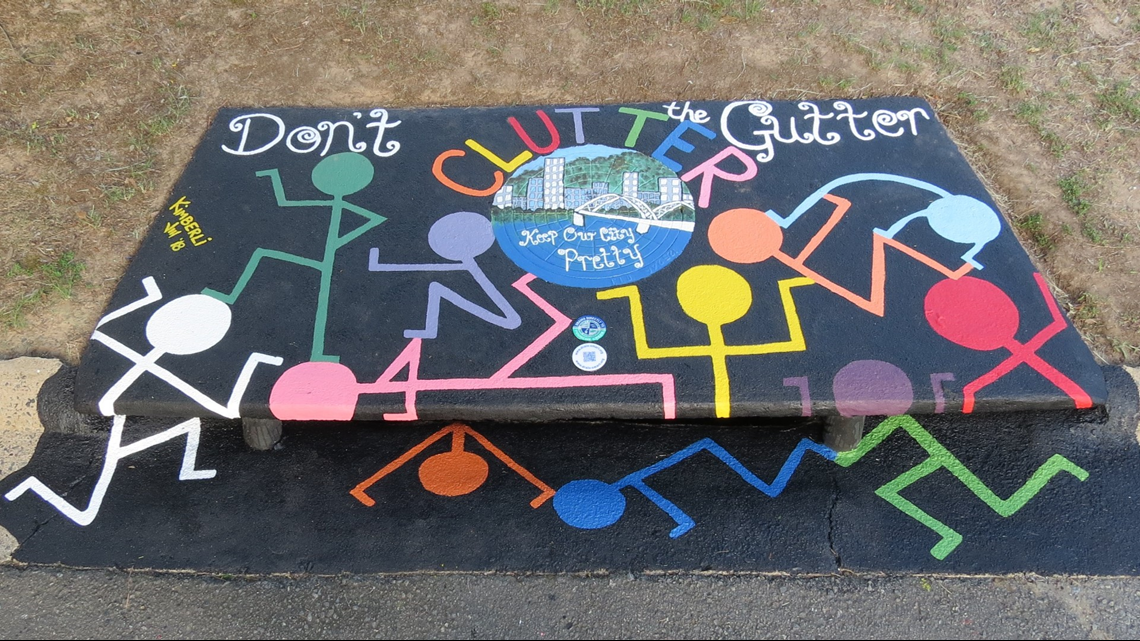 The Keith Haring-inspired figures are not only colorful but form a chain (or barrier) to keep trash and litter out of the gutter. The figures are holding back trash, needles, cigarette butts, and gum. We should not throw trash into the drain and "clutter the gutter." The main goal emphasized on the manhole cover is to "keep our city pretty."
She is the Visual Arts teacher for grades K-12 at the Arkansas School for the Deaf. Although she has worked at ASD for 6 years, she has only been the art teacher for two years. She loves to express ideas and thoughts through art. Kimberli always been interested in art and deafness. She said she is truly blessed to have a job where she can enjoy both. She received her B.S. from the University of Central Arkansas. And received her M.A. in Deaf Education from the University of Arkansas at Little Rock. She has four wonderful kids ages 9-15 with her husband John. They all attend school in the North Little Rock School District.
John Van Horn
:
"The Usual Suspects"

The Usual Suspects is the scene of a police lineup to identify the offender making the most impact on the amount of trash that drains to the creeks and rivers. The final spot in the lineup is the true culprit…because YOU are the only one in the lineup who can make a difference.
A native of Louisiana, John spent most summers on the Arkansas side of the border at his grandparents' tree farm, just a country kid who loved to get dirty when he played, and who found great joy in creating scrap-toys and clubhouses. In school, John struggled with dyslexia and ADHD; art class became a refuge, someplace he could focus and express his ideas without words. He earned his GED after dropping out his senior year and moved to Little Rock in 2001 to attend college, a great surprise to most who knew him. John graduated from the University of Arkansas at Little Rock with a B.A. in Studio Art in 2005, and an M.A. in Secondary Education in 2010. Over the years, he's exhibited several steel sculptures and organized public art projects to encourage community connectedness and inclusion. Because of his own challenges with learning, his passion is teaching, and he strives to share his love of artistic expression with students as the Painting Instructor at Maumelle High School.
Audrey Davis won the contest with her "Rainbow" mural. She is a high school senior.