CLEARWATER, Fla. — A special needs puppy named Beans got a once-in-a-lifetime opportunity to meet dolphins at the Clearwater Marine Aquarium.
Beans has been with the Suncoast Animal League since April, according to the organization. An English bulldog breeder surrendered him when he was just four months old due to being unable to sell him or provide for his special needs.
When the shelter took Beans in, he had significant medical issues. He is currently surviving with Scoliosis, spina bifida, dwarfism, shallow hip sockets, hydrocephalus, rotary nystagmus and neurological issues. Because of these medical issues, veterinarians don't believe he will live for very long.
He's currently considered a hospice foster, the organization said. Still, despite the challenges Beans faces, he remains the "sweetest little guy."
In order to help Beans live his life to the fullest with the time he has left, Suncoast Animal League has put together a bucket list filled with chances to meet new friends, have adventures and try out new snacks.
"We are DETERMINED to make the rest of his life, however long or short that may be, as comfortable and fun as possible," the League said on Facebook.
One of those bucket list items was crossed off of Beans' list this week. On Wednesday, Beans was taken on an adventure to meet a dolphin at the Clearwater Marine Aquarium.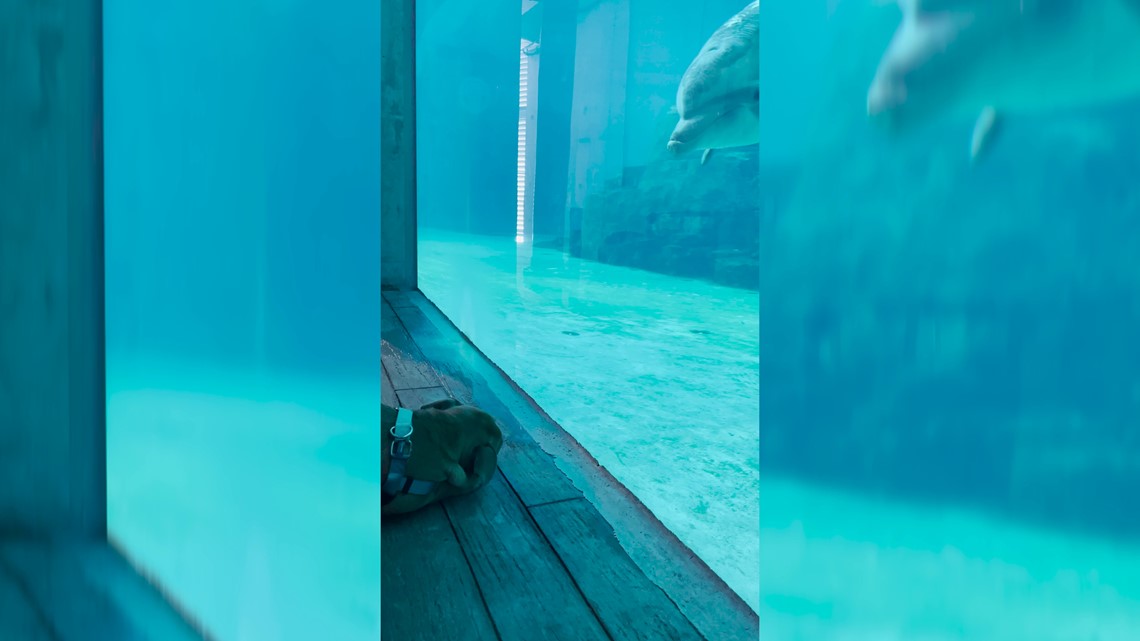 The meeting looked like a success — Beans was able to sit by the large viewing tank as Nicholas, CMA's longest-resident dolphin, swam around. Video shared with us from Suncoast Animal League shows several moments Nicholas and Beans interacted during the puppy's visit.
Nicholas made several passes by Beans as the puppy looked on. The two even shared a few moments where Nicholas looked at Beans while he took a little break.