All week in our series, Helpful Hounds, we're highlighting the incredible abilities of service dogs in Arkansas. Their ability's range from performing helpful tasks for people in their homes and in the city, to detecting cancer cells in Arkansas hospital patients. Today, we introduce you to guide dog, Watson, and his hilarious and heartfelt owner, Sharon.
Sometimes the best stories don't always make sense. Just when you think you have them figured out; there's a plot twist. That's Sharon Giovinazzo's story. At the age of 31, Giovinazzo was diagnosed with multiple sclerosis.
"I got sicker and sicker as the days went on and my vision started to deteriorate," she said. "I went from 20/20 vision to 0/0 vision in 7 months."
Her initial thought when she lost her vision was that she would sit on her porch for her whole life in a rocking chair. But sitting around and letting life pass her by? No, that's not Sharon Giovinazzo at all. As a former medic in the military, she is full of grit, grace and a good sense of humor.
"After I went blind I still planned on going back to nursing school but I figured patients might get scared if I have a needle in one hand and a cane in the other," she said.
Instead, she learned new skills and got a job in manufacturing. She even went on to become a lobbyist and got a master's degree.
"I found out that I was able to have a normal life," she said.
Two decades later, Giovinazzo isn't slowing down. She's enjoying life with her guide dog, Watson.
"I have two benefits of being a person who is blind," said Giovinazzo. "I get to bring my dog with me and I always have a designated driver."
Watson and Giovinazzo are an inseparable duo. Watson travels everywhere with Giovinazzo including to work, where she is now the President and Co-CEO of World Services for the Blind.
Watson, of course, is the other CEO, or "Canine Executive Officer."
"It really is a relationship from the time we wake up in the morning until we go to bed," said Giovinazzo. "I love having Watson because my cane never gave me a kiss."
Sharon Giovinazzo and Watson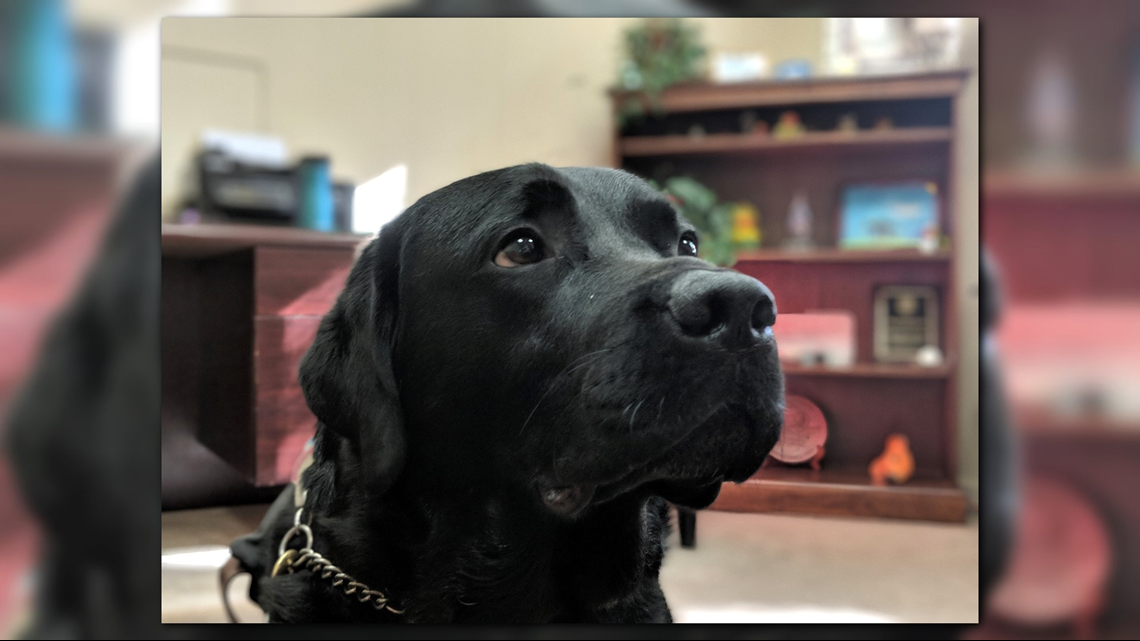 Sharon and Watson are just like any other CEOs with plenty of office duties and paperwork; plus, an occasional cuddle break with the staff. They also do a lot of traveling together.
"We travel a lot with our job so he's in a lot of different environments and airports all the time" she said. "Watson can find Starbucks on command and electrical plugs and he is the best at finding little girls rooms in airports."
They've been all over the world together speaking about World Services for the Blind's services and inspiring others in the blind community to never give up hope.
"I believe everything happens for a reason and if my reason was to pay it forward for other people going through the same thing and I can make their journey a little easier, I've fulfilled my life," she said.
Giovinazzo said losing her vision, gave her a new one.
"I think it took me losing my sight to gain a vision," she said.
Watson and Giovinazzo are an inspiring duo showing that life isn't just about what happens to us, it's about what we do with the life we're given.