CONWAY, Ark — Gov. Asa Hutchinson (R-AR) announced a major expansion for I.T. company DXC Technology that will create 1,200 new jobs at the company's Conway location.
The firm isn't a household name, but if it reaches projections, it could become the largest private employer in Faulkner County. It also ticks off several economic development boxes for the governor who made a point of luring global businesses to Arkansas at the start of his second term.
"This is an exciting opportunity that demonstrates the quality of our workforce in the technology area," the Republican governor said in remarks before a crowd of employees and local leaders. "You really can't understate the economic impact of this kind of investment."
The new positions will be in healthcare and life sciences, automotive and security IT services as DXC builds upon the success of Conway to establish a global Center of Excellence (CoE) that serves the Medicaid business for 30 states and other clients.
It's that health and human services business that the governor feels will help the company last longer than the firm that built the office building on Ledgelawn Drive where DXC will expand. Hewlett Packard got $10 million in state incentives but never fully reached it's job targets. They returned $450,000 in a "claw back" provision in 2016.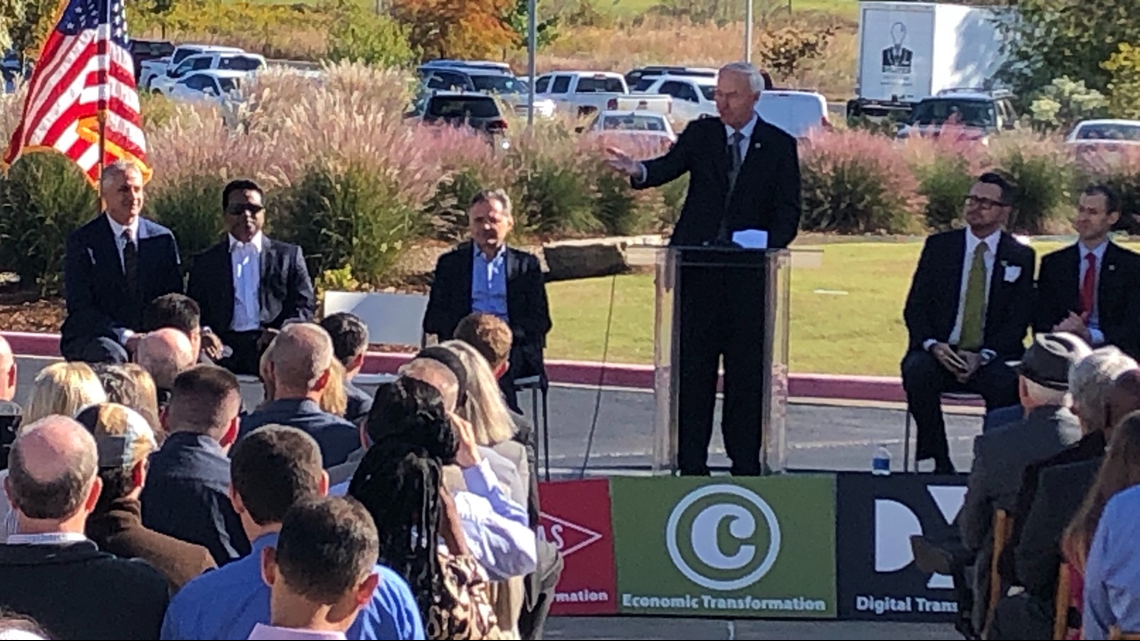 "Medicaid is not going away, so this is a continued business plan that will work," the governor said.
In addition to its work with the State of Arkansas, DXC currently provides health and human services to clients across 42 U.S. states and territories, offering fiscal agent services, Medicaid Management Information Systems, program integrity, care management, immunization registry and eligibility services.
"Conway, because of the quality of the human capital, became the natural choice to expand our operations," said Andrea Fiumicelli, a DXC vice president and G.M. of the health and human services operation. He is the latest overseas operator the governor has convinced to set up shop in the state.
"I love talking politics with him, among other things, but you've got to understand, when you talk politics with Andrea, you're not talking local politics," the governor said of his dinner conversation with the Italian native who now lives in London.
DXC's current Conway facility brings together a team of nearly 450 employees and comprises one of two DXC integrated Medicaid services delivery centers in the U.S. The company also works closely with 16 colleges and universities in Arkansas to develop and recruit talent.
"This community, the facility, and the associates who work here have seen a decade of change in the technology industry," said Conway Mayor Bart Castleberry. "It's a credit to central Arkansas's talent pipeline that a company like DXC recognizes not only the proven record of performance but the opportunities for growth."
DXC cited a number of factors for choosing to grow in the metro Little Rock area.
"We're proud of our public-private partnership with the State of Arkansas and Chamber, and helping manage the dramatic transformation underway in public health services," said Fiumicelli in a release sent out before the ceremony. "We have a great team in Conway, and our expansion here will create new job and career opportunities, strengthen our educational partnerships, and contribute to the area's growth economically and as a center of innovation."
"DXC is the perfect fit for our community," said Brad Lacy, CEO of the Conway Area Chamber of Commerce and Conway Development Corporation. "Conway has a fifty-year history of growing technology talent. Through partnerships with Governor Hutchinson on initiatives like UCA's cyber range and the Arkansas Coding Academy, we are investing in next generation skills. Today those investments paid off as one of the world's largest technology companies and leaders in digital transformation recognize that talent pipeline and make a significant commitment to grow their business here."
Fiumicelli said that the new jobs would represent a range of opportunities from entry-level up to highly skilled mid-career technical talent. He declined to say what those jobs would pay because of competitive advantage but expects all positions to be filled over a four-year period.