The State of Arkansas issues hundreds of thousands of license plates each year, including many with a personalized message. The plates' seven-character limit offers applicants a plethora of possible phrases to choose from. So how does the state screen for inappropriate messages? – the Internet, of course.
"Arkansans, when it comes to their license plates, are fairly creative," Scott Hardin, spokesperson for the Arkansas Department of Finance and Administration (DFA), said.
DFA has issued custom plates for many years, including 33,977 between January 2015 and December 2018. They sport inspirational messages such as "GODGOTU," admissions of guilt like "4EVERL8," and various phrases in support of the Razorbacks.
At a cost of $50 per year – double that of a standard issue plate -- Hardin says personalized plates are especially popular in the Natural State.
"We have to take a look at these to ensure 'is this the kind of plate we want on the back of a vehicle that's not only going to be traveling through Arkansas but throughout the U.S.?' This is representative of Arkansas," Hardin said.
That's why DFA has a strict screening process to ensure racy requests never make it to metal.
"We don't want to see a family pull up to a stoplight in Little Rock, get behind a car and a kid say to the parent 'Mommy, what does blank mean?' and put anyone in an uncomfortable situation," he said.
Over the years, the state has accumulated a database of 12,000 character combinations prohibited from Arkansas license plate. It includes phrases like "HOTMAMA," "IH8YOU," and others that are considered highly offensive.
Seven characters, infinite license plate possibilities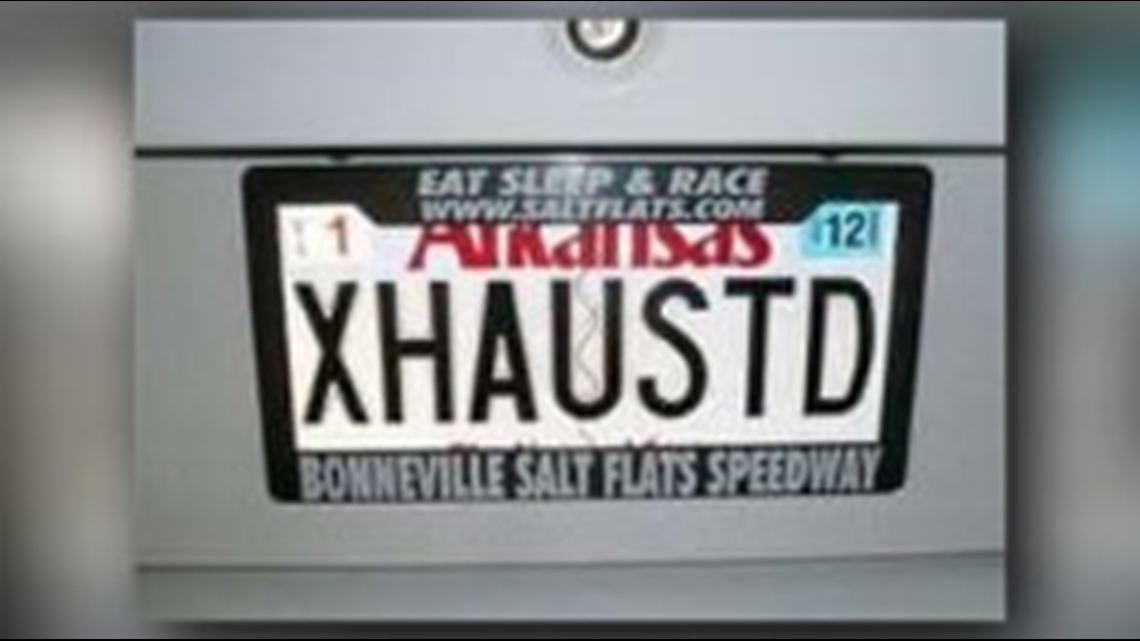 "While I'm going to keep it very simple here, I'm going to say 'use your imagination,'" Hardin said.
Every week, a team of DFA agents reviews custom plate applications. Inappropriate requests are flagged and added to the database.
If the committee has a question about what something means, Hardin says they turn to the Internet.
"We go to Google; we go to Urban Dictionary; we check this and see simply what is this," he said.
Though Hardin calls the state's review process effective overall, he admits a few less-than appropriate character combos have slipped through the cracks.
"There are cases where we've received numerous calls or complaints on a license plate. This isn't common," Hardin said. "It happens about twice per year, but we do go out grab that plate and pull it back then issue another plate. We are only human. We do miss things."
Hardin encourages people to contact DFA about questionable license plates they encounter on the road.
"The good news is, I think Arkansans are having fun with license plates, but they're also knowledgeable to know what goes and what doesn't," he said.
Click here for more information on Arkansas personalized license plates.