A woman who survived a head-on crash on Highway 78 had a special request for Christmas – to meet the paramedics who saved her life. Today the reunion finally happened while she's being treated at Wellstar Atlanta Medical Center.
Sandreaka Smith, a mother of six, had no idea that the paramedics had visited her twice already, while she laid unconscious in a hospital bed at Grady Memorial. She's been begging to see them ever since.
In the spirit of Christmas, paramedics Kyle Brule and Eric Kleeman visited her on Thursday – with gifts in tow.
Smith, who has only had a few visitors, said meeting her heroes meant the world.
"I was happy, I was just happy someone cared," Smith said. "It's not too often. You don't see this every day … just the thought of knowing someone came back."
The paramedics didn't see the third visit to her hospital room as going above and beyond – they said, it's only natural to think about the patients they serve and know they are OK.
"We felt particularly bad," Brule said. "She wasn't even at fault and she just had a newborn child a couple months prior."
Driver reunited with paramedics who saved her life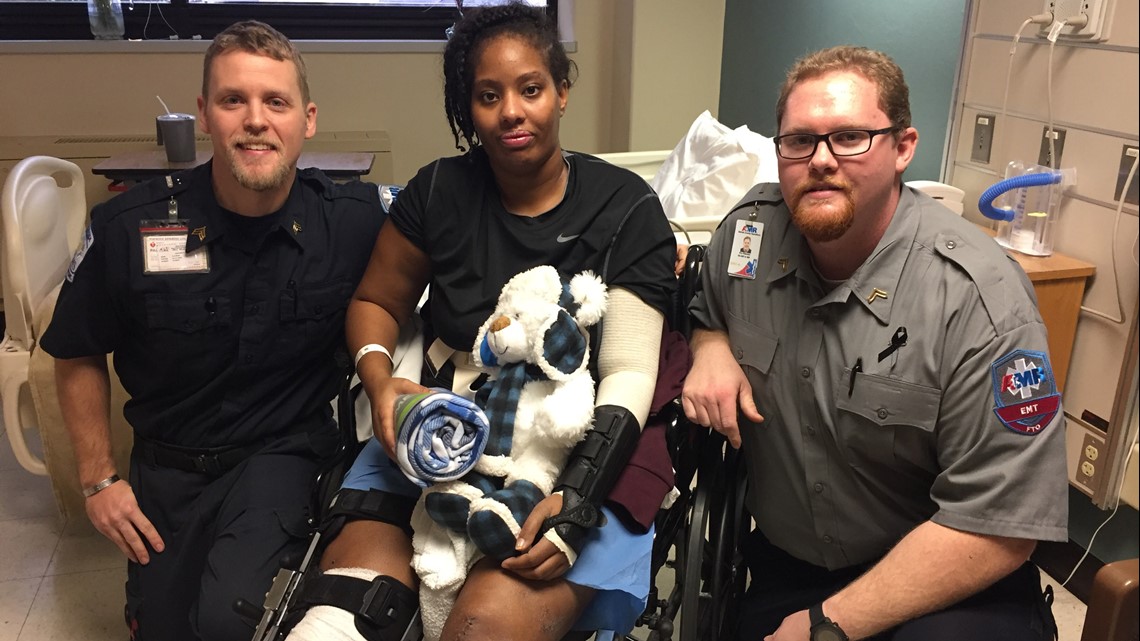 Smith was dropping off her children at school when another car veered into her lane and hit her head-on. She remembered mangled metal and sharp glass surrounding her, with the car's dashboard in her lap.
"I was stuck in the car … it was like, crushed in my lap, the whole driver thing was smushed right here on my legs," Smith said.
The firefighters who arrived on the scene used the jaws of life to get her out of the car.
"I thought he was going to cut my leg because he was literally like, this close," Smith said. "I blacked out from there."
WXIA
Smith woke up at Grady Memorial ER with two broken legs, a broken arm and cuts to her spleen and liver. She was hospitalized there for over a month.
Moving from the wheelchair to a therapy mat is a tough feat, but Smith is proud she is getting stronger every day. The paramedics who helped pull her out of the car said they are happy to know she is recovering.
"It means a lot to us that we actually were able to impact someone's life like that," Kleeman said. "It's a good feeling."