The COVID-19 quarantine has us all looking for new activities and hobbies while we stay at home. For many people, that new hobby has become baking and cooking!
But after so many weeks at home...we all need some new recipe ideas.
Some local Arkansas chefs and bloggers share their easy-to-make recipes that pretty much anyone can make in their home kitchens.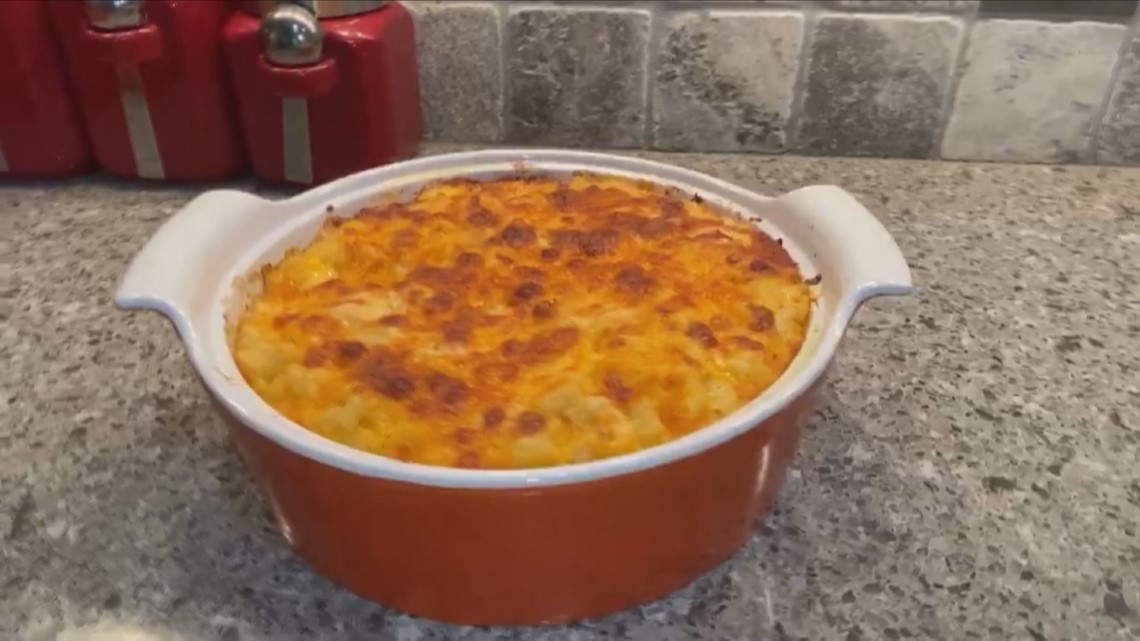 1 box of elbow macaroni noodles
3 cups of shredded mild cheddar cheese
1 cup of Colby & Monterey Jack shredded cheese
1 1/2 cup of shredded smoked gouda
2 eggs
2 tablespoons of sour cream
3 tablespoons of butter
2 cups of milk
Salt
Pepper
Preheat oven to 350° F.
Boil elbow macaroni noodles until al dente
Drain pasta and pour noodles into large bowl
In large bowl with noodles, add butter, sour cream, milk, 2 cups of shredded cheddar, 1 cup of Colby & Monterey Jack, 1 cup of smoked gouda, salt and pepper (to taste)
Stir to combine.
Taste mixture. Add more salt, pepper, onion powder, other seasonings until reach desired taste.
Stir well.
Add mixture to baking dish
Whisk two eggs and pour over noodle mixture, poking with a fork throughout to allow egg to penetrate mixture
Top with remaining cheddar and smoked gouda
Place baking dish in oven and cook for 35 minutes, uncovered.
Put oven on low broil for an additional 5 minutes, or until top layer reaches desired golden brown
Let sit and cool for 10-15 minutes and enjoy!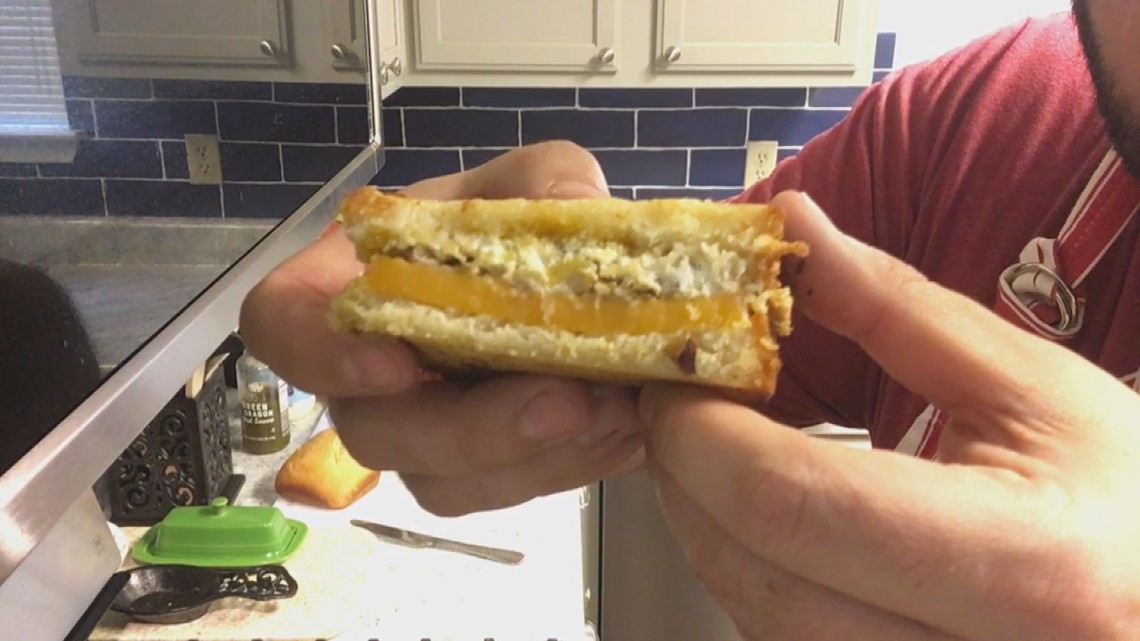 2 pieces of sourdough bread
Mayonnaise
Sharp cheddar cheese
Goat cheese
Butter
Chopped turkey - cooked with shallots, garlic, and your choice of hot sauce (Niko suggests the Green Dragon sauce from Trader Joe's!)
Melt a small amount of butter in a saucepan over medium heat
Spread mayonnaise on each piece of bread, and place one piece mayo-side down in the pan
Layer cheddar cheese, goat cheese, and turkey mixture onto bread, then top with second piece of bread
Wait for bottom to cook to your liking, then flip to cook other side
Take off heat, slice sandwich, and enjoy!

1 box of Suddenly Salad pasta mix
1 can of Cannellinii beans (washed & drained)
Vegetables of your choice (like carrot, celery, bell peppers...etc)
Cook pasta according to box instructions (Debbie suggests cooking pasta for about 10 minutes for the right texture)
Chop and cook vegetables
Add beans and cooked vegetables to the cooked pasta, add boxed dressing
Stir & serve hot or cold!

Canned salmon
2 sleeves of buttery crackers
2 generous tbs. Mayonnaise
2 tsp. Garlic Paste
Your choice of chopped parsley, cilantro or onions
Breadcrumbs (if needed)
In a bowl, combine drained salmon, crackers, mayo, garlic paste & chopped greens
If mixture remains watery, add breadcrumbs until you reach a more consistent mixture
Form into palm-sized patties, and fry over medium heat until golden brown on both sides. Be careful to not overcrowd the patties while cooking!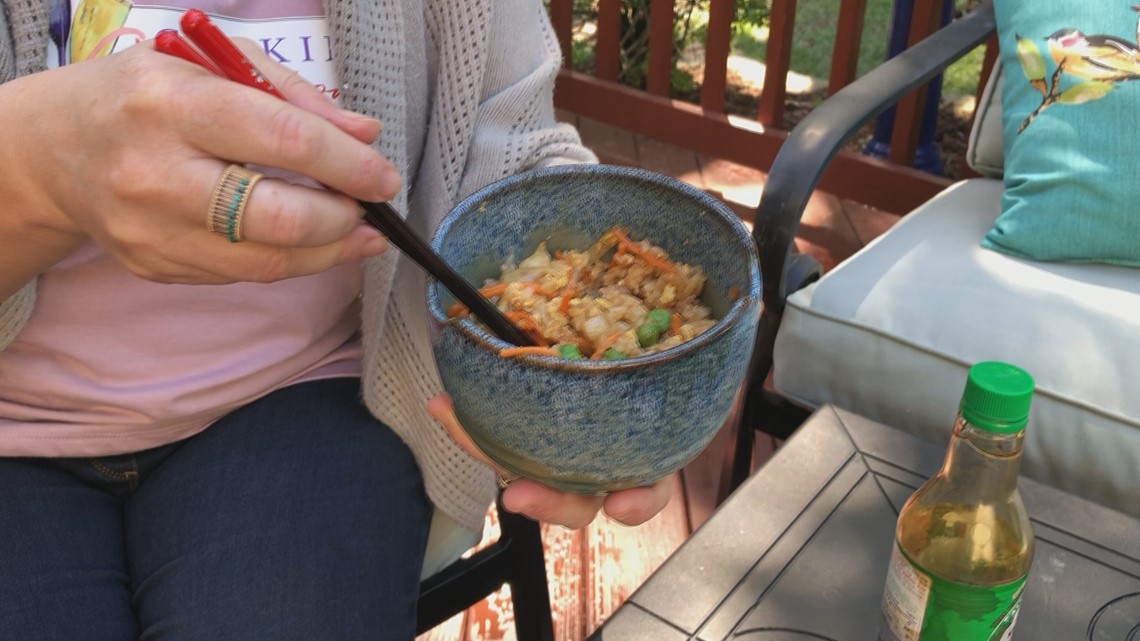 Cooking oil
Rice
Onion
Eggs
Ham
Peas
Shredded carrots
Kimchi
Sesame oil
Soy sauce
Over high heat, cook chopped onions and ham with cooking oil,then add rice
Next, add whisked eggs to mixture, then peas and shredded carrots
Finally, add kimchi to mixture, cooking to warm through
Take off heat and add sesame oil and soy sauce to taste.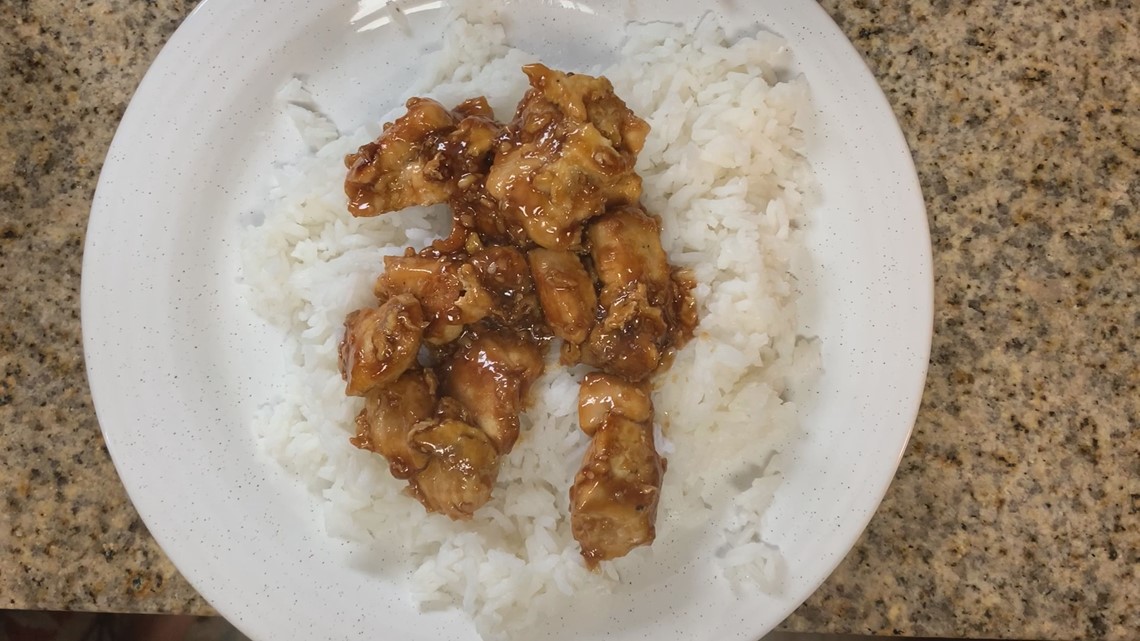 1 large egg
2 Tbsp cornstarch
1 pinch each salt and pepper
1 lb boneless skinless chicken thighs
2 Tbsp cooking oil
1/4 cup soy sauce
2 Tbsp water
1 Tbsp toasted sesame oil
3 Tbsp brown sugar
1 Tbsp rice vinegar
1 tsp grated fresh ginger
2 cloves garlic, minced
1 Tbsp sesame seeds
1/2 Tbsp cornstarch
Optional: 4 cups cooked rice, green onions
First, prepare the sauce. In a small bowl stir together the soy sauce, water, sesame oil, brown sugar, rice vinegar, fresh ginger, minced garlic, cornstarch, and sesame seeds. (Grate the ginger with a small-holed cheese grater). Set the sauce aside.
In a large bowl, whisk together the egg, 2 Tbsp cornstarch, and a pinch of salt and pepper. Trim any excess fat from the chicken thighs, then cut them into small 1 inch pieces. Toss the chicken in the egg and cornstarch mixture.
Add the cooking oil to a large skillet and heat it over medium flame. Wait until the skillet is very hot, then swirl the skillet to make sure the oil coats the entire surface. Add the batter coated chicken and spread it out into a single layer over the surface of the skillet.
Allow the chicken pieces to cook, undisturbed, until golden brown on the bottom. Then, carefully flip the chicken, breaking up the pieces into smaller clumps as you flip. Continue to cook the chicken until golden brown on the other side. Stir the chicken as little as possible to avoid breaking the egg coating from the surface of the chicken.
Once the chicken is cooked through and golden brown on all sides, pour the sauce over top. Toss the chicken to coat in the sauce. As the sauce comes up to a simmer, it will begin to thicken. Continue to gently stir the chicken in the sauce until it has thickened, then turn off the heat.
Serve the chicken over a bed of rice and sprinkle the sliced green onions over top.
Spaghetti Carbonara
by Ben Keller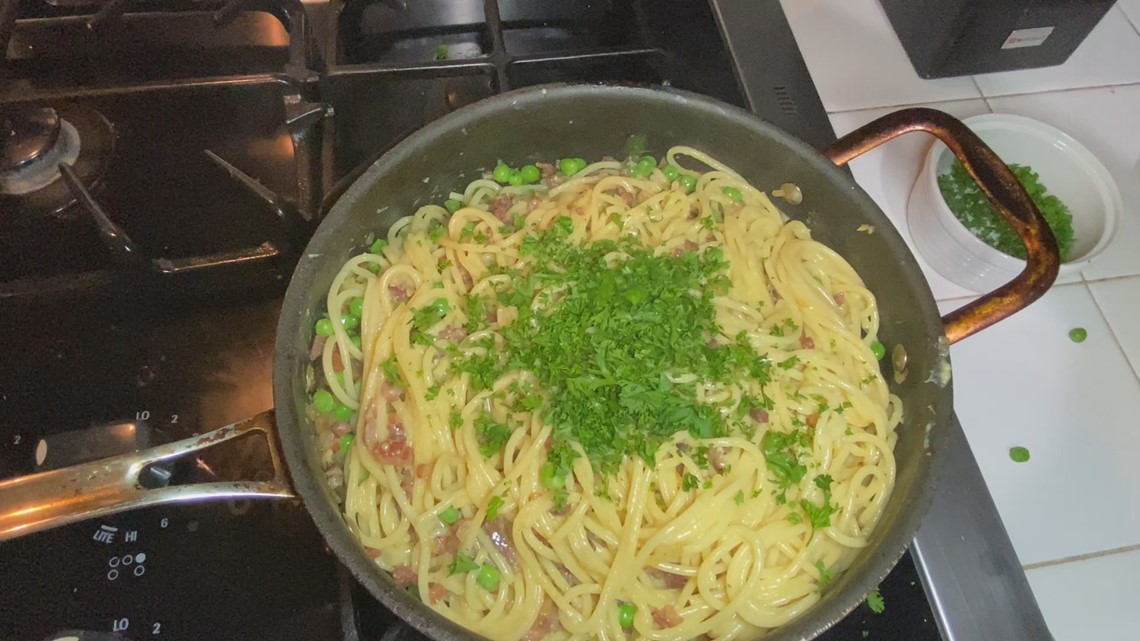 12 oz spaghetti noodles
8 oz diced pancetta, prosciutto, or bacon
1 shallot, diced
3 garlic cloves, minced
1 cup grated Parmesan cheese
4 large egg yolks
juice of 1 lemon
1/2 cup parsley, chopped
1 cup frozen green peas
Bring large pot of salted water to a boil, add pasta
While pasta cooks, heat pan over medium heat and add meat, cooking til crispy. Remove from pan
Prepare sauce: add egg yolks, Parmesan & lemon juice in a bowl. Season with salt and pepper. Set aside.
In same saucepan, turn down heat, and caramelize shallots. Add garlic, cook.
Add peas, cooked meat and cooked pasta to saucepan. (Don't drain the pasta!) Stir until mixed.
Add pasta water to egg sauce. Add sauce to saucepan mixture.
Top with parsley and Parmesan. Enjoy!

1/4 cup ground flaxseed
1/4 cup cup almond butter
1 tsp vanilla extract
1/2 cup rolled oats
2 Tbsp pure maple syrup
1 Tbsp cacao powder
2 Tbsp shredded unsweetened coconut, to roll bites in (optional)
Place all the ingredients except shredded coconut in a food processor and pulse until it begins to combine.

Add 1 to 2 tablespoons warm water to the mixture, just a little bit at a time (about 1/2 Tbsp at a time). Process the mixture each time you add water. Whenever it begins to come together in a slightly sticky mixture, you'll know it's ready.

Roll the mixture into 10 uniform-sized bites. If using the coconut, place the coconut in a small bowl and roll each bite in the coconut.

These will keep for about a week in a covered container in the refrigerator, or longer in the freezer.

1 cup milk
4 eggs
1 cup flour
2 tbs. melted butter
Dash of salt
Optional: powdered sugar, fruit
Add milk, eggs, flour, butter, and salt to blender, blend to a smooth batter
Melt butter in cast-iron skillet, roll butter around to coat, pour in pancake batter
Bake for 17-18 minutes at 475 degrees
Top with powdered sugar and/or fruit if desired!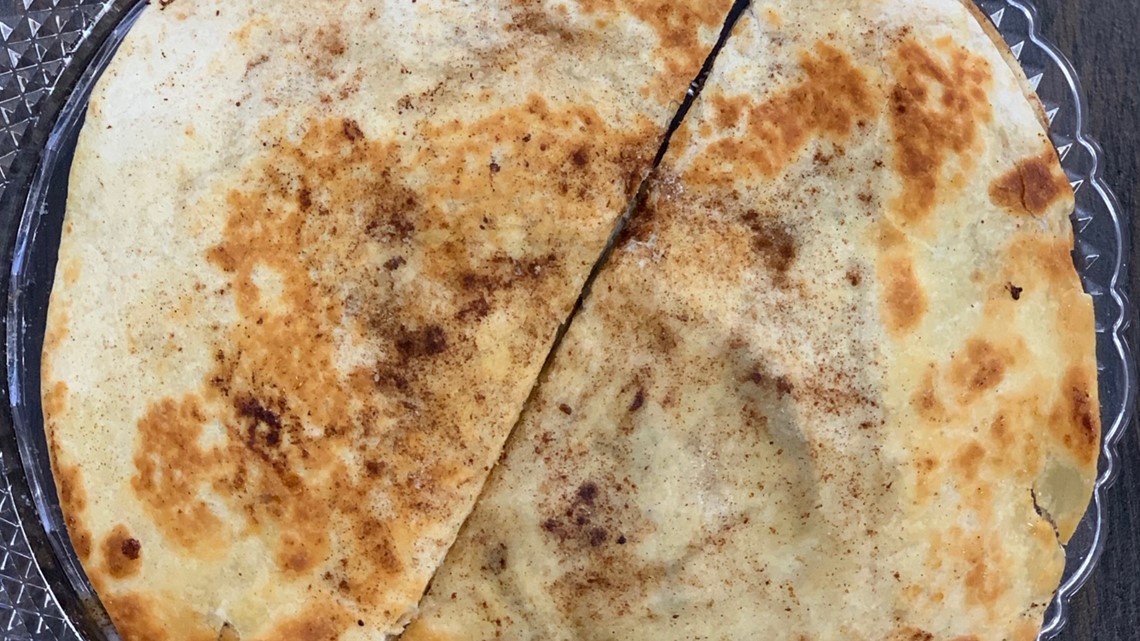 2 large flour tortillas
Can of apple pie filling
Cinnamon
Sugar
Butter
Heat skillet over medium heat
Coat one side of first tortilla with butter and place butter-side down in pan
Place apple pie filling on top, sprinkle with cinnamon and sugar.
Coat one side of second tortilla with butter and place non-buttered side on top of filling
Cook to your liking, then flip and to cook other side
Slice and enjoy!
Crockpot Chicken Tinga Tacos
by Robby Hill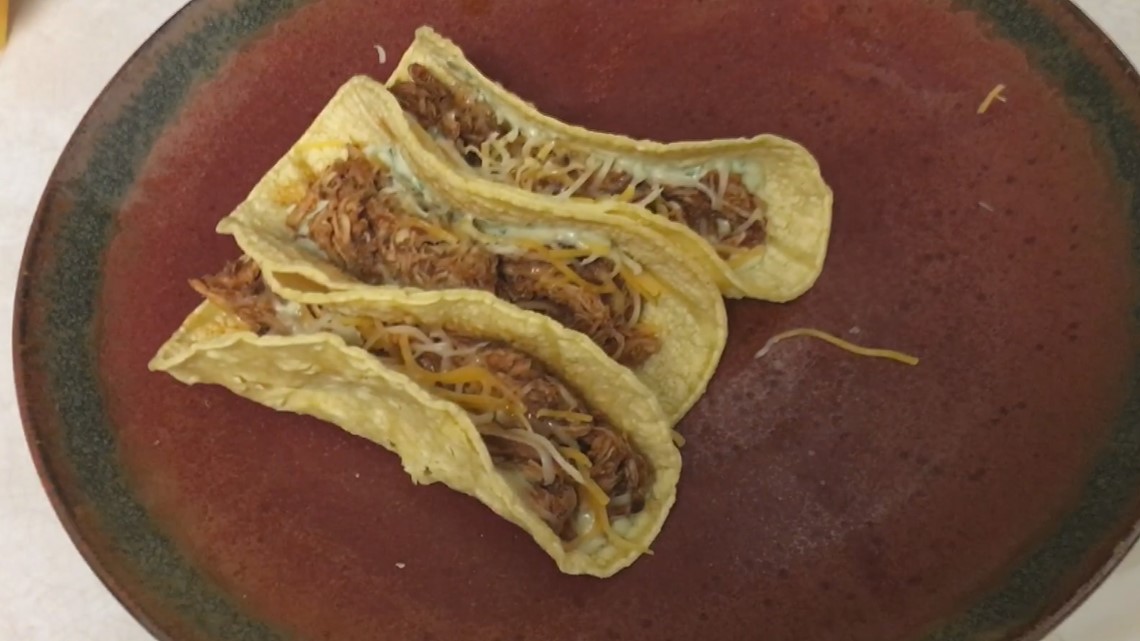 2lbs chicken breasts, cut to fat
Can of diced tomatoes
Can of chipotle peppers in adobe sauce
1 cup chopped white onions
3 cloves of garlic, minced
2 tsp. smoked paprika
2 tsp. ground cumin
1 tsp. oregano
1 1/2 tbs. sugar
juice of one lime
3 cups plain Greek yogurt
3 avocados
2 limes
cilantro, to taste
Combine, chicken, diced tomatoes, peppers, onion, garlic, paprika, cumin, oregano, sugar and lime juice to crockpot. Stir to combine.
Cook on low for 7-8 hours
Meanwhile, make avocado cream by combining yogurt, avocado, lime juice and chopped cilantro in a bowl until creamy and smooth.
Remove chicken from crockpot and shred with forks. Blend excess juice in blender, return both chicken and juice to crockpot
Serve cream on top of chicken as tacos, burrito or bowl!