Last week Richard Barnett from Gravette asked for three months to prepare for his sentence and to be placed at a prison facility in Yankton, South Dakota.
Barnett, who the judge said was a "face of January 6" during his sentencing hearing, was seen in a picture with his legs propped up on Nancy Pelosi's desk during the Capitol riot on Jan. 6, 2021.
Barnett was found guilty on all charges related to his role in the riot and was sentenced to 54 months in prison on May 24, 2023.
Barnett entered the U.S. Capitol alongside other rioters while carrying a U.S. flag and a stun gun walking stick. During his trial, he testified to the fact that he was looking for a bathroom inside the Capitol when he went into Pelosi's office and encountered two news photographers, who took the photo.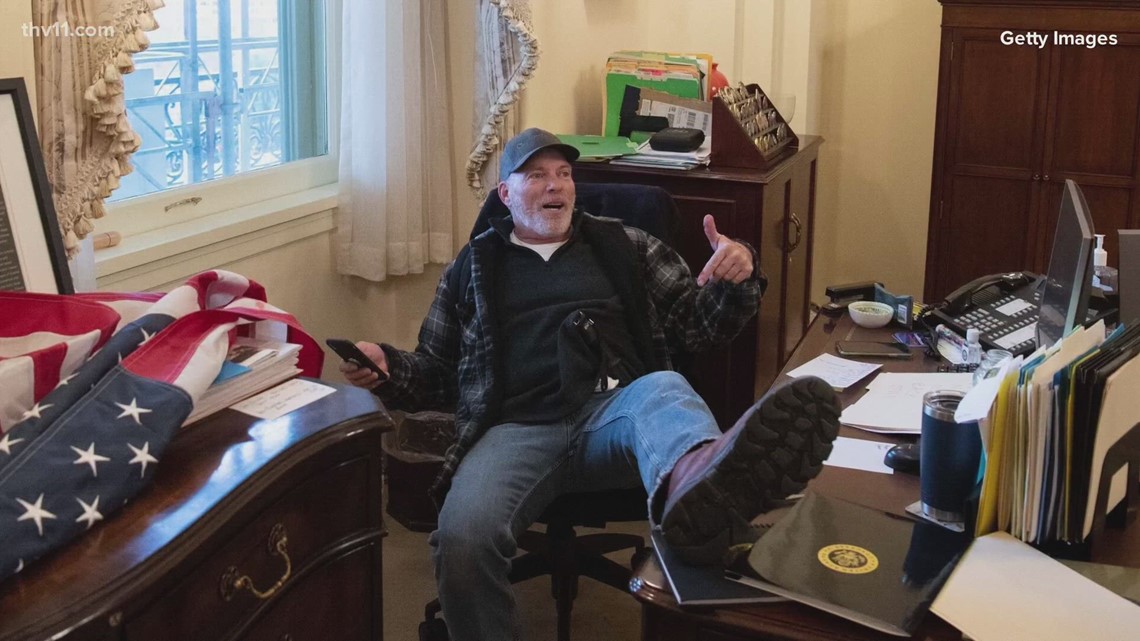 According to CBS, Barnett said during the sentencing that he was "not proud" of his conduct, but that he was not "threatening," adding that "They want me to be remorseful for things I did not do."
Barnett reportedly stated that "January 6 was a traumatic day for everyone, not just law enforcement."
Barnett faced eight total charges, including:
civil disorder
obstruction of an official proceeding & aiding and abetting
entering and remaining in a restricted building or grounds with a deadly or dangerous weapon
disorderly and disruptive conduct in a restricted building or grounds with a deadly or dangerous weapon
entering and remaining in certain rooms in a capitol building
disorderly conduct in a capitol building
parading, demonstrating, or picketing in a capitol building
theft of government property
According to court documents, Barnett had wanted to be placed at the Yankton facility "because of his age" and that he was looking for a "minimum security prison camp with no violent offenders and with work and psychological programs."
In response to Barnett's request for delay, the judge said, that he "has had ample time since his conviction to prepare for his incarceration and presents no compelling reasons to justify additional delay."
Download the 5NEWS app on your smartphone: