Murder of Ebby Steppach still shrouded in mystery nearly 5 years later
More questions than answers still surround Ebby Steppach's October 2015 murder that brought nationwide attention to Little Rock.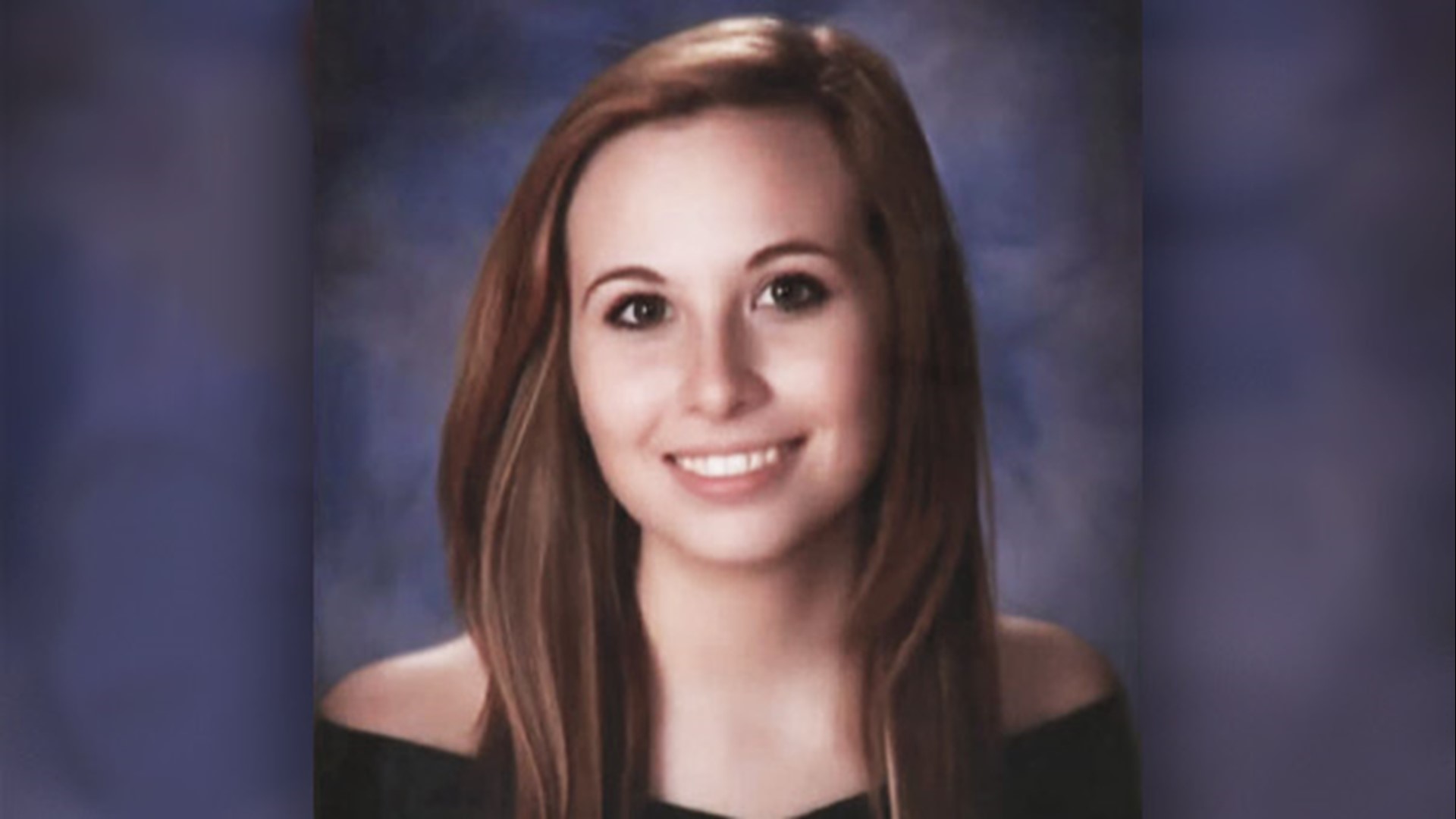 For the last five years, the nation has been focused on our capital city and the still-unsolved case of 18-year-old Ebby Steppach.
She disappeared in October 2015 until detectives found her body two and a half years later in the park they had searched many times before.
It's a cold case that has left the community at a loss and family members frustrated over the homicide investigation, but the fight continues to find Ebby's killer.
The phone call
:
Ebby Steppach was a loved daughter and friend. She was an 18-year-old who loved the beach, the color purple and dreamed of going to cosmetology school.
Her mother, Laurie Jernigan, said Ebby had a fiery personality but it was her sense of humor that she remembers most.
"She was very funny. She would not let you leave a room without making you laugh," Laurie said.
And it's that feeling that Laurie would do anything to have back. She would give whatever she could to hear Ebby's laugh again, to laugh with her.
But Laurie's days now are made up of fighting to learn what happened to her daughter in October of 2015.
Around that time, she said Ebby had started to change.
"She started a new job, she changed friends, she changed schools and started to rebel," Laurie recalled. "She was really rebelling and fighting, fighting back [and] storming out."
Laurie and her husband Michael gave Ebby a choice: be respectful or leave.
Ebby decided to leave and found refuge with her friend Danielle Westbrook.
"She was rebellious, she was independent, she's gonna do whatever she wants," Danielle said.
Danielle said Ebby would ask to stay with her after explaining a fight she'd had with her parents.
But on the night of October 24, 2015, something alarming happened.
"She texted my husband and said she had been raped and videotaped and would he meet with her and go to the police with her," Laurie said.
Michael agreed to help Ebby, but when he tried to organize a way to help her and bring her to the police department, she never replied.
It wasn't until 5:30 p.m. on the next night when anyone in the family heard from Ebby—she called her brother Trevor.
"She was very disoriented, more so than just being high or drunk," Laurie said, remembering how her son described Ebby. "[He] said she was completely out of it."
Ebby told her brother she didn't know where she was, only that she was in her car.
And then after that phone call... Ebby was gone.
Ebby disappears
:
Laurie's husband Michael had text messages from the night before, but the family was at a loss of what to do, so they turned to the police.
"We were told we couldn't file a police report for 12 hours, which now we know that's not true," Laurie said.
As the days passed, family and friends handed out flyers across town, in hopes to find and hold onto any detail that she was safe. As time passed, fearing the worst began to settle.
"I just knew it, everything in my soul, I knew something had happened to her," Laurie said.
A week later, Ebby's Volkswagen Passat was found in Chalamont Park.
Her phone, her purse and her medication were still inside.
"Ebby would never, ever, ever leave her keys in the car," said Danielle Westbrook. "She would definitely not leave her makeup bag."
Ebby's mother said she loved makeup. But when her car was found, the makeup was found scattered and broken.
Yet there was no sign of Ebby.
Police officers with the Little Rock Police Department searched the park, claiming to have scoured nearby drainage ditches, only to find nothing.
At one point, dogs were brought out to the park. And still, their investigation ran cold.
As the months passed, leads came up empty and the fear of never finding Ebby grew.
A national spotlight
:
The site where police found Ebby's car became a memorial full of flowers, photos, and notes of love and hope. But soon, pain and frustration would rise as the case remained unsolved.
Detective Tommy Hudson was assigned to the case by the police department. He said his job during investigations is to speak for the person that was killed.
"Our job is to speak for them and do what we can do to get their voice across and try to find the person that did this," he said.
But as Hudson went digging, the case was getting national attention.
Doctor Phil decided to profile Ebby's disappearance and her mother filing a complaint against the Little Rock Police Department.
"A lot of mistakes were made, a lot of things were missed," Laurie said during her appearance on Dr. Phil.
She claimed her daughter's case was mishandled and not taken seriously.
When Ebby's car was found, it rained for days. Police allegedly left the trunk open while it was at the impound.
"It ruined everything that was left of her car," Laurie said. "Any of the things that were her's that we could've kept."
Laurie said searches weren't thorough, people weren't interviewed, and unfounded blame was directed at her husband.
"[We] took all that to Internal Affairs and I got a letter that said, 'We can't prove or disprove what you've said,'" she said.
While she was dealing with her problems with the investigations, Laurie was getting calls from around the world about her daughter.
"Random people from around the world, who are sending us messages...saying, 'We have her and we want money from you,'" Laurie said.
Ebby's friend Danielle said she would walk through the woods, hoping to find anything that would lead her back to her friend.
Finding Ebby
:
At the cold case office, where Ebby's photo hangs, Detective Tommy Hudson would continue to pour over the evidence.
But something wasn't sitting well with him.
"There was some evidence we were looking at that was found at the scene when she initially disappeared that bothered us," Hudson said.
Hudson and other officials went back to Chalamont Park with bulldozers.
They sent cameras down the drainage pipes.
"It was a gut feeling with all of us," he said.
The equipment hit obstructions and dug up a section of the pipe where they found Ebby's body.
"The FBI brought their evidence recovery team out and found the majority of her remains there," Hudson said.
During the time Ebby was reported missing, Hudson said there was a lot of rain and "that's probably what led to her body being where it was so far down."
Hudson said there were stories of a smell resembling decomposition, but that there would be no way "somebody would be able to smell that."
Two and a half years later is when police bulldozed the area near where Ebby's car was found, finding her remains in a drainage pipe.
When police told Laurie they had found Ebby's remains, she said she was angry.
"It was 60 feet from her car," she said.
Searching for justice
:
Although Hudson wouldn't share with us how Ebby died, he said he has an idea of how she might have been killed.
He also doesn't know why police didn't investigate the drainage pipes properly the first time around.
But he did say it is a homicide investigation.
"I can categorically tell you her stepfather, her father, nobody in her family is a suspect that we're looking at in the case," Hudson said.
For Ebby's family and friends, they just want answers.
"She would still be dead if they found her in a week," Laurie said. "But if Tommy had found her in a week, they would've found who did it and not this circus."
A mother that will never give up, a friend that will continue digging and a detective that continues the search to find Ebby's killer.
While Hudson discourages the idea of "Facebook detectives," he believes someone knows something and may have even the smallest bit of information that could help solve Ebby's murder.
If you have any information, you can call him at (501) 404-3128.
There is a $10,000 reward for information that leads to a conviction in Ebby Steppach's murder.