ARKANSAS, USA — Some parts of Arkansas are set to see significant snowfall, and in preparation, some districts across the state have implemented closures.
By Tuesday afternoon and evening cold air will bleed into west and northwest parts of Arkansas. This should kick off the transition from rain to all snow, especially for higher terrain in the Ozarks.
There will be a lot of moisture associated with this system, so snowfall could be heavy at times Those areas could receive 3-6" or more of snow by Wednesday morning.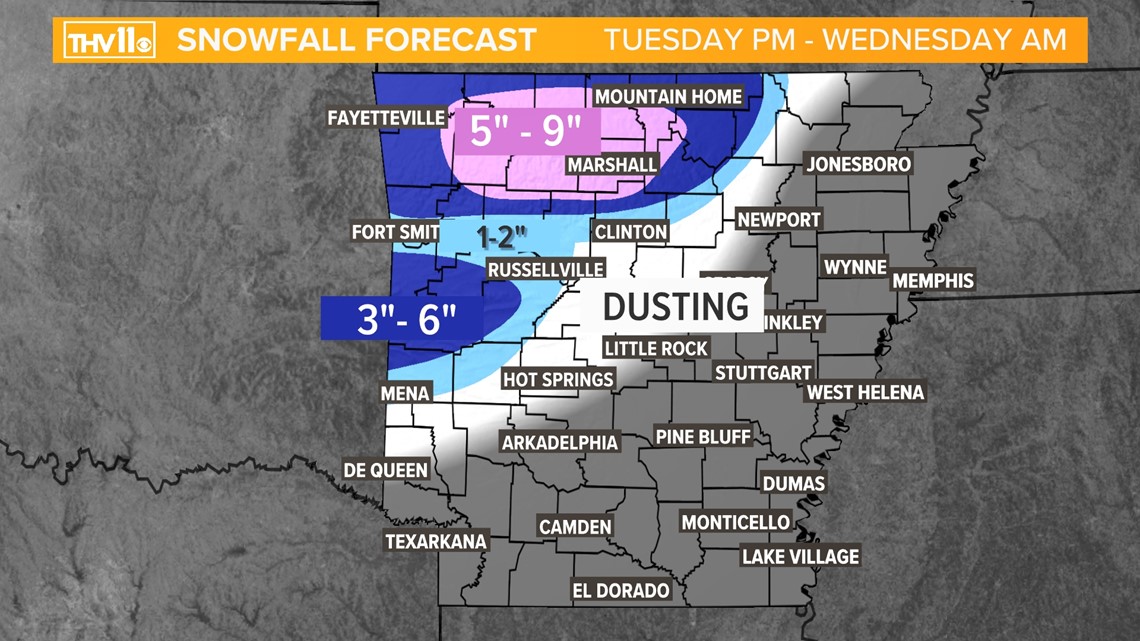 Due to the anticipated weather, the following school districts have canceled classes for Wednesday:
Danville School District
Dardanelle School District
Atkins School District
Dover School District
South Conway County School District
ATU - Ozark (Closed Tuesday and Wednesday)
Arkansas Tech University (Closed Tuesday and Wednesday)
Arkansas Tech Career Center (Closed Tuesday and Wednesday)
Western Yell County School District
Mountainview School District
Shirley School District
UA Rich Mountain
Jessieville School District
Russellville School District
Guy-Perkins School District
Midland School District
UAMS Kids First Morrilton
Community School- Batesville
East End Bigelow School District
Heber Springs School District
Clinton School District
Pangburn School District
Batesville School District
Mount Ida School District
Mt. Vernon/ Enola School District
Rose Bud School District