This summer, we are partnering with Heart of Arkansas United Way to help gather school supplies for elementary schools in the Little Rock, North Little Rock and Pulaski County Special School districts.
It is our goal to ensure that no students arrive on the first day of school without the necessary items to learn.
If you'd like to donate, you are asked to drop off supplies at the following locations:
U.S. Bank locations in North Little Rock and Little Rock
Regions Bank locations in North Little Rock and Little Rock
Rock Region Metro

310 East Capitol, Little Rock

Club Pilates

16900 Chenal Parkway Suite 160, Little Rock

Enable Midstream Partners

5300 Northshore Drive, North Little Rock
You can also donate by texting SUPPLIES to 313131 where you will be sent a link to a donation page.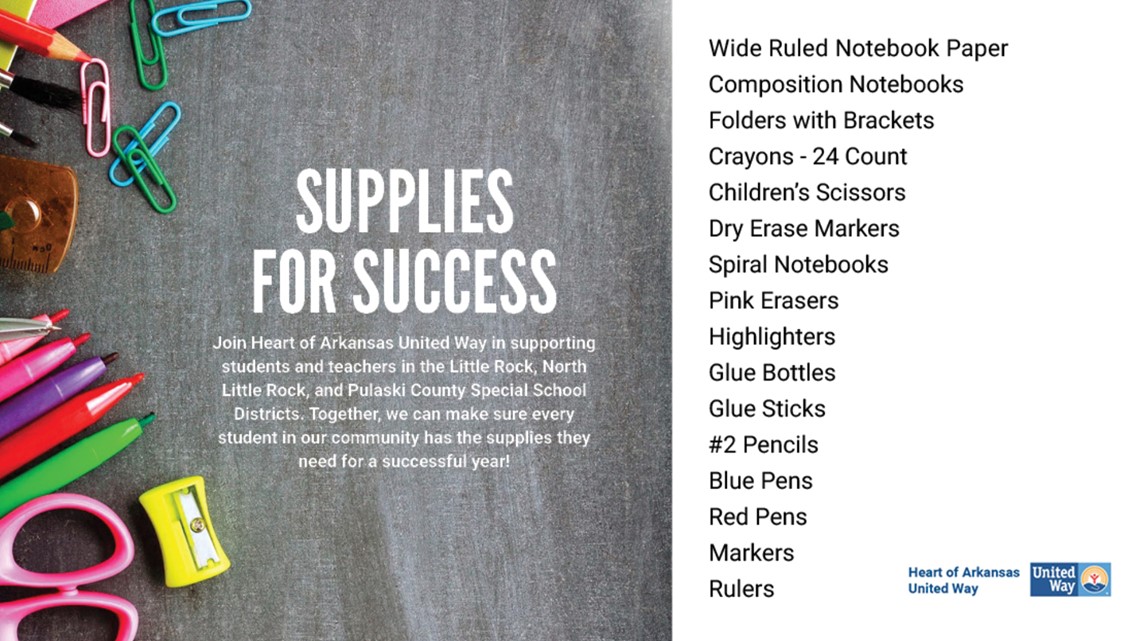 Supplies will be provided to the following schools:
North Little Rock School District
Amboy Elementary
Glenview Elementary
Meadow Park Elementary
Ridge Road Elementary
Seventh Street Elementary
Little Rock School District
Bale Elementary
Martin Luther King Elementary
Meadowcliff Elementary
Rockefeller Elementary
Romine Elementary
Stephens Elementary
Washington Elementary
Watson Elementary
Western Hills Elementary
Pulaski County Special School District
College Station Elementary
Daisy Bates Elementary
Harris Elementary
Landmark Elementary
Lawson Elementary
Oak Grove Elementary
William Jefferson Clinton Elementary
If you would like any other information, please visit Heart of Arkansas United Way's website by clicking here.