LITTLE ROCK, Ark. — Around 7 a.m. on Thursday, Nov. 14, Little Rock teachers lined the streets near Central High School to begin the one-day strike.
Little Rock teachers, parents, and students started chanting and picketing outside, protesting the Little Rock Education Association's loss of collective bargaining rights and proposals to reconstitute the district when the five-year state takeover runs out early next year.
"They're trying to re-segregate our schools through this plan of this blank MOU, which is a Memorandum of Understanding, and it basically gives them a blank check," said Erica Ivy, who has been a teacher in the LRSD for eight years. "So, that's not local control to me. And I will absolutely stand up for my students as will all of these people."
WATCH FULL MEETING-- Arkansas Department of Education addresses LRSD local control
Upward of 250 people -- teachers, students, parents, and others -- were a part of the picket line.
"The community, the city as a whole, they're united. They're behind us," said Gladys Godley, a LRSD teacher for 23 years.
They held their line on the side of the building before school, forcing some staff members to find an alternate entrance.
According to the LRSD communications director, as of 11 a.m., there are 607 teachers and 118 members of the support staff out, from the 3,200 employees at LRSD.
As for the student attendance, over 10,000 elementary, middle, and high school students were absent on Thursday.
12,605 elementary students enrolled – 6,542 were in attendance today
4,829 middle school students enrolled – 2,132 were in attendance today
5,903 high school students enrolled – 1,475 were in attendance today
Several of those students protested with their teachers.
"Them coming up to me, and saying thank you for being out here, like you shouldn't have to thank me. Thank you for being a teacher and standing up for what you believe in," said Zjeyoni Moore, a senior at Parkview Arts and Science Magnet High School.
The Arkansas State Board of Education began their meeting earlier Thursday morning, and some teachers rallied outside that meeting as well. As the morning picket lines wrapped up, the action shifted to the state capitol.
Governor Asa Hutchinson tweeted out Thursday that he was "proud and appreciative of all the teachers and staff in the LRSD who were in the classroom today teaching and serving the students."
Some of the signs on display outside Little Rock Central High School:
LRSD teachers' one-day strike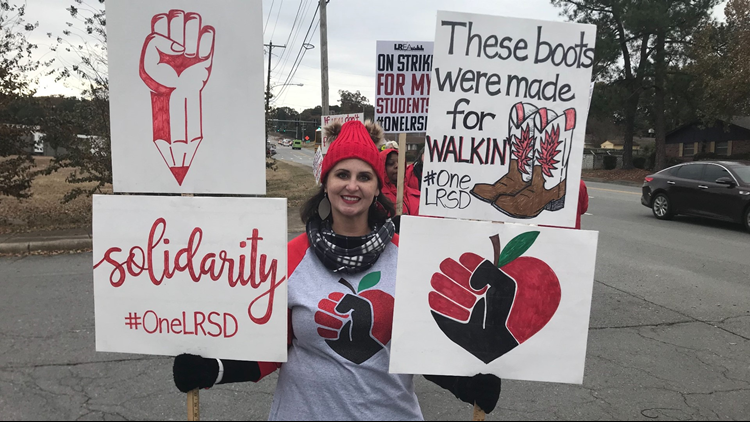 The meeting of the Arkansas Board of Education that served as the focal point for a one-day strike in the Little Rock School District will spill into a second day after officials abruptly adjourned Thursday night.
Teachers with the Little Rock Education Association picketed their schools before reassembling at the headquarters of the Division of Elementary and Secondary Education behind the State Capitol.
The board discussed four items for the state-controlled district with an eye on reconstitution when the five-year state takeover runs out early next year.
After discussing the items, two hours of mostly angry public comment criticized the board members for moves to return an elected school board while retaining some state involvement in schools that continue to be in need of "Level 5 Intensive Support." The board voted to stop recognizing the union as the soul collective bargaining agent.
When the comment period ended, members of the audience began chanting and disrupting the meeting. One woman was escorted from the auditorium.
After a recess, chairwoman Diane Zook announced an adjournment until 9 a.m. Friday morning to pick up with the agenda items. The regularly scheduled meeting will go on after the board finishes with LRSD business.
This article has been edited with updates from the LREA meeting.