AUSTIN, Texas — Editor's note: This blog is no longer active. For the latest updates, check out our new live blog here.
KVUE is keeping you updated with the latest coronavirus, also known as COVID-19, news in the Austin area.
Scroll down for the top headlines and latest updates in KVUE's May 20 live blog.
COVID-19 numbers:
Texas: More than 49,000 cases have been reported in the state, and more than 1,300 people in Texas have died, according to the Texas Department of State Health Services. The department estimates more than 29,000 people have recovered from the virus.
Central Texas counties:

Travis County: More than 2,600 cases have been reported and at least 82 people have died. More than 900 people have recovered from the virus.
Williamson County: More than 480 cases have been reported and at least 19 people have died. More than 260 people have recovered from the virus.
Hays County: There have been at least 238 cases reported in the county and at least three people have died. Around 150 people have recovered from the virus.
Top headlines:
Updates:
9 p.m. – Arcades and indoor playscapes remain closed in Texas for the time being. They are some of the few places that the governor hasn't announced a reopening date for.
But workers at Mt. Playmore off of Interstate 35 in North Austin said they already have plans for what to do as soon as they get the greenlight, including pulling some games out of the arcade to allow for social distancing and making sure customers sanitize their hands when they come in. But the general manager said even if they open at 25% capacity, they may need more staff than before to make sure all safety guidelines are followed.
8:30 p.m. – For the past couple of weeks, Austin Parks and Recreation employees have been monitoring car traffic to close park entrances when they got too full. Starting Thursday, they will begin keeping an eye on walk-in and cycling traffic as well.
6:10 p.m. – Travis County on Wednesday reported another death from COVID-19, bringing the total to 82. There were 49 new cases confirmed, with the total in the county at 2,644. At least 925 people have recovered.
5:30 p.m. – The University of Texas at Austin announces new details for its fall 2020 semester plans.
The semester will begin on Aug. 26 and classes will run through Thanksgiving. After the holiday, students will not be returning and will instead participate in reading days and final exams remotely.
5 p.m. – Hays County reports 12 new cases, bringing the total number of lab-confirmed cases in the county to 250. Of those, 92 are still active. At least 155 people have recovered from the virus in Hays County. The county has had three coronavirus-related deaths.
Williamson County is now reporting 513 total cases, 280 recoveries and 20 deaths. Of those, 213 remain active.
RELATED: LIST: Confirmed Central Texas coronavirus cases by county
4:50 p.m. – In the latest move in the ongoing vote-by-mail dispute, a federal appeals court has temporarily blocked a lower court's ruling allowing Texas voters to vote by mail during the coronavirus pandemic. Click here for more.
4:42 p.m. – Here is the latest coronavirus data for the State of Texas. There were 50 new daily deaths statewide, including two more for the Austin-Travis County area. There were 1,400 new cases reported statewide, making Texas cross the threshold of 50,000 cumulative cases. The positivity rate, or the percentage of positive tests compared to the total number of tests, was 4.7%. Hospitalizations were up slightly.
GRAPH: Texas coronavirus data May 20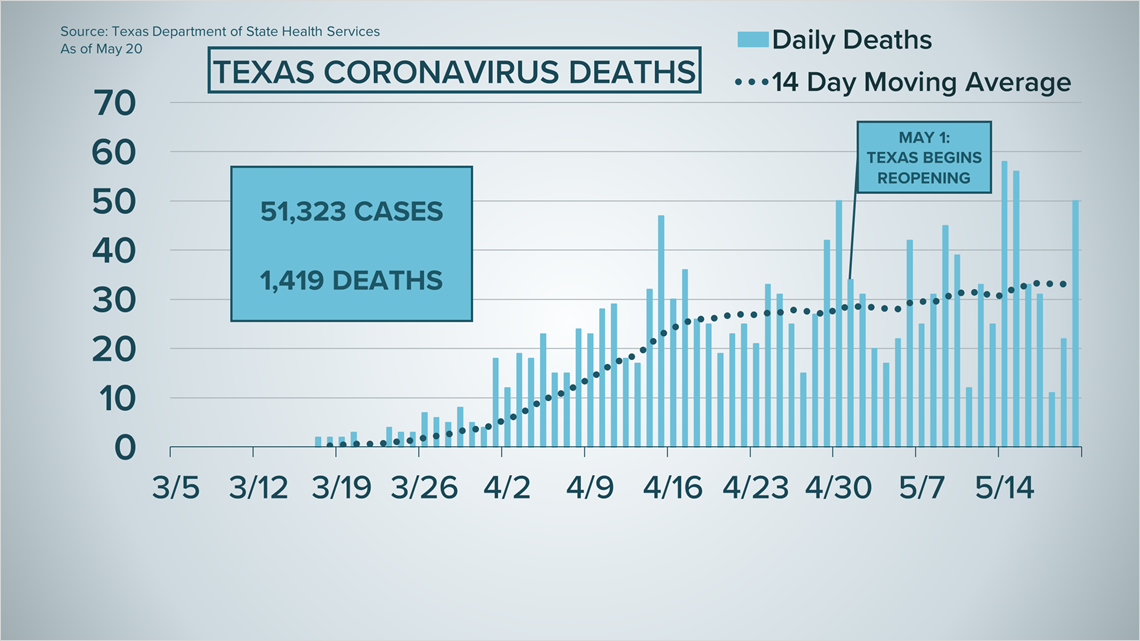 3:35 p.m. – On Tuesday, the Williamson County Commissioner's Court terminated the county's local disaster declaration, which went into effect on March 14. The commissioners also approved a plan for ramping up in-person access to county offices.
County buildings will reopen by following safety procedures including posting signage stating that face coverings are recommended but not required inside county buildings. However, face coverings will be mandatory when entering a courtroom. Temperature checks may be required by elected officials for members of the public entering the Williamson County Justice Center, facilities where essential employees are working and when visiting the Williamson County Regional Animal Shelter.
3 p.m. – Texas Agriculture Commissioner Sid Miller has launched a new online campaign to connect consumers with local agriculture producers selling directly to the public. The "Direct to Texas" campaign has posted a list of Texas producers selling items like beef, vegetables and fruits, honey, pecans and more directly to the public, and the campaign's Facebook page provides a forum for producers and consumers to interact and do business.
1:45 p.m. – Due to overwhelming interest in Family Emergency Rooms COVID-19 testing, Williamson County has temporarily taken down the online testing portal. The county will announce when the portal is back up after scheduling the backlog of requests.
"The partnership between Williamson County and Family Emergency Rooms for COVID-19 testing has been overwhelmingly successful," the county said on Wednesday. "As of Tuesday, May 19, there have been 564 nasopharyngeal tests conducted, which have provided accurate testing results to concerned citizens. Of these tests, there have been eight positive results, allowing the individuals to seek medical attention and quarantine to prevent the spread of the virus. In addition to the tests performed, there are approximately 350 more individuals scheduled for testing and more than a thousand in line to be scheduled."
1 p.m. – State officials, including Gov. Greg Abbott, Lt. Gov. Dan Patrick and Speaker of the House Dennis Bonnen, sent a letter directing state agencies and higher education institutions to submit a plan to identify savings that will reduce budgets by 5% for the 2020-21 biennium, according to the governor's office.
12:15 p.m. – The city of San Marcos is allowing its riverfront parks to reopen starting Friday, May 22. The following parks are scheduled to reopen:
Rio Vista Park
City Park (including Dog Beach)
San Marcos Plaza Park
Juan Veramendi Plaza Park
William & Eleanor Crook Park
Hays County Veterans Memorial
JJ Stokes Park
Ramon Lucio Park (including the San Marcos Wildlife Annex)
11:50 a.m. – The Central Texas Food Bank has announced a free food distribution for Hays County residents who are facing food insecurity during the pandemic.
The distribution will take place on Saturday, May 30, from 8 a.m. to 1 p.m. at the Smile Direct Facility at 300 Vista Ridge Drive in Kyle.
Attendees will be given one box of assorted produce, two gallons of milk, and a protein box weighing between eight to 20 pounds containing chicken or pork products.
Pickup is only available to people in cars and walk-ups are not allowed.
The food bank is also accepting volunteers.
11:30 a.m. – Circuit of the Americas announces that it will host a graduation celebration for Del Valle High School's Class of 2020 on Saturday, May 30.
COTA will welcome 650 graduates in anywhere from 300 to 500 vehicles for a social distancing parade in Lot A.
In addition to graduation music being played throughout the area, seniors and their loved ones are asked to decorate their cars in honor of the graduating class. Students will drive down the middle of the Main Grandstand parking lot with friends and family parked on either side cheering them on. The parade will be led by Valedictorian Stephanie Cardenas and Salutatorian Cecilia Corona Rodriguez, followed by Superintendent Dr. Annette Tielle, DVHS Principal Dr. Joseph Welch, and ECHS Principal Jenise Wright.
"We're honored to be able to do something nice for the students, as many of them have worked here, and we're very proud of them," commented COTA Founder and Chairman Bobby Epstein.
11:15 a.m. – During a press conference Wednesday morning, Dr. Mark Escott with Austin Public Health said big events such as the Austin City Limits Festival and Longhorn football are not likely by the end of 2020. Dr. Escott also revealed which Austin-area zip codes are of concern, and a "new rapid" test machine.
11:10 a.m. – The Texas Department of State Health Services (DSHS) is distributing ten cases of the antiviral drug remdesivir to ten hospitals across the Austin area to help treat COVID-19, according to Gov. Greg Abbott.
9:50 a.m. – Dripping Springs leaders announced a Disaster Relief Program for businesses impacted by COVID-19 is in the works. This relief program would be for commercial businesses only, not for residents. If you would like to give your input, ideas can be sent to Executive assistant Kevin Campbell at kcampbell@cityofdrippingsprings.com. The committee will look at these ideas and discuss them at a meeting on June 9.
6:15 a.m. – Austin Public Health will be answering COVID-19 questions during a press conference at 9 a.m.
WATCH: What will happen if Texas bars break Gov. Abbott's rules?
MORE CORONAVIRUS COVERAGE: