LITTLE ROCK, Ark — In a press conference on July 16, Arkansas Governor Asa Hutchinson announced he will be issuing a statewide mandate for face coverings.
The executive order goes into effect on Monday, July 20.
The governor cited several reasons for the mandate; the first reason being the increase of positive COVID-19 cases, hospitalizations, and deaths. He said the numbers indicate that we need to do more.
Hutchinson said another reason for the mandate is because doctors and nurses working on the frontlines have consistently been asking for the public to do more.
The governor has spoken with many state legislators. Although some don't share the same view, he says most are saying, 'I don't like it, but whatever it takes, let's get through this and give us the best chance for normal activities in the future.'
For the final reason listed, Gov. Hutchinson states, "it's out children and our grandchildren." He said if children are going to be required to wear masks to school for their own health and safety, then adults must set the right example for them.
Gov. Hutchinson said he believes the fight against COVID-19 is going to get harder and not easier.
"We have to meet the challenge together and everyone must do their part. And this is a way to enlist the support of everyone in this fight," Hutchinson said.
Where exactly are face masks required?
Face-coverings over the nose and mouth will be required in all in-door environments where individuals are exposed to non-household members and the 6-foot distancing rule cannot be assured.
They will also be required outdoors when there is exposure to non-household members, unless the 6-foot distancing guidelines can be assured.
Who is exempt from the statewide mandate?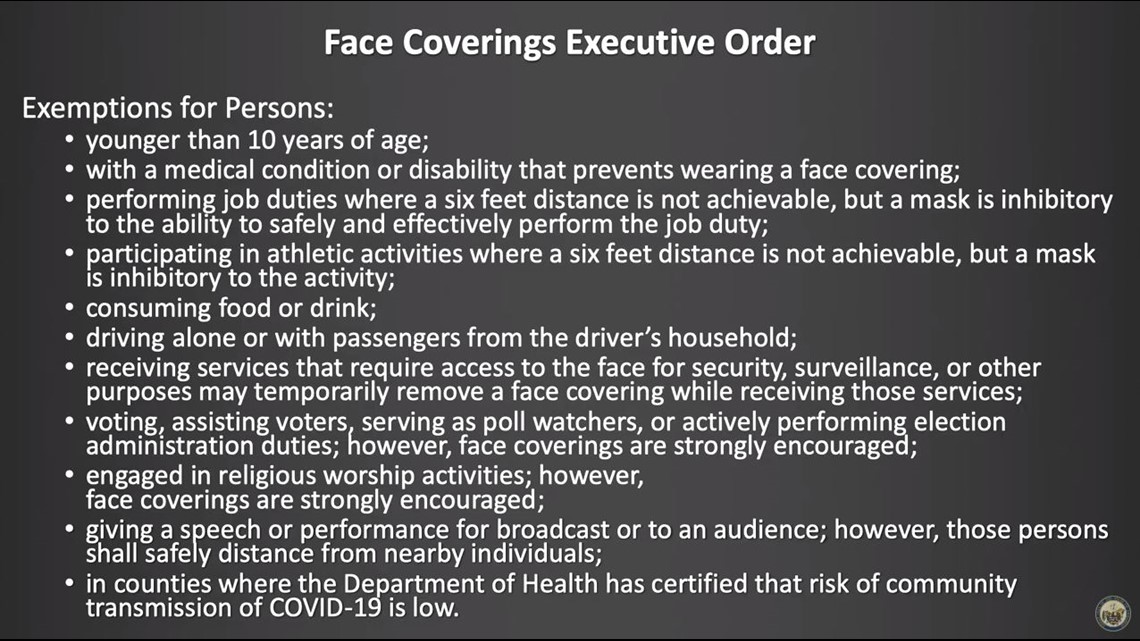 What will happen if the executive order isn't followed?
Violation of a directive from the Secretary of Health during this public health emergency is a misdemeanor offense and punishable by a fine of no less than $100, but no more than $500.
First time violators will receive a verbal or written warning. If under the age of 18, violators will only receive this type of punishment.
No one will be arrested or detained in violation of the order. However, the order will not prohibit law enforcement or officials from enforcing trespassing laws or other applicable laws in removing violators at the request of a business or property owner.
You can read the full executive order below:
And if you're in need of a mask, Craig O'Neill is here to teach you how to make one from home!