Agents from the Department of Homeland Security have conducted raids at a Stark County meat supplier on Tuesday.
According to ICE, 146 undocumented immigrants were arrested following raids at four Fresh Mark facilities in Massillon, Canton and Salem.
The agency says Tuesday's enforcement action is part of a year-long, ongoing investigation based on evidence that Fresh Mark may have knowingly hired undocumented immigrants at its meat processing and packaging facility, and that many are utilizing fraudulent identification belonging to U.S. citizens.
According to Steve Francis, special agent in charge of ICE's Homeland Security Investigations unit, Tuesday's raid was the largest workplace enforcement action to take place under the Trump Administration.
A source tells WKYC that search warrants are being carried out at the company's corporate offices with workers getting pulled in for administrative proceedings.
"We can confirm representatives from Homeland Security Investigations were onsite in our Massillon, Canton and Salem facilities this afternoon," Brittany Julian, Fresh Mark's Director of Corporate Communications, said in a statement.
WKYC's Amani Abraham checked out Fresh Mark's Harmont Avenue location in Canton
Fresh Mark Inc. in Canton | PHOTOS
Two Massillon Fresh Mark facilities were raided by ICE on Tuesday. Photojournalist Randy White took this photo of the Southway Street location. He also observed agents loading boxes onto a U-Haul truck.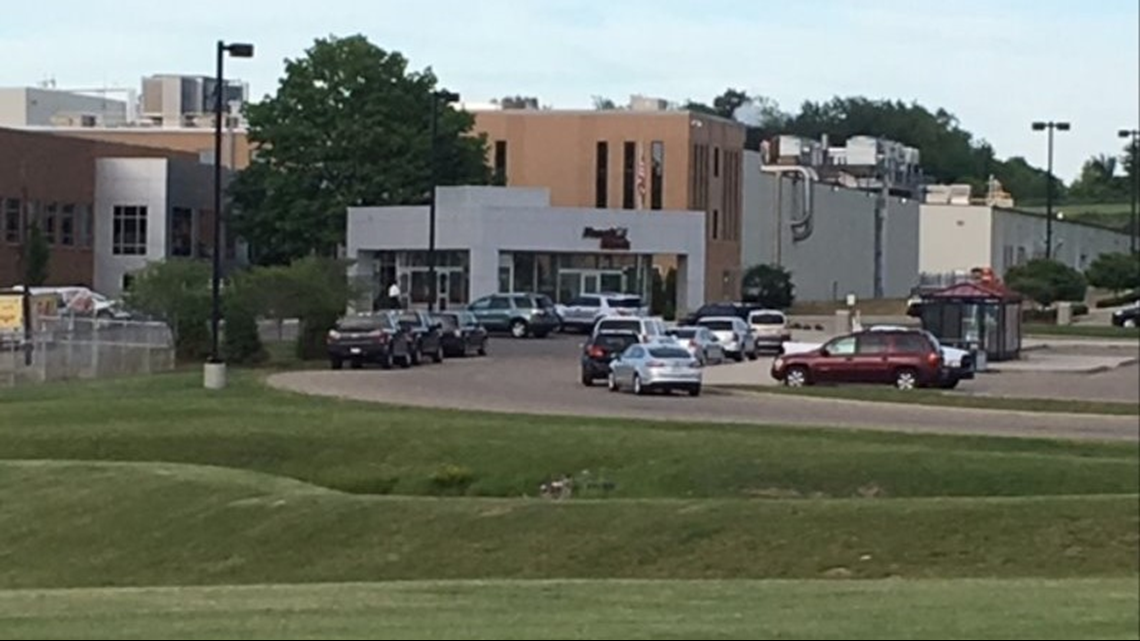 White then moved on to Fresh Mark's cold storage facility, also in Massillon.
PHOTOS | ICE raids Fresh Mark Inc. in Massillon
Our NBC Youngstown affiliate WFMJ went to Fresh Mark's facility in Salem, where more than 100 undocumented workers were taken into custody.
A security guard there said ICE officials were checking the IDs of employees at the plant. Witnesses said there were helicopters out as employees were being detained in the parking lot. They also tell WFMJ that many of the employees are from Guatemala.
PHOTOS | Fresh Mark Inc raided in Salem, OH
WKYC's Chris Tye arrived at the scene in Salem on Tuesday evening and filed this report on Facebook Live:
Fresh Mark is a supplier of bacon, hot dogs, ham, and lunch meat carrying the Sugardale and Superior brands. According to their Linkedin page, Fresh Mark employs between 1,000 and 5,000 workers.
Fresh Mark was the first company in Ohio to partner with ICE in its IMAGE program, meaning the company was trained by the agency in a "formal membership certification program" to identify fraudulent documents and to use Homeland Security's E-Verify program. ICE notes IMAGE members are not immune from agency scrutiny or prosecution for workforce compliance violations.
Salem Mayor John Berlin spoke to WKYC's Jasmine Monroe Wednesday, telling her he was "heartbroken" to see families broken up, but that the community "came together" to help the dozens of children by, among other things, opening the high school doors and cooking meals for them. He says all kids have since been returned to family members.
While Mayor Berlin says he is "sympathetic" to the situation, and added that he was sworn in to "abide by the law." He also wished Fresh Mark a "speedy recovery."
WKYC reached out to several other state lawmakers for their reaction to the raid. U.S. Senator Sherrod Brown said:
"My first concern is for the children who were separated from their families by the raid, and my office is looking into what we can do to help them. Tearing families apart is not going to fix our broken immigration system. Instead, we need a bipartisan solution that recognizes we aren't going to deport 13 million people here already, but we can secure our borders and create a pathway for people to earn citizenship if they follow the law, have a job and pay taxes."
Veronica Dahlberg, Founder and Executive Director of HOLA Ohio added:
"The people who worked at Fresh Mark are part of a very gentle, hardworking community. This is an outrage. Nobody should believe this is about enforcing the law. This is about the Trump Administration trying to decimate the Latino community. This is a disaster. A man-made disaster."
Those undocumented workers detained will be taken to facilities in Michigan and Ohio while awaiting removal proceedings. Federal officials tell Tye some of them will be housed at ICE's facility on Cleveland's east side.
A 24-hour toll-free detainee locator hotline is available for family members of those arrested in Tuesday's operation to field questions about detention status and the removal process. The hotline operates in English and Spanish; the phone number is 1-888-351-4024.