After warehouse rescue, families have no idea where nursing home residents are
In the aftermath of the frantic rescue, several families tell WWL-TV that they have had no contact from nursing home staff or Louisiana's government.

A day after more than 800 nursing home residents were being rescued from a partially flooded warehouse used as a Hurricane Ida shelter, family members say they still don't know where their loved ones are located.
Four people died in that warehouse – three of which have been classified as storm-related deaths. Twelve others have been hospitalized because of the conditions there. Hundreds more remain displaced.
Where are they?
:
Hundreds were rescued from the warehouse. But where did they go?
In the aftermath of the frantic rescue, several families tell WWL-TV that they have had no contact from nursing home staff, Louisiana's government, or anybody else who should know where their family members were moved.
State officials, including Gov. John Bel Edwards' office and the Louisiana Department of Health, have told the families to call 2-1-1 for information. And, while they say some families have been reconnected, that has not happened in some cases.
In at least two instances where WWL-TV called 2-1-1 on behalf of family members living out of state, the automated menu did not have an option for those families. In one case, a reporter was put in a line to talk to a dispatcher. Hours later, when they were finally connected, the dispatcher said she was not told about the situation, despite already getting three calls from other families looking for the same information.
After searching for information, the dispatcher gave the number for a "locater hotline" that went to a personal phone. The voicemail recording was too muffled to make out the owner's name, and the phone call was never returned.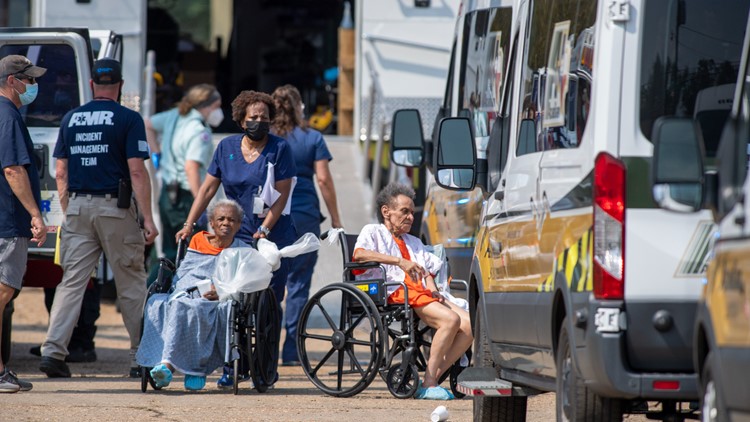 Families in contact with WWL-TV confirmed similar problems. They have found limited success reaching out to Louisiana's Office of Elderly Affairs and a mega-shelter in Alexandria where evacuated residents from across Southeast Louisiana have been housed since before the storm.
Donna Howe, an office manager for U.S. Rep. Julia Letlow, who represents Alexandria, said there is no phone number in place yet for family members to call.
"I talked to the shelter. They're trying to set up a hotline," Howe said Friday.
Kim Spears, an employee with the Department of Children and Family Services at the mega-shelter, said workers were just writing down contact information when families call in.
"We can't verify if they're here or not," Spears said. "If we can find them, and they're able to call, we'll give them the number to call back."
For those who can't call back themselves, Spears said that the shelter has caseworkers who will call the family to tell them where the displaced relative is.
The LDH confirmed some of the residents taken by ambulance from the Tangipahoa Parish warehouse were taken to the mega-shelter as well as to Louisiana State University's campus.
But families report a more scattered and chaotic situation. Their missing relatives – found through a veritable tree of phone numbers for each of the hurricane shelters and other state agencies – have been found as far away as Bossier City, Pointe Coupee Parish, and Lake Charles.
One family member of a man found in a Lake Charles facility said the new shelter did not know about the man's diabetes or that he has a hip prosthetic.
"I think he's okay," the family member said. "I asked them to please let him call me."
One relative who was rehoused at the Alexandria mega-shelter called her sister, Cillen Meisler, using somebody else's cell phone Friday morning to let Meisler know where she was.
Hours later, Meisler was told by shelter staff that they couldn't guarantee her relative would still be there when she came to deliver supplies Saturday. Because the shelter was full when the warehouse residents needed shelter, they are now being transported to other facilities, but mega-shelter workers couldn't tell Meisler where they would be going.
"She said they could come in an hour and take some away," Meisler said.
Others have been told to use safeandwell.org, a website organized by the American Red Cross which is being used to locate relatives that the state appears to have lost track of.
"At a dead end with no answers and no location still," Misty Connery wrote via text message while searching for her sister-in-law. "Red Cross has no clue."
Connery was eventually able to track her sister-in-law down, but it was not a happy reunion. Her relative is at North Oaks Hospital in Hammond, taken there because she reportedly fell down and became unresponsive while in the Independence warehouse.
Connery said her sister-in-law is only speaking in "Yes-No" answers and Connery's brother is on his way to the hospital to see if she will respond to him.

How Did This Happen?
:
Employees say conditions were not safe for all involved.
There are still few answers to that question.
Family members were told on the Friday before the storm's landfall that their relatives would be moved to a facility in Independence.
"We are in a huge complex which runs on generators if necessary," one message reviewed by WWL-TV read.
But the truth was much worse and direr than any family member could imagine. At the warehouse in Tangipahoa Parish, mattresses were stacked on the floor and there was no privacy for the hundreds of senior residents, many of whom needed help changing or eating.
As Hurricane Ida's eye moved past the area on Sunday night, one of the rooms where residents were being housed flooded. The residents were moved to other parts of the building, making the space even more crowded.
"They were sleeping on cots. They were sleeping on air mattresses, on the floor. They did have some hospital beds," one nursing home employee who worked at the warehouse told WWL-TV.
WWL-TV is not identifying the employee, who said they feared reprisal for speaking without authorization.
"One of my patients did have a hospital bed, but that's because she was a tube feeder," they said, referring to a patient who needed a gastrostomy feeding tube into her stomach. "Her tube came out. When her tube came out, they couldn't put it back in. They were supposed to immediately send her out. They didn't."
The employee said that when they clocked in the next day, the patient's tube was still out and the hole where it should go into that patient's stomach had healed closed.
"I asked the girl again … 'What are you going to do for the tube feeder?' She said she had to ask the corporate nurse. When I left that evening, they were still playing around with the situation," the employee said.
Another employee, speaking under the condition of anonymity to a WWL-TV reporter at the warehouse Thursday, said he was not surprised that people died there.
"Just wasn't enough room. Living conditions wasn't good," he said. "It was too crowded. Didn't have enough people."
He added that the poor conditions were unsafe for everyone involved.
"The conditions weren't good enough. I knew they wasn't going to be safe for the residents and the workers. We did the best we could with what we had," he said.

The Owner
:
Bob Dean owns the warehouse and the nursing homes.
The warehouse is owned by Bob Dean, a real estate mogul who also owns the seven nursing homes where the residents were evacuated to the warehouse. Dean has not publicly commented on residents' deaths or the conditions at the building which Tangipahoa Parish President Robby Miller called a "catastrophe" and an "avoidable tragedy."
WWL-TV has been unable to reach Dean, who owns several homes in Louisiana and other nearby states.
In a statement, the Louisiana State Police said they were in Independence coordinating with the state health department and the state's Attorney General's Office to investigate what happened.
AARP Louisiana has called for a thorough investigation into deaths at the warehouse.
"It's a privilege to hold a nursing home license. It's time to take it away from the facilities involved in this tragedy," AARP Louisiana Director Denise Bottcher said in a statement.
More than 800 residents remain displaced. The LDH never gave an exact number of residents at the warehouse, and their families remain, both figuratively and literally, in the dark.
The seven nursing homes the residents were originally housed at include:
River Palms Nursing and Rehab in Orleans Parish
South Lafourche Nursing and Rehab in Lafourche Parish
Maison Orleans Healthcare Center in Orleans Parish
Park Place Healthcare Nursing Home in Jefferson Parish
West Jefferson Health Care Center in Jefferson Parish
Maison DeVille Nursing Home in Terrebonne Parish
Maison DeVille Nursing Home of Harvey in Jefferson Parish
If you have a loved one who was evacuated from one of these facilities, WWL-TV would like to talk with you about the situation and provide any resources available to help you find them. Contact us by emailing cmccrory@wwltv.com or send a text message to 504-641-3471.