Ten thousand times a year across the U.S., someone dies at the hands of a drunk driver. More than a thousand times a year in Arkansas, police arrest a drunk driver.
Advocacy groups have made huge strides in getting those numbers reduced over time, particularly Mothers Against Drunk Driving, about to turn 40 next year.
But, an 11 News Investigation shows a repeating problem remains on the roads of Arkansas.
Beginning in 2013, data from the state's judiciary tracking system indicates the total number of drunk driving cases that landed in circuit courts started dropping. Around that time, the charge of drugged driving began getting tracked separately.
While overall numbers declined, the percentage of multiple offenders relative to the total remained steady. People on the frontlines are trying to find a way to get those trends changed.
"My son was a victim of a drunk driver where the offender that hit him was a three-time DWI arrest," said Yolanda Holmes, the program director for MADD in Arkansas.
"I was running radar and had a couple reports to do, so I went ahead and decided to try and knock those reports out. Next thing I knew, a big kaboom--and I felt it," said John Howington, a trooper with the Arkansas State Police.
He is the brother of THV11 anchor/reporter Jordan Howington and describes a crash back in January as he clocked speeders along I-40.
"I ended up having bruised ribs on the side, cracked ribs on the front. And then I was out approximately a month and a half," Howington said. "All I know is he got stopped another couple weeks afterward for another DWI."
Both Holmes and Howington in their daily work can affect some change, but both recognize multiple offenders are a stubborn problem. The reasons are tied in with addiction and due process and poor people who need to keep driving. One particular data point keeps cropping up.
"About one third of drunk drivers who are either arrested or convicted are repeat offenders," said Holmes in testimony at a damages hearing in Pulaski County court.
Judge Alice Gray slapped nearly a million dollar judgment on a five-time drunk driver. The victim's personal injury lawyer, Meredith Moore, thinks attacking the pocketbook could produce results.
"We are definitely high on the list of states that have repeat offenders for DWIs and people that are injured as a result of drunk driving," Moore said.
She sits on an in-house task force at her firm, Rainwater, Holt and Sexton, trying to tackle drunk driving. They are working with Holmes to win statement-making lawsuits while lobbying lawmakers to strengthen statutes.
"Legislation is showing that they are trying to make a difference in stopping this, but I think we're still a ways away," Moore said.
Holmes appreciates the help and says it's part of a full array of efforts to approach reform after coming away from the most recent legislative session with no new laws passed.
"We are trying to do more education and awareness," she said. "We're going into the middle schools, the high schools, the universities; working with state agencies."
On the front lines, law enforcement officers like Howington try to focus on doing their job, counting blessings, and going beyond when they can.
"People think it's weird when I tell them that I was glad it was me instead of somebody else," he said. "You know, I'm walking. I'm talking. I'm breathing. I'll personally every now and then have a heart-to-heart with people. I can't tell them you should do this or you should do that. It's their lifestyle. I can just say 'man, hey, you might want to think about this. You might want to think about that.' I'm not out there trying to be like 'hey, here's your ticket' and then walk off. If I can help somebody I try to help them."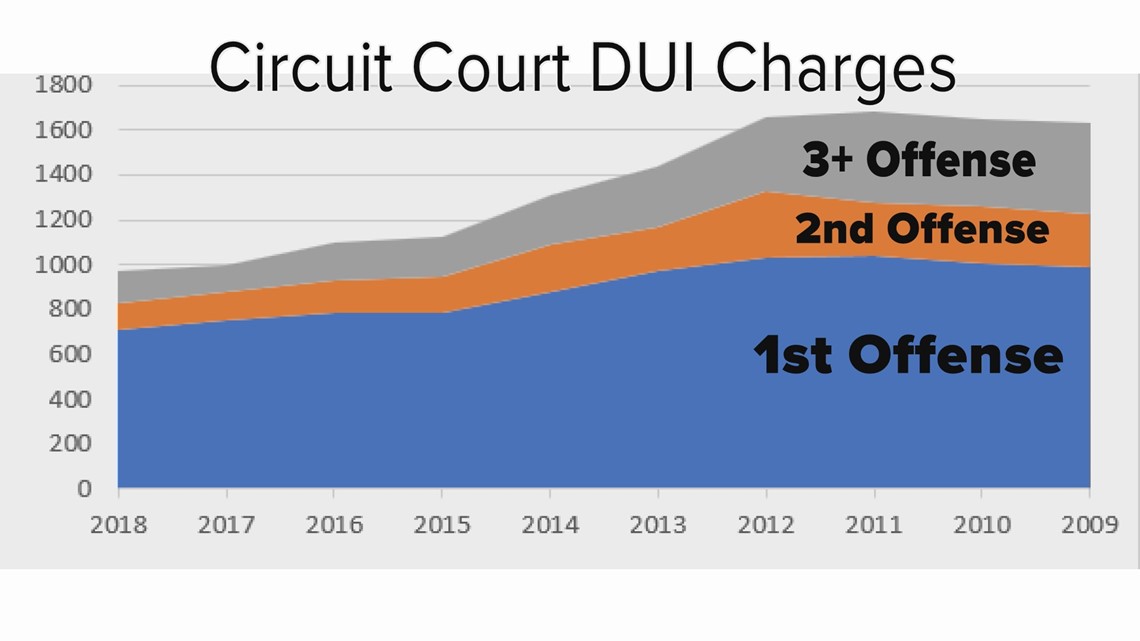 Arkansas, like most states, has a tiered system for drunk driving convictions (see charts pictured above and below). The first three times a driver is arrested, it is a misdemeanor. Jail can be up to a year, though community service is usually given instead.
Fines escalate into the thousands and some period of license suspension is required. Depending on the circumstances, drivers can shorten that suspension by agreeing to have a breath-activated ignition lock device installed on their car.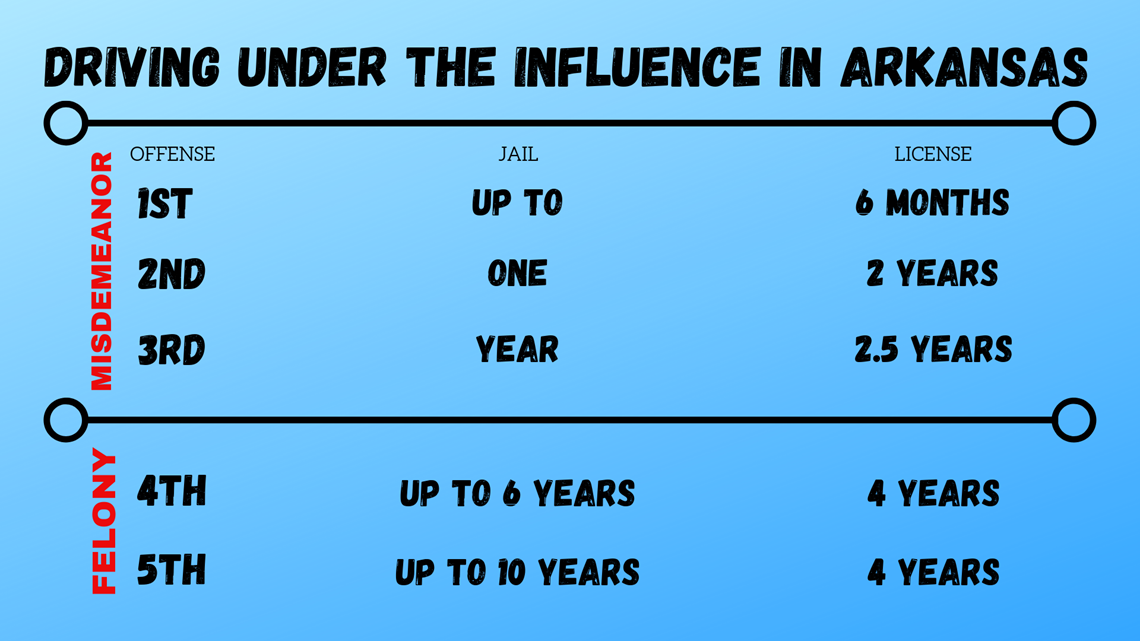 A fourth offense is considered a felony. Prison terms can range from 6-to-10 years, fines top out at $5,000, and license suspensions can last as long as the time spent behind bars.
Judges and prosecutors are not allowed to enter plea deals when it comes to drunk driving. Complications like having children in the car or if someone is hurt or killed elevate the crime, depending on the case.