BEEBE, Ark. (KTHV) - People in Beebe got a surprise end to 2010 when they found thousands of dead blackbirds all over their houses, yards, and roads. Now 8 years later, THV11 went back there to find out where are we now?
"I come out here and seen a bird drop," said one man in 2011 who lived in the Windwood Neighborhood
It was the most unusual way to fly into the new year. January 1, 2011, people in Beebe woke up to thousands of dead red-winged blackbirds.
"It was just weird, there were thousands of dead birds every place," said Johnny Hawes who still lives in the neighborhood and remembers that day well. "They were just everywhere."
A one mile area was covered with about 5,000 blackbirds.
"I got a call about 2 o'clock in the morning. That was the first inkling that something strange had happened," said Keith Stephens, Communications Director with Arkansas Game and Fish. "I was thinking that maybe this was a practical joke."
As hazmat crews picked up the birds, the mystery was making its way to national and international news. Rumors circulated over what caused it. Bacteria? Viruses? Chemicals? An alien invasion
Eventually lab test results showed the birds died of blunt force trauma.
"They were crushed in their breast area so they had flown into something, something scared them," said Stephens.
Being New Year's Eve, it's believed someone must have shot fireworks up into the tree where they lived, scaring them off.
"They don't have very good eye sight, they took off flying every direction and started hitting basketball goals, houses, cars, other trees," said Stephens.
The woods where its believed the birds were living have since been torn down for the construction of a Walmart, but the story of the birds is still very present in the community.
"It's really odd, I still get interview requests 2, 3 times a year," said Stephens.
Since the birds now have a new place to rest, there hasn't been a problem since.
Beebe is now embracing the incident, hosting the first ever Fallin' Blackbird 5K in September. The t-shirts feature an illustration of a dead, belly-up blackbird, turning a deadly, unfortunate event into chirpy memory.
Fallin' Blackbird 5K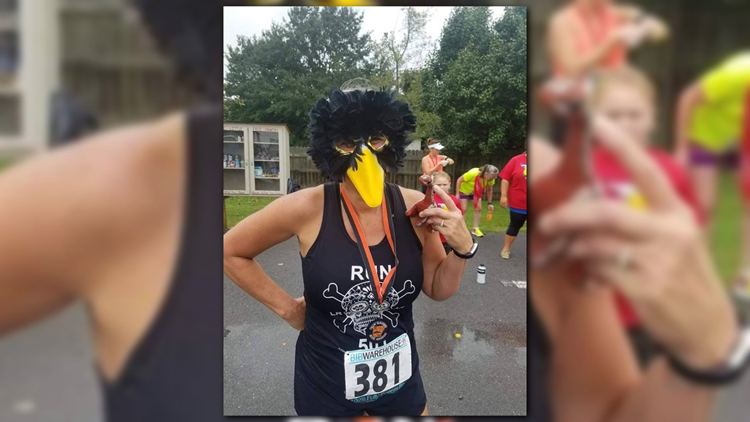 No one was ever arrested or blamed for the incident, but the next year it appeared someone tried to recreate the mass blackbird deaths, but on a much smaller scale.
Game and Fish is getting ready to do another interview on the birds with a production crew out of the UK.