GUILFORD COUNTY, N.C. — A decades-old grief therapy once considered taboo is now garnering new attention, with its clinically-proven effectiveness at "eyeing" solutions to sadness.
EYE MOVEMENT DESENSITIZATION AND REPROCESSING
William Shakespeare supposedly said, "The eyes are the window to your soul."
It is a sentiment therapist, Rev. Alyssa Botte, LCMHC uses every day to unearth emotions and "tap" into pain.
"I'll say, 'What was the worst part?' You'll say, 'It was this,' and you'll look ahead, and then I'll have you follow my fingers..." Botte explained as she showed WFMY News 2's Meghann Mollerus a demonstration of a groundbreaking therapy called EMDR -- Eye Movement Desensitization and Reprocessing.
"So, when Dr. (Francine) Shapiro. (Ph.D.) created it (EMDR) in the 1980s, a lot of people thought it was 'woo woo' science," Botte laughed.
The EMDR International Association (EMDRIA) explained Shapiro developed EMDR by accident when in 1987 she realized certain eye movements, in certain conditions, reduced the intensity of her own troubling memories.
EMPIRICAL RESEARCH AND SUPPORT
EMDR is much more than eye and touch manipulation. It is an eight-step psychotherapy, using a visual or auditory rhythm called bilateral stimulation. Botte said it can help clients suffering from not only acute trauma but also depression and anxiety.
"We actually don't fully know," Botte admitted.
She explained, "Some people think as that traumatic memory is being brought up, EMDR is distracting your brain, and because your brain can't hold the stimulation and traumatic memories at the same time, it's actually decreasing the sensations around the traumatic memory."
The other common hypothesis is a process similar to what happens during REM sleep.
"It (EMDR) is helping our brain take those memories, take those sensations and feelings and put them in the appropriate spot in our amygdala and hippocampus, which is like memory storage and emotional storage. So, it's helping our brain sort out what's going on in the moment," she said.
Brain scans, which have come a long way since EMDR's founding in 1987, show something sensational.
"You can literally see oh, my goodness, when they were thinking of the traumatic memory, it was the limbic system (the part of the brain controlling behavioral and emotional responses) that was activated first."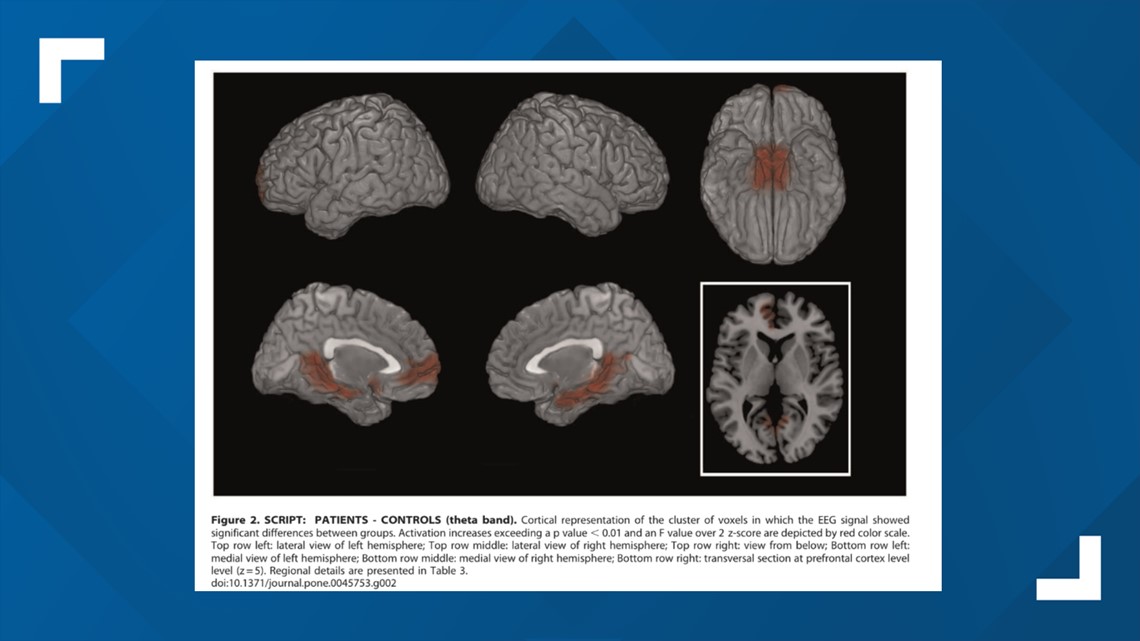 She explained, in referencing Figure 3, "Now, as they're thinking about it (the traumatic memory), it's their prefrontal cortex (activating)."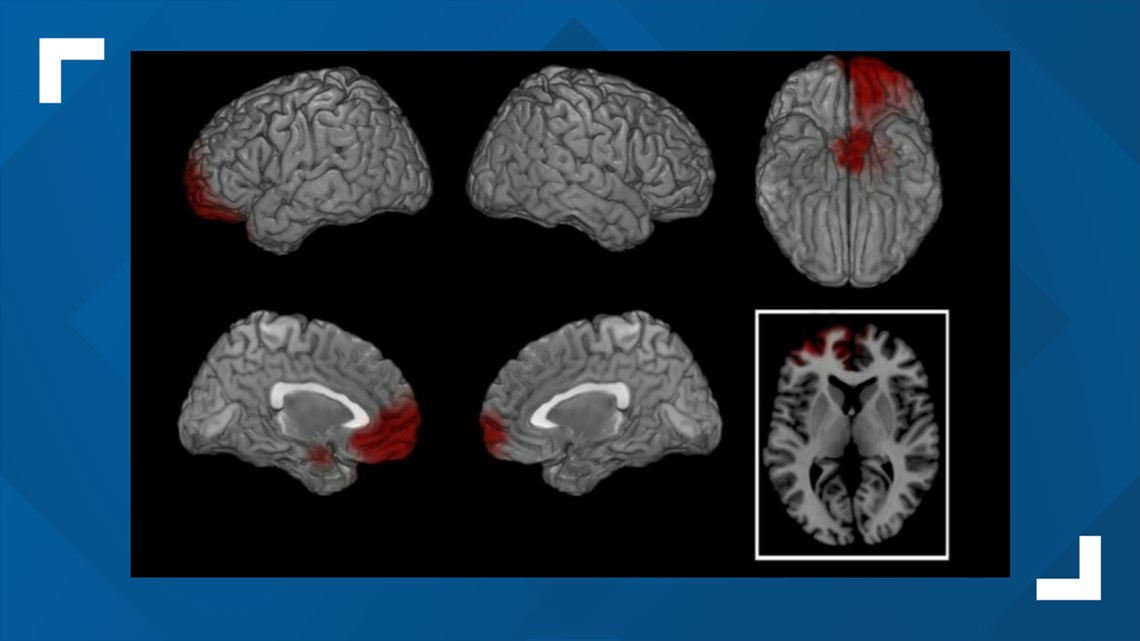 After EMDR, the brain's fight-or-flight response appears gone, and the brain is focusing on processing the eye and tapping movements conducted during the EMDR session.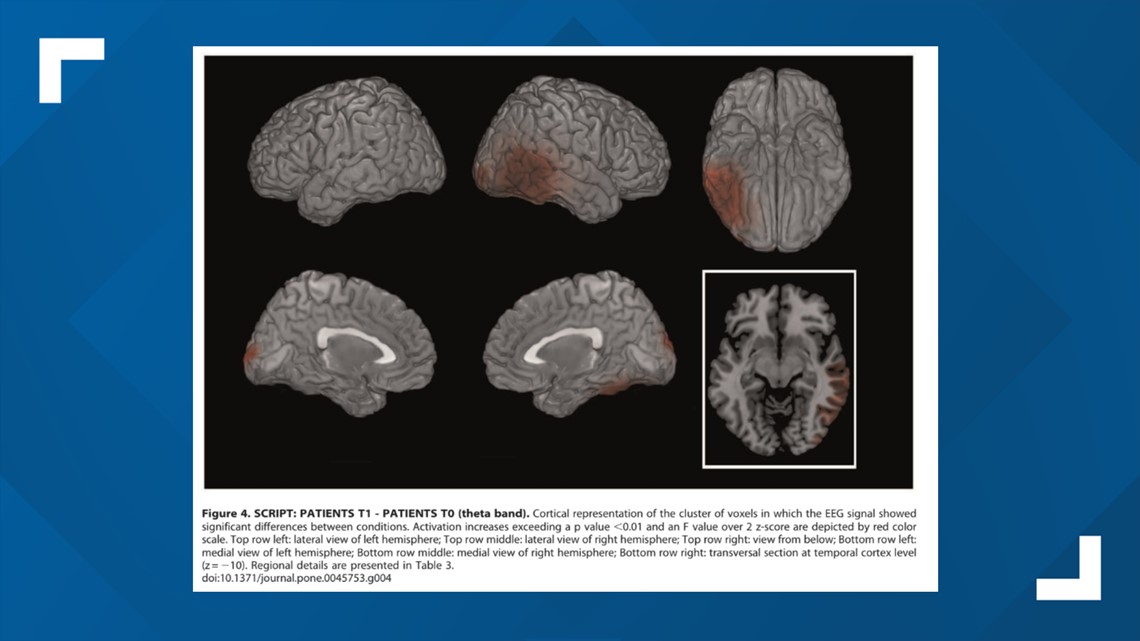 FIRSTHAND FEEDBACK
"It (losing a child) was something that changes you instantly. You're never the same from it," she tearfully reflected.
No trauma is the same, either. It often takes the face of fear, as Randolph Co.-based human trafficking specialist Alexis Labonte attests.
"I was put in a situation where I was left alone with someone we didn't think would be dangerous. That person pulled out a knife in my presence," she explained.
Labonte had heard about EMDR before seeking it out for herself.
"After the EMDR, my brain was able to tell my body, 'No, this person's not in this parking lot, they're not waiting for you, you're OK, you can get to the door.'"
EMDR is opening doors for first responders, too, who have a front-row seat to suffering.
"I saw people leaving the field just because of the psychological damage they had received, and there wasn't really anything being done to address it," explained Guilford Co. paramedic and counselor Sari Goldberg.
After seeing a need, Goldberg went back to school for a Masters degree and established a mental health wellness program at Guilford Emergency Services.
"Instead of waiting for an employee to reach out to say they have a problem, we see an incident, look at it and say, 'This could be disturbing, let's check on those people and make sure they're OK,'" she explained.
She said of the 25 to 30 colleagues she has referred to an EMDR specialist, only one person felt the therapy was not effective.
WEIGHING OPTIONS
EMDR is not a fix or first resort for everyone experiencing a mental health trauma.
"The part I see as a downside is just people aren't as familiar with it, so it can just look weird to them," explained psychotherapist Nannette Funderburk, Ph.D., LCMHCS.
Funderburk and her husband, Min. Keith Funderburk, co-owns Greensboro-based S.E.L. Group, a practice for cognitive behavioral therapy. They do not administer EMDR but do not discredit it, either.
"It (EMDR) is newer than CBT (cognitive behavioral therapy), and it's looked at as (an) alternative, but it has been very effective for people who have experienced traumas that they can't think about without reexperiencing the emotion," Dr. Funderburk explained.
They emphasized no mental health method yields success without a "yes."
"We're just culturally not expressing our feelings. One of the things about therapy, what we try to tell people to do, is give it a try. Go to one session," Min. Funderburk said.
MOVING FORWARD
Dr. Funderburk and Botte agreed therapy is not about forgetting -- or replacing -- pain. It is about moving forward.
"The therapeutic process is about getting back to your prior level of functioning, and so the goal is to have you get out there, go back to work, school, do whatever your day-to-day was. If there is something to be honored, if there is something to be punctuated, that's part of what the therapeutic process does without keeping the traumatic piece there," Dr. Funderburk explained.
Botte added, "You will never forget the traumatic thing that will happen to you, but you can have reduced symptoms and reduced negative sensations when you think about it or when you're living daily life."
VETERANS
The Dept. of Veterans Affairs and the Department of Defense are among the national organizations supporting EMDR as an effective mental health therapy, as data shows PTSD is slightly more common among veterans than civilians.
That said, not all VA hospitals offer EMDR therapy. In Fayetteville, NC, mental health professionals at the non-profit Steven A. Cohen Military Family Clinic at Cornerstone seek to bridge the gap, offering mental health services for veterans, active-duty military members, and their families.
Clinic director Jennifer Smith, LCSW said the facility now offers EMDR.
"We provide all kinds of evidence-based practice treatment. One of the reasons we utilize EMDR so frequently is its effectiveness. Our latest results from the EMDR institute show an 85% remission in post-traumatic stress symptoms when we use EMDR," she explained.
However, she acknowledged her desire for more mental health services, in general, at veterans' facilities.
"I think there is a need to have offerings of all kinds of therapy. I don't think EMDR is the one-ticket approach for any particular individual. I think there are different therapies that land differently with whatever their clients are suffering from individually," she said.
FINDING EMDR NEAR YOU
EMDRIA has a resource of certified EMDR practitioners in zip codes across the country. Check out the 'search by location' tool.