JACKSONVILLE, Ark. (KTHV) - A Jacksonville man was forced to drive his badly vandalized car around the city after he says two men sprayed racist graffiti all over it.
Reshod Johnson stopped by his job for about 15 minutes earlier this week. When he came out, he returned to a car covered with hateful and racist graffiti.
"I just don't understand it. I don't do anything to hurt anybody," Johnson said. "I don't go out looking for trouble."
After years of driving and making payments, this once gray car now sits parked with signs of hate and racist words. Johnson went by his workplace just to pick up chairs for his son's birthday party. While inside, vandals spray painted the vile words and stole clothes and valuables inside.
"I still don't know if I have everything yet. They threw a bunch of it on the side of the road on the side of the freeway," Johnson said.
He said he and a friend saw two white men driving a red pickup truck. Those two, Johnson said, were stealing items from his car and when he went to approach them they ran off.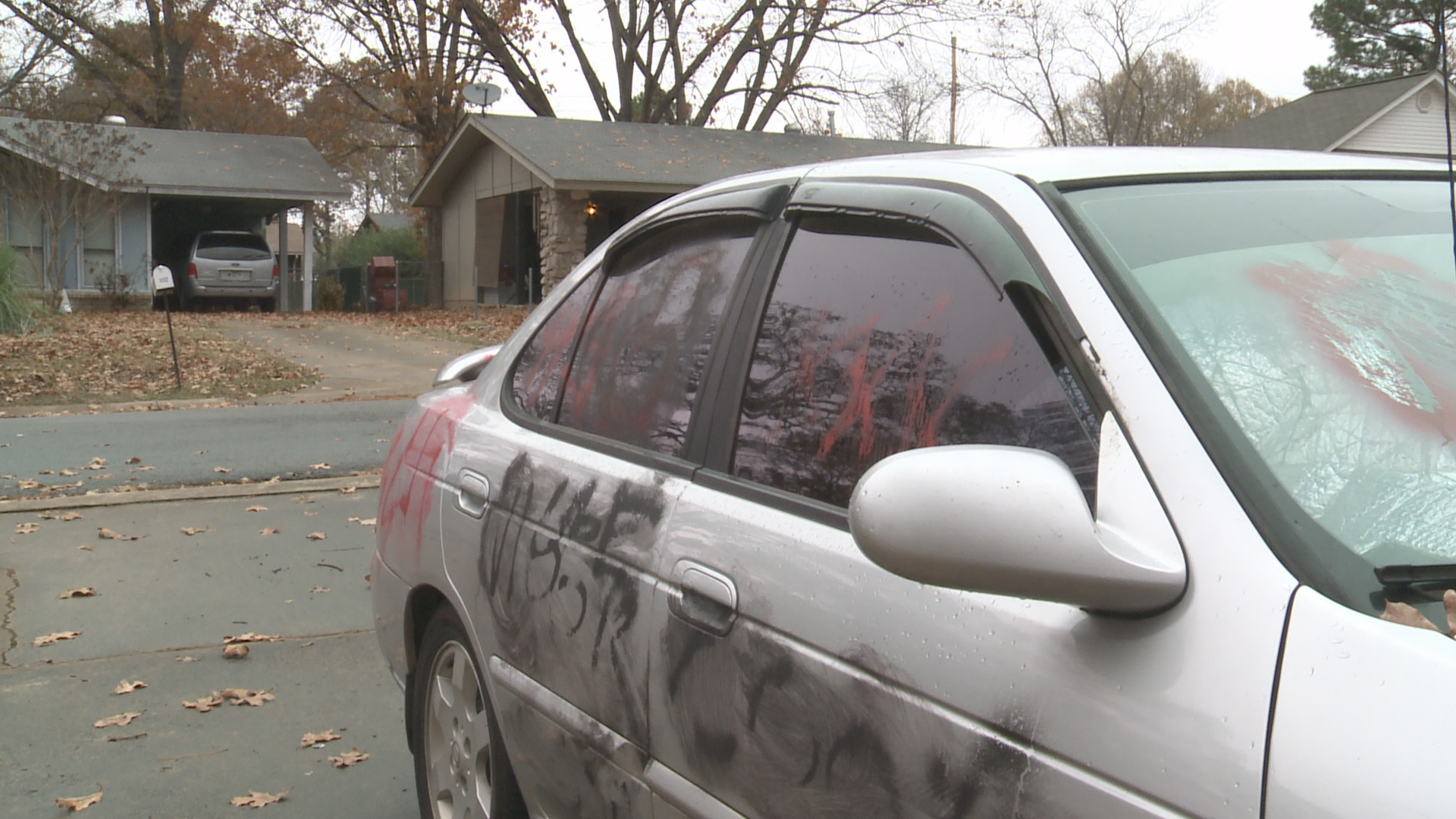 "It's a 2006 [Nissan]. I mean, it's just the point that I bought it myself and I have taken care of it all this time," Johnson said.
A full-time student, Johnson said it's embarrassing to ride around town with hatred sprayed painted along the sides of his car. A car that he chooses not to allow his three-year-old son inside.
This comes during a time when money is tight and Christmas is right around the corner. That means more money spent on fixing his car rather than spending it on his loved ones.
A police report was filed with Jacksonville Police Department, but Johnson wants to bring greater attention to this incident.
"We're supposed to have advanced past this and to serve the country and to serve for everyone and to fight for rights and freedom for everyone and for this to happen, it's like a slap in the face and makes you wonder for what," Johnson said.
A bystander noticed Johnson's car at a gas station and her Facebook photos drew us to his story. That post has been shared 538 times since she posted it on Saturday. Among the comments on her post was an offer to have the car repainted free of charge.
Below is that post and be warned, some of the graffiti does contain racist language:
{"author_name":"Tiffany","author_url":null,"provider_url":"https://www.facebook.com","provider_name":"Facebook","success":true,"height":null,"html":"&#lt;div id=\"fb-root\"&#gt;&#lt;/div&#gt;\n&#lt;script&#gt;(function(d, s, id) {\n var js, fjs = d.getElementsByTagName(s)[0];\n if (d.getElementById(id)) return;\n js = d.createElement(s); js.id = id;\n js.src = \"//connect.facebook.net/en_US/sdk.js#xfbml=1&version=v2.3\";\n fjs.parentNode.insertBefore(js, fjs);\n}(document, 'script', 'facebook-jssdk'));&#lt;/script&#gt;&#lt;div class=\"fb-post\" data-href=\"https://www.facebook.com/tiffany.ellis1/posts/10210250047062739\" data-width=\"552\"&#gt;&#lt;blockquote cite=\"https://www.facebook.com/tiffany.ellis1/posts/10210250047062739\" class=\"fb-xfbml-parse-ignore\"&#gt;&#lt;p&#gt;So, as I'm pulling into the gas station I spotted a young man probably about 23 or 24 sitting in his car... Well let's...&#lt;/p&#gt;Posted by &#lt;a href=\"#\" role=\"button\"&#gt;Tiffany M. Ellis&#lt;/a&#gt; on &#lt;a href=\"https://www.facebook.com/tiffany.ellis1/posts/10210250047062739\"&#gt;Saturday, December 10, 2016&#lt;/a&#gt;&#lt;/blockquote&#gt;&#lt;/div&#gt;","type":"rich","version":"1.0","url":"https://www.facebook.com/tiffany.ellis1/posts/10210250047062739","width":552}