LITTLE ROCK, Ark. — Protests are continuing throughout the state of Arkansas for a fifth straight day as part of a nationwide protest following the death of George Floyd.
The first three nights of protest in Little Rock at the Arkansas State Capitol ended in protesters dispersing after tear gas was fired at them by state police. On the fourth night, protesters marched to the downtown area after a peaceful protest in front of the Governor's Mansion.
Below you will find the latest updates on Wednesday's protests across Arkansas.
We will update this article with the latest information as best we can.
Watch Mayor Scott & Chief Humphrey at 3 p.m. here:
A small group of remaining protesters walk down Capitol Avenue and head toward downtown. Protest continues to remain peaceful, however, the curfew did go into effect at 8 p.m.
As peaceful protesting winds down before the 8 p.m. curfew in Little Rock, a small group remains at the Capitol.
North Little Rock Mayor Joe Smith has now enacted an 8 p.m. to 5 a.m. curfew, citing the ongoing protests and the COVID-19 pandemic.
Mayor Scott reiterated that he stands in solidarity with all peaceful protesters. But he said he has "no tolerance" for those that create violence during a protest.
"If you're a peaceful protester you don't have much to worry about," Scott said. "If you are someone that is committing violence, you will be dealt with."
Scott told reporters that the Little Rock Police Department will have body cameras in the near future.
When asked by a reporter how someone can be identified as ANTIFA, Chief Humphrey said "intelligence."
"The City of Little Rock would not be where we are today without peaceful protesters. We stand in solidarity with peaceful protesters. We appreciate you, we love you, we're gonna do everything possible to listen to the concerns," Scott said.
Scott also said "without the Little Rock Nine there's no Frank Scott Jr." while thanking peaceful protesters.
Little Rock Police Chief Keith Humphrey said a certain group of people started committing vandalism after the 8 p.m. curfew.
He said the group of protesters splintered off into different groups. But Humphrey claimed it's hard for police officers to determine who is peaceful and who is not.
Scott explained that the Little Rock curfew has exemptions for people who are working. If you are traveling to or from work, the police department won't pull you over unless they have a just reason.
Humphrey said that the police force treats every threat as credible and investigate accordingly.
Mayor Frank Scott Jr. and Chief Keith Humphrey will hold another briefing for the press regarding the protests in Little Rock at 3 p.m.
We will provide a live stream of that for you.
According to the governor, 79 people were arrested Tuesday night. All of those arrested were from Arkansas.
Colonel Bill Bryant with the Arkansas State Police said on the fourth night of protests it remained mostly peaceful until a stone was thrown through a glass window at a McDonald's downtown.
Bryant said because the protests were mostly peaceful after the 8 p.m. curfew in Little Rock, there was no enforcement of the curfew.
He also explained that police reportedly found dangerous items such as guns, Molotov cocktail type bombs, bricks and other items since the protests began Saturday night.
Hutchinson said at this time no out-of-state arrests have been made in Arkansas yet.
Watch the 1 p.m. press conference here:
Gov. Hutchinson reiterated that he wants local law enforcement to not only protect peaceful protesters, but to make sure arrests are made if there is any violence or destruction of property.
Hutchinson also called the death of George Floyd "inexcusable, can't be tolerated" and expects more charges in the case.
He said Floyd's tragic death causes everyone that "loves law enforcement" to ask themselves what can be done better.
The governor said during the fourth night of protests, nine different federal, state, and county law enforcement agencies were out to protect protesters and property.
During the press conference, Hutchinson held up a rock and said that specific rock was used Monday night to throw at police. He called the rock a weapon, stressing the danger law enforcement see when they are monitoring protests.
"If protests continue, law enforcement will continue to be there to protect protesters," Hutchinson said.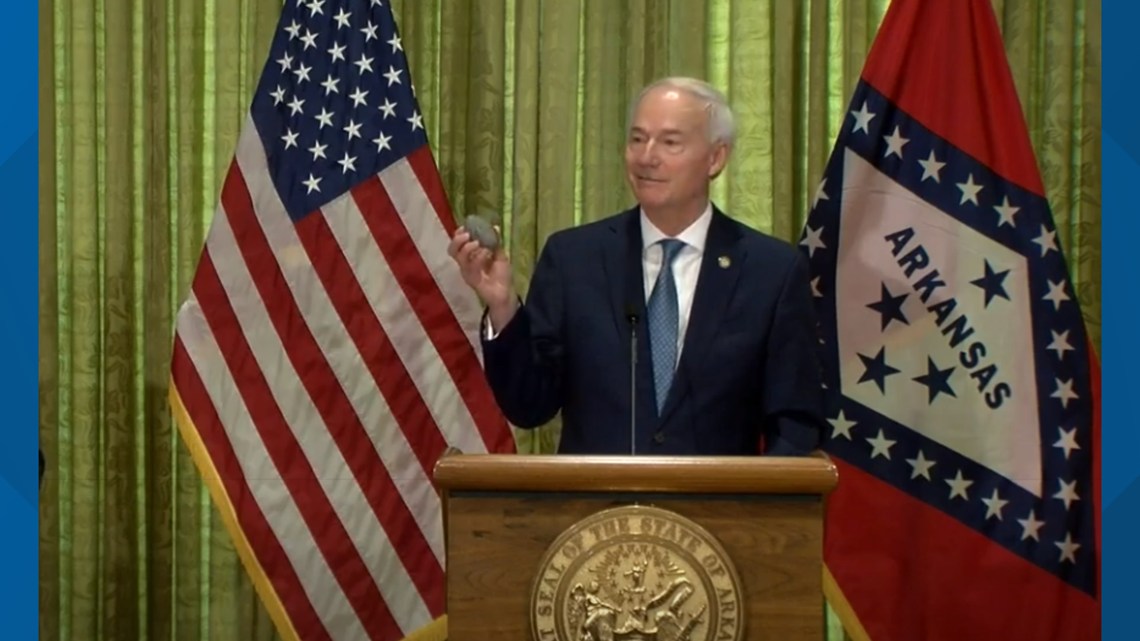 State Senator Joyce Elliott, who is challenging Rep. French Hill for Arkansas's 2nd congressional district seat, made an appearance Tuesday at protests outside the Arkansas State Capitol.
"It was so heartening to be with the next generation of leaders and change-makers at the Capitol," she said in a tweet.
Protesters are at Little Rock City Hall for the fifth straight day of protests.
A THV11 reporter took a picture of one person with a gun. Law enforcement is aware of the gun in front of City Hall, and dispatch said they're all peacefully protesting.