LITTLE ROCK, Ark. — When a child spends years in foster care knowing that he or she matters and is not ignored makes all the difference.
It is our mission at THV11 to let these kids know they do matter and help connect them with the right forever family through our partnership with Arkansas DCFS.
RELATED: 'When's it my turn?' | Teen opens up to foster mom, looks for forever home
In this story, you'll meet three siblings with one goal, to all be back under the same roof, together. It's a tall order, not just ascending the giant wall at Little Rock Climbing Center. "Honestly I just want the three of us together, we've never really had a traditional family," said 15-year-old Jada.
It's a powerful appeal.
"I do miss her, she's my favorite," said 12-year-old Gavin. "Y'all are gonna make me cry," responded Jada. A prayer, spoken aloud. "I want a loving and caring family," said 13-year-old Hunter.
RELATED: 'We get our own beds': Arkansas couple adopts set of 7 siblings ahead of Christmas
But it's a plea for help. Help comes, on this day, in the form of Daniel Carnahan. He runs the climbing center. Gavin, Hunter and Jada have never done anything like this before, never climbed a rock wall. But they have overcome insurmountable odds. That's why this was the best day. Simply because they're together. They're refusing to let fear or dread stop them.
PHOTOS | Siblings with one goal of being back under the same roof together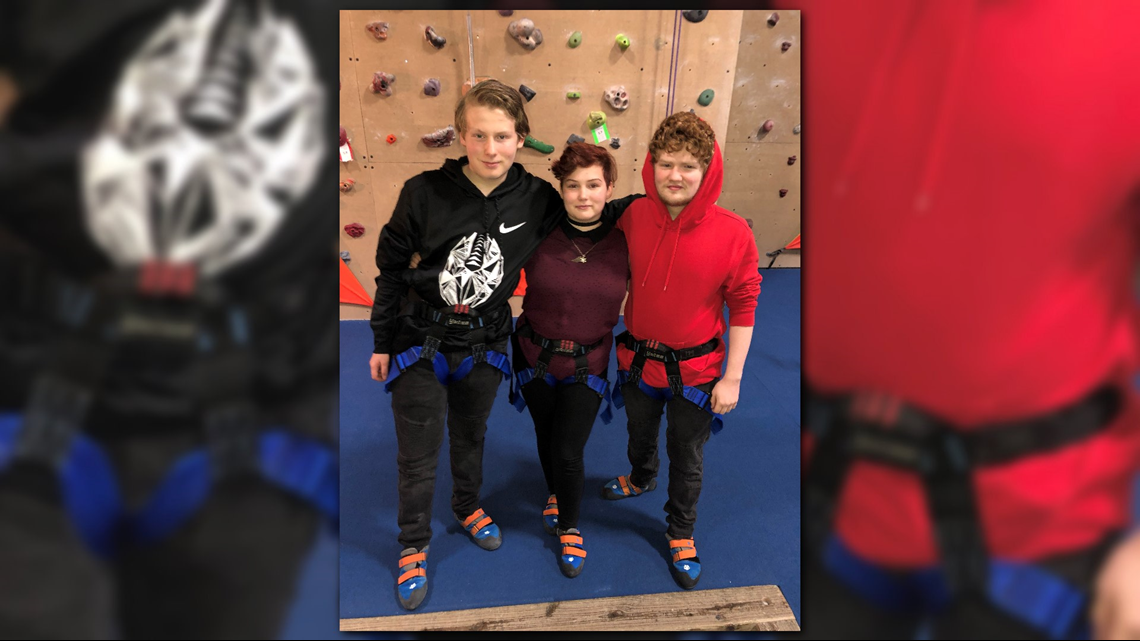 "I'd say we're pretty close," said Hunter.
"Making the best of it," said Gavin.
"I love these two," said Jada as she began to get emotional. Her brother says, "Don't cry."
But the tears just begin to fall. The tears signify a wish to be together. For a family to bring them all home again.
"What I like doing? I like playing video games, playing on my guitar, I'm learning the guitar, and reading a book and watching TV," said Hunter.
"I like to play basketball," said Gavin.
"I know fishing makes you happy," said Jada.
"Yes, it does," responded Gavin.
RELATED: 5-year-old Princeton is energetic, full of life and looking for his forever family
And as it turns out climbing makes them happy too and exhausted, just as two years in foster care does to their young spirits. But they refuse to let a wall stop them. "For me personally I want them to be accepting because I have a lot of problems," said Jada. From the hope of rising up and moving forward with each other. "We have our flaws. We're not perfect but we still love each other," she added.
Thanks to the Little Rock Climbing Center for supplying gear for the kids to climb and donating their space for them to reunite. There are no costs associated with adopting a child in Arkansas foster care. If you'd like to know more about these siblings or any child we've featured, click here.