LITTLE ROCK, Ark. (KTHV) - November is National Adoption month and through our partnership with the Arkansas Department of Human Services, THV11 is working to give our most vulnerable children in need a voice.
Our hope in sharing these stories is to raise awareness of the need for permanent families for children in foster care up for adoption.
We want you to meet two sisters and their older brother, and ask that you watch closely and listen, as they pray for a place to call home. This simple family meal may seem ordinary, burgers and shakes at the local favorite, Dave and Busters. But this gathering is anything but simple.
This is everything to 16-year-old Steven and his two sisters, 11-year-old Jerie and 10-year-old Brandy. "It's mine and Brandy's first time in Dave and Busters," said Jerie.
But not just that, it's time spent back together again because they're now living apart in Arkansas foster care. "So, far we're the only family we have left right now just me and my little sisters," said Steven. "They need a family, they need a home," said Cathleen Armstrong.
She's a DHS adoption supervisor working hard to find this group a home. "They're split, they don't have a home and they wanna be together," she said. "Yeah, we're pretty close," said Brandy. "Yeah, I would say we're pretty close. I would say sometimes these two might drive me nuts a little bit but still," said Steven.
But still Steven protects these girls, this day, winning for them, over and over again, pillows, balls, stuffed animals. He'd do anything for them. "I'm really like overprotective of them," he said.
PHOTOS | Three siblings search for a happy, forever home together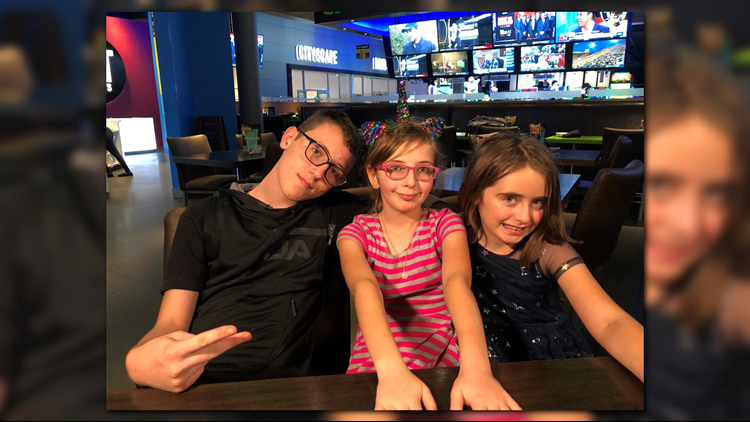 But what he really wishes, is for a mom and a dad. "A loving and caring family," said Steven. "That would give us a phone," yelled Brandy. "That give us our basic needs and help us out whenever we need stuff," Steven added. "Steven has told me he wants a dad who can teach these girls what a real dad is like and not just having him as a role model," said Cathleen.
"Sometimes I get sad that I'm not with my mom you know what I mean," said Brandy. "Yeah, sometimes you get lonely and you don't know where to go, what to do," said Steven. What they do in the meantime is play and savor this simple time together, until they find their forever."
Just to let know, this is the best interview I've had," said Brandy. This year's National Adoption Month theme is, "In Their Own Words: Lifting Up Youth Voices."
Big thanks to Dave and Busters for not only feeding the children but allowing them to play all afternoon.
If you'd like to learn more about them or any of the children we've featured, click here.