UPDATE, FRIDAY 5 P.M.: A brush fire in the Gatlinburg-Pittman Center area is now completely out, after growing to more than 80 acres, officials said Friday afternoon.
Firefighters were on scene overnight monitoring hot spots in the fire. Officials said in the morning there was still some smoldering debris within the fire lines but the rain finished it off by the afternoon.
There are no new reports of injuries or damage to structures. The cause of the fire is under investigation.
A little more than 6,500 people remained without power early Friday morning, Sevier County Electric System officials said. Contract crews were arriving between 6 and 8 a.m. to provide extra help.
They'll continue work through the weekend to continue restoring power. Officials don't have an estimation on full power restoration, yet.
Residents with property damage can call the Tennessee Baptist Disaster Relief at 615-969-0410 for help cleaning up tree damage to buildings and driveways.
PREVIOUS STORY, THURSDAY: High winds caused major issues in Sevier County and across East Tennessee on Thursday.
As of 7:15 p.m., a brush fire in the Gatlinburg-Pittman area had grown to 60-80 acres and was 100% percent contained, according to Pittman Center Fire Chief Rosemary Nichols and Sevier County authorities.
Fire crews from around the area were quickly called in to help battle the blaze located at East Parkway and Branam Hollow Road. That included activating the Wildland Task Force.
One utility worker suffered minor injuries but refused EMS transport, according to Sevier County spokesman Perrin Anderson.
There are no reports of damaged structures due to the fire. Crews said they will continue to address hotspots throughout the night.
Chief Nichols said they're working to keep the fire away from the Cobbly Nob area and there are no homes threatened at this time. She explained there is a ridge between the fire and Cobbly Nob.
For many, the whole situation brought back memories of last November's deadly wildfires that swept through Sevier County. But crews were quick to note how different the cases were.
Phil Inscore and the Volunteer Fire Department from Greeneville helped battle the November wildfires for days, but said the call for help today came much quicker.
"The last time we were here as quick as possible, but I think it's a lot more proactive today," he explained.
About 20 different fire departments were on scene by Thursday evening.
Chief Nichols explained this time the call for help was also answered much faster.
"This time there wasn't anything else going on around and everyone was more prepared as far as communications go and everyone was a whole lot quicker to act. Better to be proactive rather than reactive," she said.
Overall, crews said conditions were not nearly as dry on Thursday as it was with November's fires.
Nichols added that residents shouldn't be worried, but should be alert of what's going on. And said that crews will do their best, but nothing can replace taking care of yourself.
She also explained how this is a lower fire and not like the situation in November where it was going through the tree tops.
Meanwhile, high winds have been toppling trees and power lines across the region.
Officials with the National Park Service said it measured a 98 miles per hour wind gust at Cove Mountain in Blount County.
In other parts of the Smokies there have been winds up to 70 miles per hour.
"If you don't need to be out, please stay off of the roadways," Park spokesperson Dana Soehn said. "There are branches coming down, multiple trees along roadways- we've had sustained winds throughout the day of 50 miles per hour and we've had wind gusts as high as 97 miles per hour."
Smokies officials closed a number of facilities and roads because of the high winds and downed trees, including Sugarlands Visitor Center, Oconaluftee Visitor Center, and the Cades Cove area.
The following roads are also closed:
• Newfound Gap Road
• Roaring Fork Motor Nature Trail
• Cherokee Orchard Road
• Clingmans Dome Road
• Little River Road
• Cades Cove Loop Road
• Laurel Creek Road
• Rich Mountain Road
• Greenbrier Entrance Road
• Cherokee Orchard Road
• Gatlinburg Bypass
• Foothills Parkway West
• Foothills Parkway East
• Cosby Entrance Road
No injuries have been reported in the park and crews are working to clear roadways to provide emergency access.
At Camp LeConte, near Gatlinburg-Pittman High School, large trees landed on several tents and cabins. The camp's owner said no one was hurt but she believed all of their Safari tents were impacted.
PHOTOS: High wind damage in Gatlinburg 5/4/17
Dollywood is closing early because of the weather.
All visitors centers in the Great Smoky Mountains National Park and most park roads have been closed, according to the park service.
The situation has traffic at a crawl on the spur between Pigeon Forge and Gatlinburg.
As of 1 p.m., authorities have not reported any evacuations.
However, a Red Cross shelter was opened at the Pigeon Forge Community Center for anyone affected by the power outages. It is located at 170 Community Center Dr.
The shelter closed a little before 7:30 p.m. Thursday night because there were no remaining evacuees, county officials said.
Sevier County Electric System was reporting more than 11,000 outages in their service area at 12:15 p.m. Thursday. Downed trees took out two of their substations, according to Sevier County Electric Superintendent Allen Robbins.
Customers in Gatlinburg, Pittman Center, Ski Mountain, and Cobby Nob are affected.
Crews are working to restore power quickly, but Robbins says the high winds are causing more trees to fall as they clear other ones.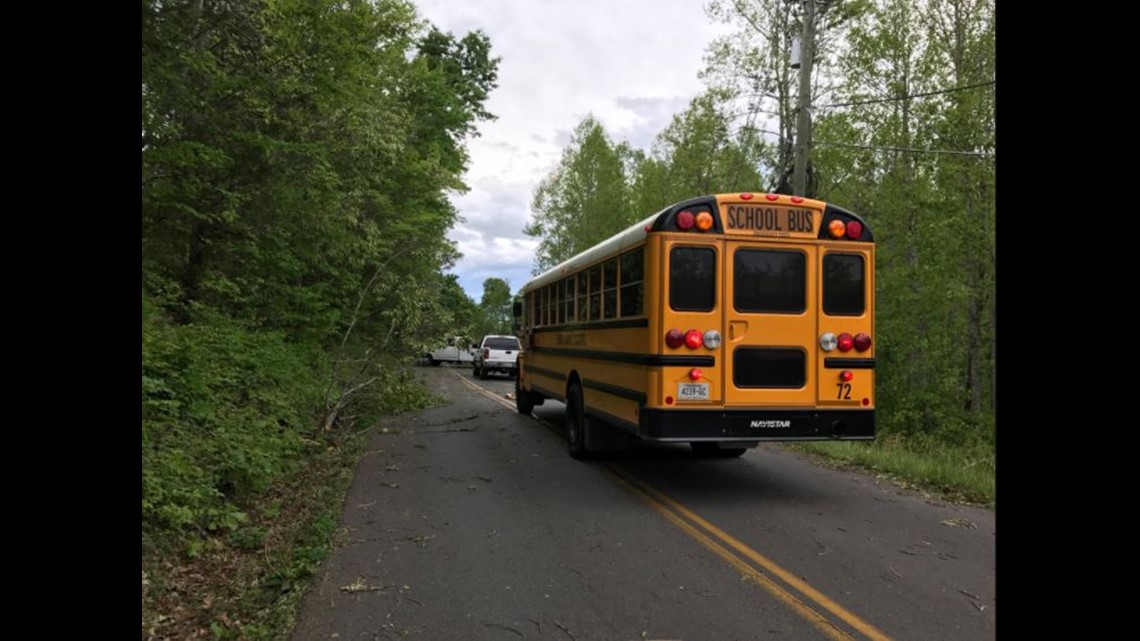 The power was out at the high school, as well as at Pittman Center Elementary. They lost power at Pi Beta Phi for a time, but it has been restored.
Parents were encouraged to pick up their students, because no buses ran at Pi Beta Phi, Pittman Center, or Gatlinburg Pittman School due to hazardous driving conditions.
According to Assistant Superintendent Debra Cline, some students were transported home by four wheel drive vehicles owned by the county or government agencies.
Gatlinburg-Pittman High School, Pi Beta Phi and Pittman Center are all closed Friday. All other Sevier County schools are running on a one hour delay.