Residents and visitors alike struggled to comprehend the scope and size of Monday night's fire across Gatlinburg and Pigeon Forge.
Some said they had just moments to flee as wind-driven flames licked perilously close.
Others expressed hope that with daylight's arrival, their home, hotel or rental cabin still would be standing.
Here are some of their stories.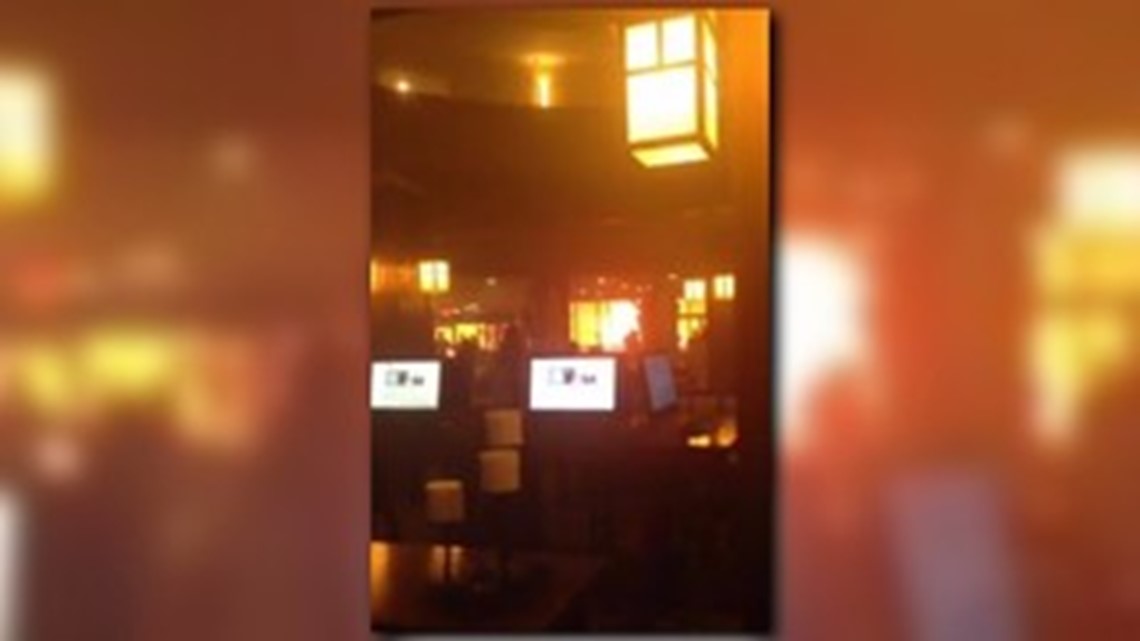 'Embers started flying into the hotel'
On the hills above downtown Gatlinburg sits the Park Vista Hotel, and on Monday night, fire surrounded that building and trapped dozens of workers and guests inside.
There were numerous social media posts from people who were taking shelter in the hotel lobby, and you could see flames right outside the windows.
#Gatlinburg park vista Hilton hotel pic.twitter.com/MN2CaLNYDF

— ローガン Logan (@Redwolfstone123) November 28, 2016
Logan Baker arrived at the Park Vista just after 4 p.m. He said there was some smoke inside the building, but the fire was still several miles away. Firefighters who were in the area told guests they should be fine, but shortly after "they saw flames coming down the hill."
The only road leading from the hotel was engulfed in flames, so there was no way to evacuate. Baker said some people headed to their cars with their luggage to make a run for it, but the parking lot was on fire.
He and his aunt started outside to help those people get back inside.
"When you opened the doors, it just blew you back," he said."Embers started flying into the hotel."
Firefighters told everyone to stay in the center of the lobby and wait it out while they worked to beat the fire back from the building.
When we talked to Baker around 12:30 a.m. Tuesday, he said that there were only small fires remaining around the hotel, and they had been told they could return to their rooms.
While they were safe, he could see the fire still raging in downtown Gatlinburg. He said it looked like the entire area around Ripley's Aquarium was engulfed in flames.
Mom wrote their names on paper so they could be identified
Christa Fordan was at the Park Vista hotel with her son and nephew, and she was so sure they were going to die, she wrote their names and ages on a piece of paper so they could be identified.
"I knew we only had minutes and we would eventually pass out," she told 10News. 'And I remember thinking, I was so thankful that we would pass out, so that they wouldn't have to (sobbing)... sorry, experience anything more devastating than what they had already experienced."
Fordan said she knew the smoke would kill them before the flames that surrounded the hotel would reach them. The only road to get away was blocked by fire, and everyone in the hotel was huddled in the lobby.
She didn't tell the boys that she was writing those last messages to their family.
"And then I wrote to say that we love you and we are cuddling, calm, and at peace," she said.
She said she was thankful for hotel staff that stayed with them, and for the emergency crews that risked their lives to save them.
"We were fighting for our lives. All of us. The police, firefighters, and the crew, and we all almost didn't make it. It was minutes we had," she said.
The three were wearing smoke masks throughout the ordeal that she believes saved their lives. They were eventually evacuated and are now staying at the Wilderness at the Smokies, and so thankful to be alive.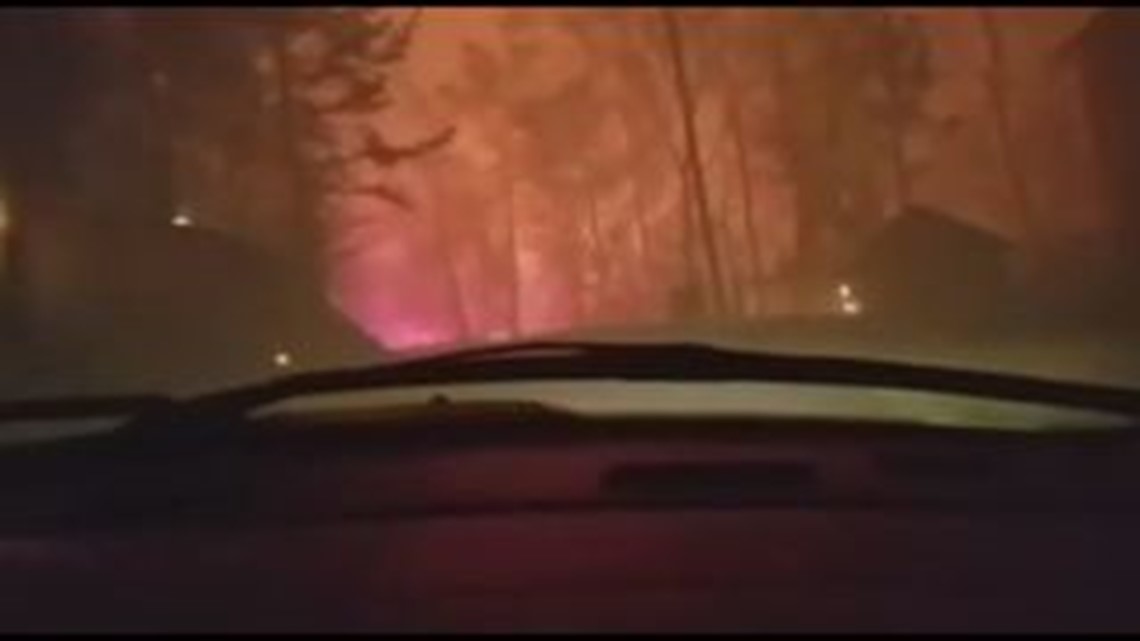 Terrifying escape down the mountain
It was a terrifying trip down the mountain for Michael Luciano, as he raced down a burning mountain to safety.
He lived in Chalet Village off Ski Mountain Road in Gatlinburg, and is pretty sure his home, and many others, are gone.
He documented his escape with video posted on his Facebook page. From the passenger seat, with his business partner driving and his dog, Red, along for the ride, the two men escaped.
In the videos, you can see fire burning on both sides of the road, tall trees ablaze, and embers flying through the air. You can barely see the road through the thick smoke as they try to navigate around fallen trees and other debris. At one point, they hit a dead end. At another, he realized they'd been going the wrong way.
Cabins can be seen burning on both sides of the roadway.
"Please Lord, let us get off this mountain," Luciano said in the video.
The pair made it out, but Luciano is worried that people were trapped and may have died.
Wildfire spreads to Gatlinburg and Pigeon Forge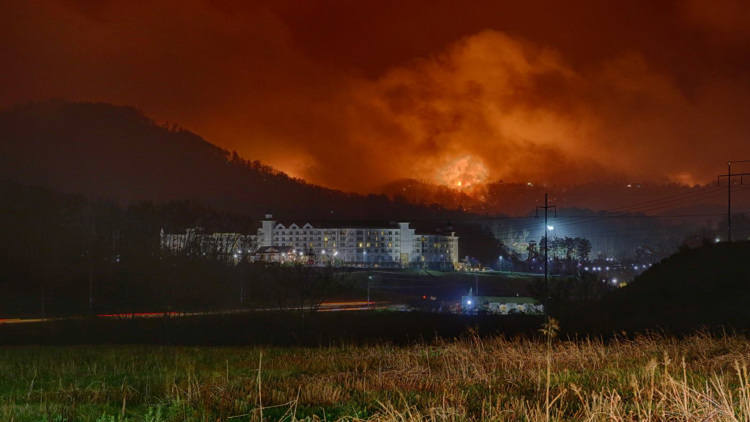 Warren Wright saw one burning house as he and his wife Lita headed back to their home in the Cobbly Nob area of Sevier County east of Gatlinburg off Highway 321 about 7:30 p.m. or 8 p.m.
By 9 p.m. more were burning and authorities were ordering the Wrights to leave their Deer Path Lane home.
They fled in two vehicles, Wright told 10News, agreeing to take several strangers who had been staying in a nearby rental cabin. The visitors had no way on their own to get off the mountain, he said.
In the Wrights' two vehicles, they headed to Newport to spend the night at a Holiday Inn. They passed many emergency vehicles heading in to deal with the fire, he said.
"We just grabbed what we had," he said.
Wright said he'd heard that five cabins burned. He said he's also heard eight cabins burned.
"I could tell many cabins were on fire," he said. "I feel like our house is on fire also."
Wright said he hoped to return early Tuesday to check on his home.
"We've already told some of our friends we've lost our house," he said.
Mother and Daughter save woman from Westgate Resort
Allison Mossburg was left alone at the Westgate Resort as the fire crept closer and closer.
She tells 10News she didn't think she was going to make it down the mountain without a car and without any help until she came across mother and daughter, Jill and Becky Smith from Philadelphia.
"I couldn't see and I got to where I couldn't breathe," Mossburg said.
The Smith's almost left the resort before turning back to grab a few more items from their home.
When they drove back towards the resort they say Mossburg in the road waving them down.
"We just told her to get in and we moved all our stuff and just threw everything in the Honda Civic. Everything we owned. Birdhouses and Christmas gifts," Jill Smith shared.
Mossburg and the Smiths were evacuated to the LeConte Center and sat together at a table while more evacuees walked inside.
Mossburg thanks the Smiths for rescuing her and bringing her comfort when she was losing hope.
Evacuation from Deer Ridge Mountain Resort
Steve and Barbie Zweigart were ordered out about 8 p.m. from the Deer Ridge Resort, which is 10 miles northeast of Gatlinburg off Highway 321. They'd seen the glow of the fire from the Smokies but didn't think it would reach them.
They fled in total darkness because the power had gone out.
"Two firefighters assisted us in throwing what belongings we could grab from the condo of a friend we were borrowing for the week," Steve Zeweigart told 10News in an email." At the foot of the mountain, officials incorrectly directed us to go toward Gatlinburg, where we were turned back in a mass exodus of hundreds of cars headed toward Interstate 40 on 321 to the north."
As the Zweigarts drove in their Jeep they had to dodge and move tree branches, flung across the roadway because of high winds.
They made it to Dandridge, renting a room for the night at the Hampton Inn.
"Tomorrow morning, we hope to return to the resort either to retrieve our belongings, or confirm its demise. Our prayers to others affected by today's horrible events, and for property owners throughout the area."
Click links below for more coverage: