LITTLE ROCK, Ark. (KTHV) -- The Little Rock Police Department has a new way to keep you safe, one that might bring you back to your childhood.
A report card. But instead of saying you did well in class, it shows if your car is a target for thieves. For the last couple of weeks, police officers have left Breaking and Entering (Auto) and Theft Prevention Report Cards on the windshields of cars around the city.
"Typically, we just go up to a car. It's at nighttime, so we'd have our flashlights out, kinda just look before we touch anything," explained Officer Jasmine Reynolds.
Reynolds is part of the unit that specifically checks for cars that are at risk of a break-in.
"We've had a big upswing in car break-ins recently," said Officer Steve Moore, a spokesman for the police department. "And a lot of those are, like, somebody walks by and sees your purse or your phone sitting there on the seat, or in the console, pulls the handle, door's unlocked, and they're in and out in seconds."
The inspections are just as quick. Reynolds can inspect multiple cars per minute, checking for jewelry, electronics, other valuables, and loose change, which she said can indicate to a thief that the driver is careless. At the end of the check, she gives the driver a Pass or Fail with an explanation.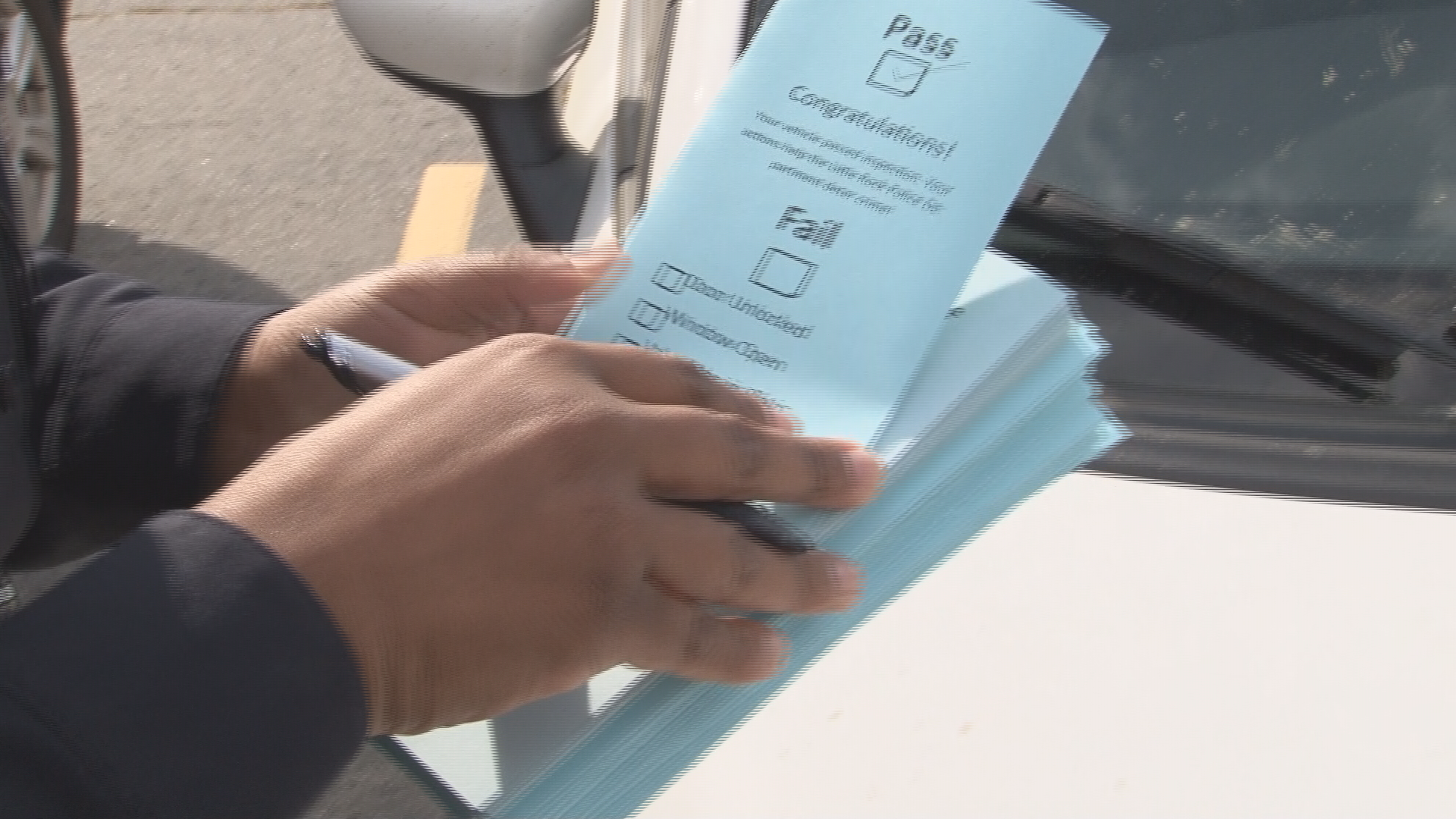 Vehicles are only inspected if they are parked on the street or in a parking lot. "We don't go into yards, we don't, if your car is parked in your driveway, we're not gonna go up into your property," Moore explained.
Drivers have started posting their report cards and their reactions on social media, and Reynolds said she is glad that they are taking notice.
"I've seen a couple of people out when I was putting in on their car," she stated, "and they just were pretty thankful. You know, because they don't realize leaving a door open or leaving their windows open can be attraction to auto thefts."
Those may seem like common sense ideas, but Reynolds said they are the most frequent reasons why a burglar chooses to steal from a given car. The report card comes with tips for reducing the risk of a break-in, including parking in a well-lit area. Reynolds said the inspections are random, but are more likely to happen downtown or in the Heights, because those are areas where break-ins are frequently reported. The cards also provide phone numbers for the three patrol districts, and information to help victims recover their stolen items.
"We care as much about their property as they do," Reynolds said.
There is the possibility that a thief could see a report card with a failing grade before the car's owner does, which would alert the burglar to steal from it. But Reynolds thinks that would be rare.
"The goal is that (the driver will) see it before the thief, obviously, so that's why we do it in the middle of the night," she explained, "is because we're still out there."