WASHINGTON — Pres. Biden took to Twitter Sunday to offer his support to his longtime friend Jimmy Carter after news came out that he would be entering hospice care at his Plains, Ga., home.
In the message, Biden began by saying "to our friends" as the president and First Lady have gone way back with both Jimmy and Rosalynn. He said that he and his wife Jill are "with you in prayer" and that they both sent their love.
The Carter Center responded to Biden's words of encouragement, saying: "Thank you President Biden and @FLOTUS Jill Biden for your kind and thoughtful words. Your support means so much to us."
Messages of support came flooding in on Saturday after the Carter Center released a statement saying that the 39th president opted to spend his "remaining time" at home with his family instead of receiving continued medical attention in the hospital.
President Biden and former President Carter go way back with each other, as the longtime politicians have become lifelong friends that dates back to the mid-1970s, when Carter became president and when Biden first got elected into office.
Biden was a first-time Delaware senator in 1976 when he endorsed Carter for the presidency, the governor of Georgia at the time. Biden opted to endorse the Southern candidate over any of the party's Northern contenders.
On Saturday, NBC News presidential historian Michael Beschloss posted a black and white photo of then-president Jimmy Carter with current President Biden in the Oval Office, who had signed a picture for Biden. The note reads: "Best wishes to my friend Joe Biden -- Jimmy Carter."
In 2008, Carter was seen alongside Democratic vice presidential candidate Sen. Joe Biden at the Democratic National Convention in Denver. Biden ultimately went on to become former President Barack Obama's VP from 2009-2017.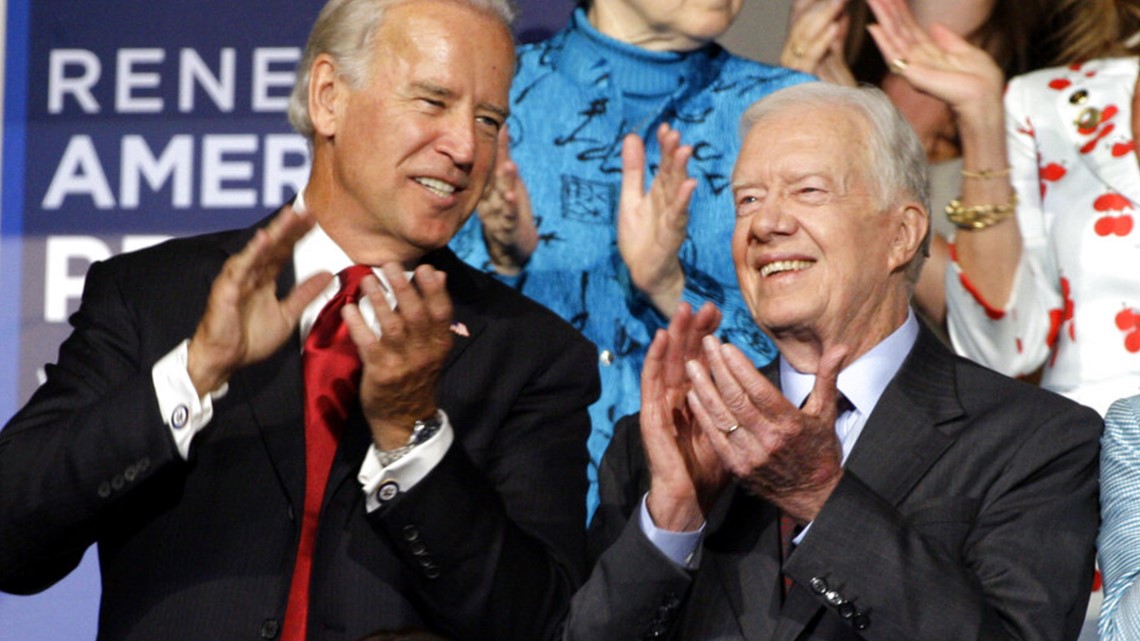 Despite both Jimmy and Rosalynn being unable to attend Pres. Biden's inauguration on Jan. 20, 2021 -- the first they had missed since their own inauguration 44 years earlier -- the four met again in Plains in May 2021.
It was a closed-door visit between the two couples and their first time getting together since Biden took office. The two did not appear outside together, but instead took this picture inside the Carter home and Biden was later seen with Rosalynn at the front door as he left.