WASHINGTON — Taylor Swift is the queen of "Easter Eggs" and now she's giving her fans a literal puzzle (or in this case many, many puzzles) to solve to learn the titles of her next re-recording project.
Here's how it's supposed to work: When you search for "Taylor Swift" on Google, click the blue vault that pops up in the lower right-hand corner and solve one of the word puzzles.
According to Google, it may take a second or two (or longer) to load because there are 89 different puzzles. The search engine giant announced Tuesday that once 33 million puzzles have been solved the "vault" will be opened to reveal the vault track titles on "1989 (Taylor's Version)."
Why isn't the Taylor Swift vault icon showing up on Google?
Now if you search for "Taylor Swift" and all you see is a "Blank Space," then just "Shake It Off" because there's no "Bad Blood" here. There are many social media users reporting the vault puzzle wasn't showing up for them either, or it would show up but not accept their answers.
It took us multiple tries and a couple different online browsers before we were finally able to get one of the puzzles to show up ourselves.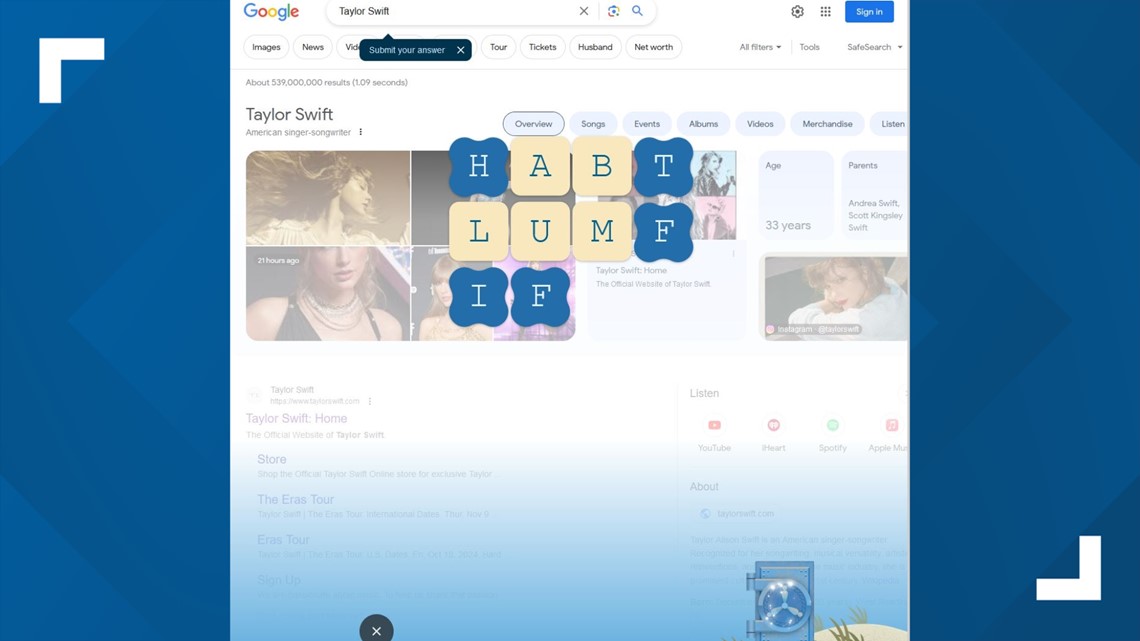 The fans who have been able to get through so far are clearly hard at work trying to unlock the vault.
But why is she doing this?
Swift is on a mission to completely own her music.
The original recordings of her first six albums were owned by a record label, which is often the case. However, they were eventually sold to a private equity firm, which Swift publicly opposed.
Now, Swift is re-recording and releasing the songs that had been sold, and she's including songs on each album that were previously unreleased. Each re-recorded song and album title proudly includes a reminder that you are listening to "Taylor's Version."
After the release of "1989 (Taylor's Version)" this fall, Swift has two albums left to re-record before completely owning all of her music.
WCNC's Hannah Yahne contributed to this report.