BAYTOWN, Texas — An officer fatally shot a woman as he attempted to arrest her at an apartment complex in Baytown, police said.
The altercation and shooting were recorded Monday night by a witness in a video that was widely circulated on Snapchat and Facebook. In the video, the woman can be heard shouting "I'm pregnant" before she was shot, but a family member tells KHOU 11 News that claim wasn't true.
Baytown Police Lt. Steve Dorris also confirmed that she was not pregnant.
The altercation and shooting happened in the 1600 block of Garth Road at about 10:40 p.m., according to Lt. Steve Dorris with the Baytown Police Department.
A law enforcement source told KHOU 11 News the woman who was shot was Pamela Shantay Turner, 44.
KHOU 11 has chosen to not show the entire unedited video as it is very graphic. It is also unclear who recorded it.
Dorris said an officer was patrolling The Brixton Apartments when he saw the woman, who he had previous encounters with. The officer said he knew the woman had outstanding warrants, so he approached her to arrest her.
Police said a struggle ensued, forcing the officer to use his Taser on the woman. As he was attempting to take her into custody, the suspect managed to get control of the Taser, and she allegedly used it on the officer. The officer then pulled his gun and shot the woman at least once.
The witness video appears to show the woman on the ground when about five gunshots ring out. Police said the officer attempted to render aid to the woman, but she died at the scene.
The officer's name has not been released, but Dorris said he is an 11-year-veteran of the force.
"This is the first shooting the officer has been involved in," said Dorris. "We'll be out for some time tonight to reconstruct the events and get questions answered."
The officer was not seriously hurt but suffered pain, police said.
KHOU 11's Michelle Choi spoke with a woman who said she is the woman's niece. She claims Pamela Turner suffered from mental health issues and was not actually pregnant, despite screaming "I'm pregnant" before she was shot.
RELATED: Verify: Rumors surrounding deadly shooting involving Baytown officer, woman
The niece also told KHOU 11 her aunt had prior run-ins with Baytown police. Court records obtained by KHOU 11 show she was charged recently.
Lt. Dorris believes the officer who shot her was wearing a body cam, but that video will not immediately be released as the investigation continues.
Photos: Investigation into fatal officer-involved shooting
Investigation into fatal officer-involved shooting in Baytown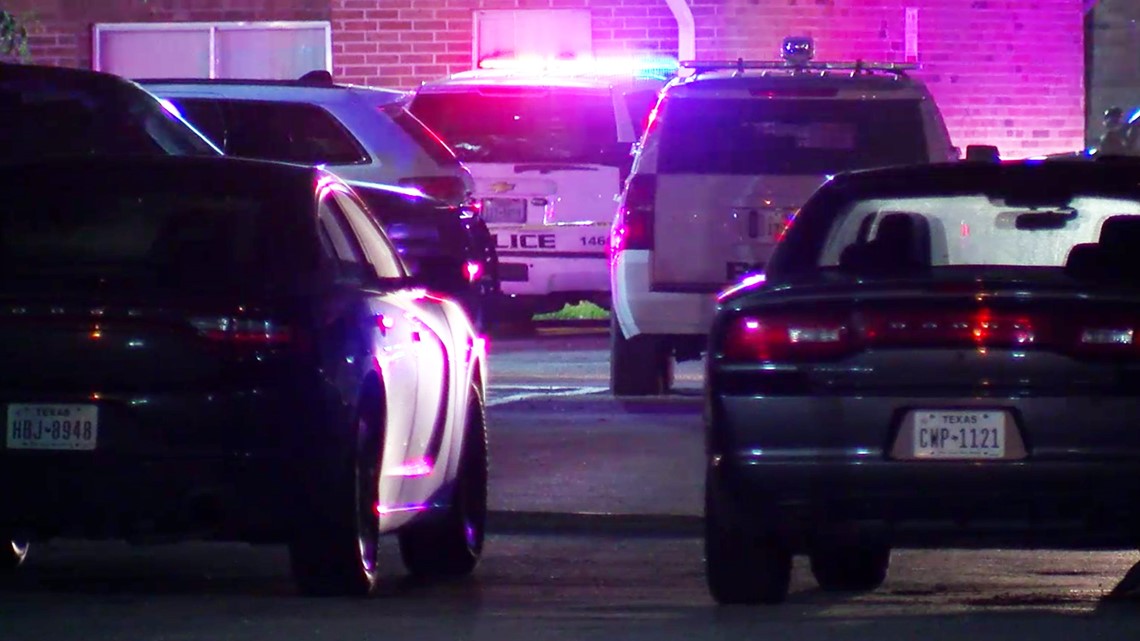 When asked about the witness video going around Snapchat, Lt. Dorris said they'd like to speak with the witness who recorded it.
"It's unfortunate that someone takes a tragic incident like this and starts posting it on social media," said Dorris. "It's extremely disrespectful for everybody involved. But that's the day and age we Live in with social media."
"It's a tragic event for everybody involved," said Dorris. "Our hearts go out to the families of the deceased, as well as our officer."
Dorris told KHOU 11 the apartment complex parking lot is part of the officer's regular patrol and it's "very common" for officers to go through complexes on their beat looking for crime overnight.
The Harris County District Attorney's Office is assisting in the investigation, and as per standard protocol the officer has been placed on paid administrative leave.
Baytown police said the officer's name will not be released for at least three days.
ALSO POPULAR ON KHOU.COM
► Make it easy to keep up-to-date. Download the KHOU News app now.
Have a news tip? Email us or message us on our Facebook page or Twitter feed.