AUSTIN, Texas — Ohio State confirmed to The Columbus Dispatch Tuesday evening that Texas head football coach, Tom Herman, was the unnamed assistant coach who accompanied former Ohio State assistant coach, Zach Smith, to a Florida strip club back in 2014.
This occurred while Herman was the Buckeyes' offensive coordinator.
Ohio State University spokesman Chris Davey told The Dispatch that Herman was the coach mentioned but unnamed in the 23-page final report of the investigation into football coach Urban Meyer's handling of domestic abuse accusations against Smith.
Officials at the University of Texas declined to comment Wednesday about the reports of Herman accompanying former OSU assistant Zach Smith to a Florida strip club back in 2014.
Texas offensive coordinator, Tim Beck, was Urban Meyer's co-offensive coordinator at Ohio State in 2015 and 2016 before following Herman to Austin.
When Beck was asked about the Ohio State situation in a press conference Wednesday, Beck respectfully said, "I don't want to discuss anything at another school. My focus has been on (Texas Longhorns team). I've got a big job to do here. Number one, these kids deserve my best then my family does."
The initial report didn't mention who Smith was with.
However, Ohio State's independent investigation revealed a potential NCAA violation during the recruiting trip: a strip club visit involving former assistant Zach Smith, another "unnamed Ohio State coach" and one or more high school coaches, Letterman Row reported.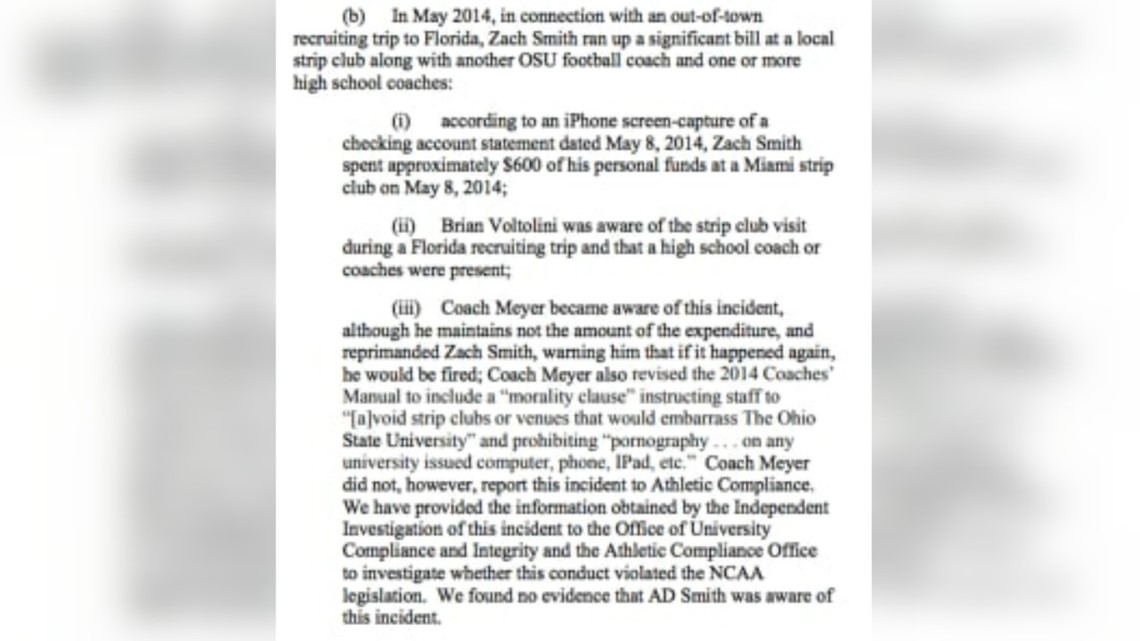 "In May 2014, in connection with an out-of-town recruiting trip to Florida, Zach Smith ran up a significant bill at a local strip club along with another OSU football coach and one or more high school coaches," stated the public investigation findings released on Wednesday by the university. "We have provided the information obtained by the Independent Investigation of this incident to the Office of University Compliance and Integrity and the Athletic Compliance Office to investigate whether this conduct violated the NCAA legislation."
The website also reported "multiple sources with direct knowledge have confirmed to Lettermen Row that the unnamed Ohio State assistant with Smith was the program's former offensive coordinator and current Texas coach Tom Herman."
According to the investigation findings, Meyer threatened to fire Smith if it happened again.