LITTLE ROCK, Ark. — Warm and humid air has built into the region setting the stage for strong to severe storms to develop on Friday ahead of a cold front charging through Arkansas.
Thursday evening showers and storms, which could be severe, are expected to develop over Oklahoma and Northwest Arkansas.
This line will slowly bleed into the northwest and west regions Thursday evening and lasting through the night.
The primary concern along this line will be for heavy pockets of rain lingering over the same areas, which could add up to several inches of rain and cause flash flooding.
A flash flood watch has been posted for the north part of the state for the threat of flooding.
Areas that could see flash flooding would be small creeks and streams, low lying areas, and poor drainage.
Roads may be washed out due to flooding, Use caution while traveling and never go through a flooded road, especially if the water is moving.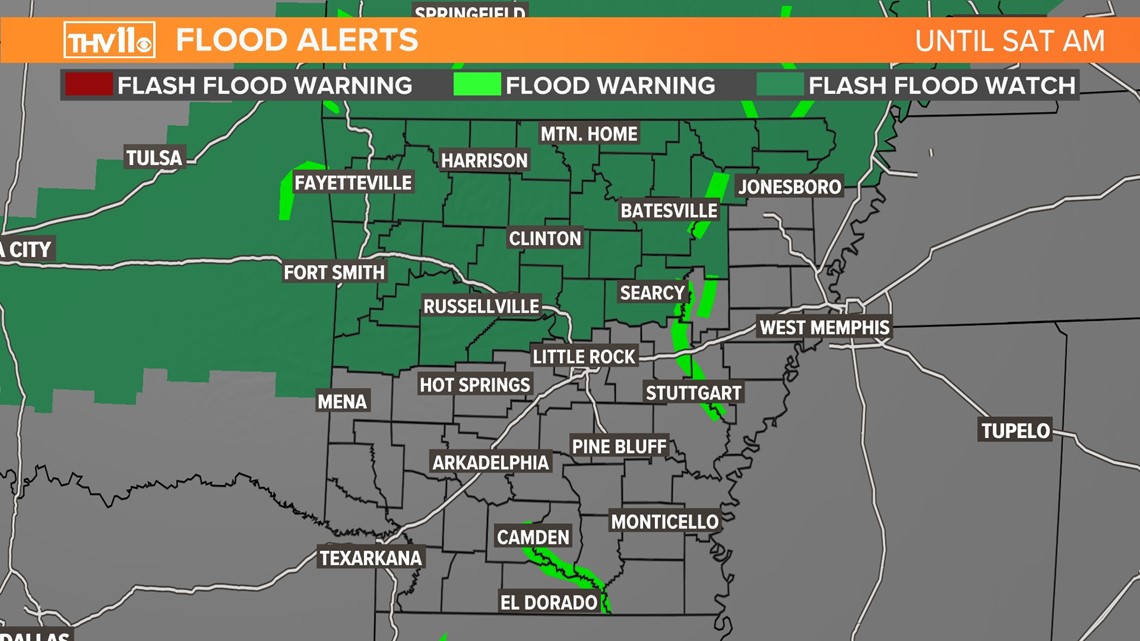 The severe risk Thursday night is slight for areas north and west of Little Rock due to one or two storms could produce large hail and damaging winds. The threat of quick tornado is slim but can't be ruled out.
As the line of storms drift south and southeast through Friday morning into the afternoon they will likely intensify as they move into an unstable environment and the risk of tornadoes will increase through the day.
The latest Storm Prediction Center severe weather outlook has a moderate risk of severe weather potential from Stuttgart to Pine Bluff, to Fordyce to El Dorado and east. Searcy, Conway, Little Rock, Malvern and Arkadelphia could also see a few storms that reach severe limits and has been placed under an enhanced risk of severe weather.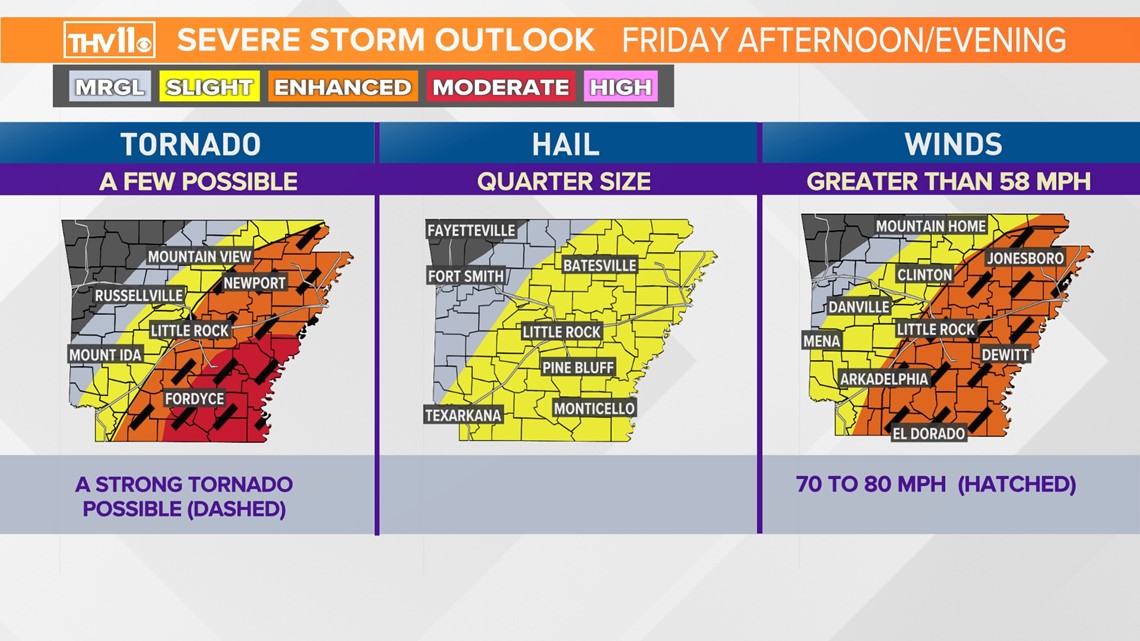 Any storm in these areas could produce damaging wind gusts of 70 to 80 mph, large hail measuring the size of a golf ball and/or tornadoes.
Some tornadoes could be strong and produce EF2 or greater damage due to the amount of low level shear expected to be in place.
The highest risk of tornadoes appears to be from 1 p.m. until 9 p.m. expect a tornado watch to be issued for a large part of the state. But stay weather aware even Friday morning as the potential of an isolated severe storm will be possible.
Here is what the radar could look like according to one model forecast.
When a tornado warning is issued for your area, make sure you have a plan of where to go. Which is the lowest level of a sturdy structure that is anchored to concrete in the ground.
A mobile home or manufactured home is not a safe place even a weak tornado can do significant damage. If in a sturdy structure find a room with no windows, or exterior walls. An ideal place would be an interior bathroom, closet, or hallway.
Put your shoes on, and grab a helmet, pillows, blankets, and a mattress if you have time to protect yourself as best as possible from flying debris.
The THV11 Weather Team will be watching the trends of the event and will keep you informed until the severe weather has passed which will be later Friday evening.