How you can stay safe in the event of severe weather
Our goal at THV11 is to help prepare you in the event that severe weather is expected where you live— so our meteorologists broke down all you may need to know.

Spring is right around the corner— and so is severe weather season.
March, April, and May are considered the most likely times to experience severe weather, with a second season occurring in late fall.
With that in mind, it makes it even more important to remain weather aware.
Our team of meteorologists will discuss the best methods of receiving severe weather information, and clarify the difference between watches and warnings.
They will also share the best methods to keep your family safe, what you need to include in your safe place, and finally what this severe weather season may look like.
So first off, do you know the difference between a watch and a warning?
Warnings vs. watches
:
Here's the difference
Let's break it down. A watch means that conditions are favorable for the development of certain hazardous weather conditions, whether it's for severe thunderstorms, tornadoes, flooding, or winter weather.
Areas under watches cover a broad region, typically several counties or states. Basically, it's best to think of a watch as a heads-up!
A warning means that specific weather conditions are imminent or occurring.
During severe weather season that means that the signs of a severe thunderstorm or tornado are being detected on the radar, or have been visually spotted.
Warnings usually are also smaller scale polygons that cover defined areas.
In recent years, the warning polygons have become more detailed to explain the different types of impacts that may be happening within the storm.
Whether it's a watch or warning, you want to have different methods of receiving these severe weather alerts:
For years outdoor sirens have been used for severe weather alerts, but it's only reliable if you are outdoors. Broadcast television and radio are usually a go-to source for critical severe weather information, but it's not the best option if you're not near one or if the power goes out.
This is where a NOAA Weather Radio comes in handy. It's battery-powered and can be used to receive continuous weather information from the nearest national weather service office.
Our phones can also give us access to weather information.
You can rely on Wireless Emergency Alerts or texts, even weather apps such as our THV11 App as other ways of receiving severe weather alerts on the go.
Let's all do our part to be as prepared and aware as we head into severe weather season.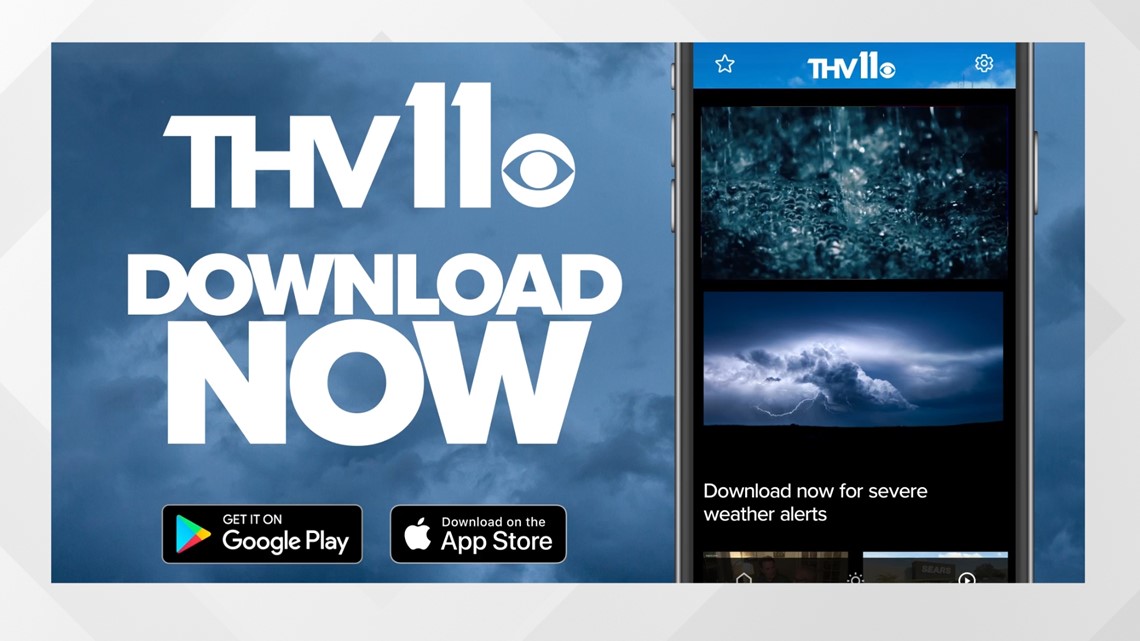 Staying safe in severe weather
:
Here are the best practices
Next, where is the best location in your home to keep you safe? And what if you're not a home when a warning is issued?
Let's talk about what you can do now to be prepared for the upcoming storm season.
Determine the innermost room on the lowest level of your home and make sure everyone in your family knows exactly where to go when a warning is issued.
Talk through the plan and practice it from time to time. Often kids know where to go while they're at school, but don't know where to go in their own homes.
Number two: Make an emergency preparedness kit.
While you can buy pre-assembled kits, keep in mind that yours should be tailored to your own needs. Of course, you'll want flashlights, batteries, first aid kits, and water— but you may want to consider things like a 7-day medication supply, non-perishable food, tools, and copies of important personal documents like passports, birth certificates, and insurance policies.
No need to blow the budget on an emergency kit either— most of the supplies you may want to include are already laying around the house.
If you already have a kit, now's a good time to check each item in your kit – ensuring that nothing has expired, and everything works as intended.
And finally, when you're making your plan and emergency kit— don't forget the pets!
Severe weather during the Spring
:
How active does this season look?
And finally, why do we have severe weather during Spring? And how active does this season look?
Arkansas lies in the middle of a weather battleground which makes it a hot spot for twisters.
Cold, dry air from Canada pushes south and slams into hot and humid air that is rising north from the Gulf of Mexico. This triggers storms to develop across the region ahead of a cold or warm front.
When winds change with speed and height storms can rotate and sometimes that rotation touches the ground.
Tornadoes can occur at any time of the year, but conditions are most favorable during the clashing of the air masses in the spring and fall.
On average from 1989-2013, there have been eight tornadoes that struck Arkansas in April and seven in May.
There have been 891 twisters reported in Arkansas since 2000.
Only four of them were a violent EF-4/F4 status. 83% were less than an EF-1 or F1.
Though Arkansas does see a lot of tornadoes, most are survivable.
We expect to see 38 tornadoes on average per year. The number now stands at 9. Future storms will produce tornadoes this spring, and we have to hope they are weak and not destructive.
At THV11, we're all about keeping you and your family safe and prepared during the severe weather season. Don't forget to download to the THV11 app for up-to-date forecasts and weather alerts.
➤ Sign up now for THV11's Lunchbox newsletter. It sends you the top trending stories, the latest forecast, and more straight to your email!
➤ Download our THV11+ app for live-streaming local news, true crime, and more. You can find it on Roku or Fire TV