Severe storms will be possible Thursday evening into the early morning hours of Friday. The most favored area is Southwest Arkansas.
As of Thursday morning strong southerly winds are bringing warmer temperatures and more moisture to the Natural State. Meanwhile a strong cold front is approaching from the west. The clash of air masses will likely result in thunderstorm development.
The most severe storm ingredients will come together in parts of West and Southwest Arkansas. It's here where the Storm Prediction Center has issued a Level 3 (enhanced) risk for severe weather.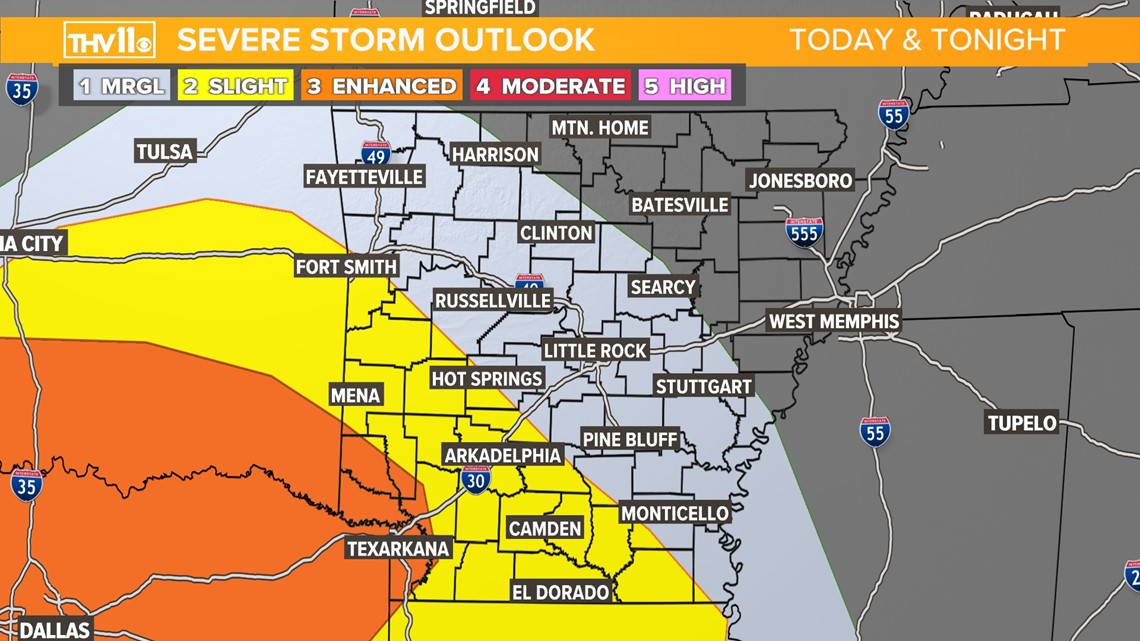 The most likely hazard these thunderstorms will produce are damaging winds in excess of 60 miles per hour, followed by large hail stones. While the tornado threat is low, it's not zero. All storms will need to be tracked closely.
Latest model data suggests the cold front will cross the Oklahoma/Arkansas state line between 5-8PM. Prior to the frontal passage scattered rain showers and thunderstorms will be possible across the state. Heavy downpours, frequent lightning and thunder, and gusty winds will be possible, though this round of activity likely remains below severe limits.
Timeline of Thursday Evening Storms
Along the cold front itself a line of thunderstorms will develop. These are the storms that will be most capable of producing severe weather. Given the overall weather setup and available severe weather ingredients, our most likely hazard will be damaging winds in excess of 60 mph.
While the flash flood potential today is low, given the ground is saturated from recent heavy rainfall, some localized flooding is possible.
Much drier and colder air will filter into the state behind the cold front, resulting in the possibility of a freeze in parts of Northwest Arkansas. Additional freezes are likely each morning between Saturday and Monday of next week.
The THV11 Weather Team will be tracking these storms all night long. It's recommended to heave multiple methods of receiving weather warnings.
The THV11 app is a great resource to receive weather warnings and doppler radar. It's free to download in the Apple App Store and Google Play store.