INDIANAPOLIS — An Indianapolis woman who successfully indulged in three multi-course meals at Golden Corral over the course of 12 hours, without getting booted from the establishment, has now gone viral after a humble attempt to "get her money's worth" captivated foodies across the country.
"I was just curious what it'd be like to be there all day. And what times are the biggest, busiest times," said all-you-can-eat buffet enthusiast Madison B., who is known on TikTok as @ugh_madison.
Her now-viral video serves as a fast-paced culinary documentary of sorts, and starts off around 8:30 a.m. according to a quick timestamp courtesy of her Apple watch. A glimpse of cotton candy cake she deemed her favorite, despite the discovery of a gnarled bit of silver hair she pulled from the cake's multicolored center, was featured first.
"Even though there was hair in it, the cotton candy cake was literally my favorite. I ate half of it by myself," Madison narrated over what appeared to be, indeed, a half-eaten cake.
Although Madison declared the cotton candy cake her favorite item, the Golden Corral breakfast was her favorite meal overall. The Golden Corral wings, one of many surprise food items she didn't know were on the menu, are also a must.
"I like their breakfast the best out of everything, and that's actually the cheapest thing they have. I thought it was a good deal. I usually don't like breakfast, but I really liked their breakfast stuff for some reason," Madison, 20, told 13News.
Breakfast ended two-and-a-half hours in, at which point she dug into the lunch offerings and faced her first serious test: staff had cleared her drink and silverware away from the table.
Undeterred, Madison sat down and "ate anyway," she can be heard saying in the video. The waitress allegedly then told this ambitious diner she thought Madison had gone on her way, and apologized for clearing the table.
Madison said the waitress then told her she would only have to pay once, and could eat and drink as much as she wanted.
"She started bringing me tons and tons of refills. I think she's trying to make me full so I will leave, but I'm not falling for that. I gotta get my $12 worth," Madison narrated in the video.
Those courteous refills did little to quell the pain rising in her stomach as minutes ticked by.
"I think maybe like, six hours in, it hurt so bad that I was thinking about leaving. But I was like – nope. I already made it six hours. I can keep going," Madison said.
She persevered to dinnertime at 4 p.m. Madison narrated in her video the manager approached her around that time, and said his staff needed to start moving tables for dinner.
Although Madison thought she would get kicked out because she had been there for eight hours, the manager simply requested she switch tables.
"I helped them move mine. My waitress said her shift is ending soon. So, I gave her a tip, and I moved to the other side of the restaurant," she narrated. "He just asked me to switch tables and go back and get my food."
Toward the end of her time at the buffet, Madison munched on grapes until her hour was up.
"I would pick like one grape up and eat like really slow," Madison said. "Because I don't want to be loitering."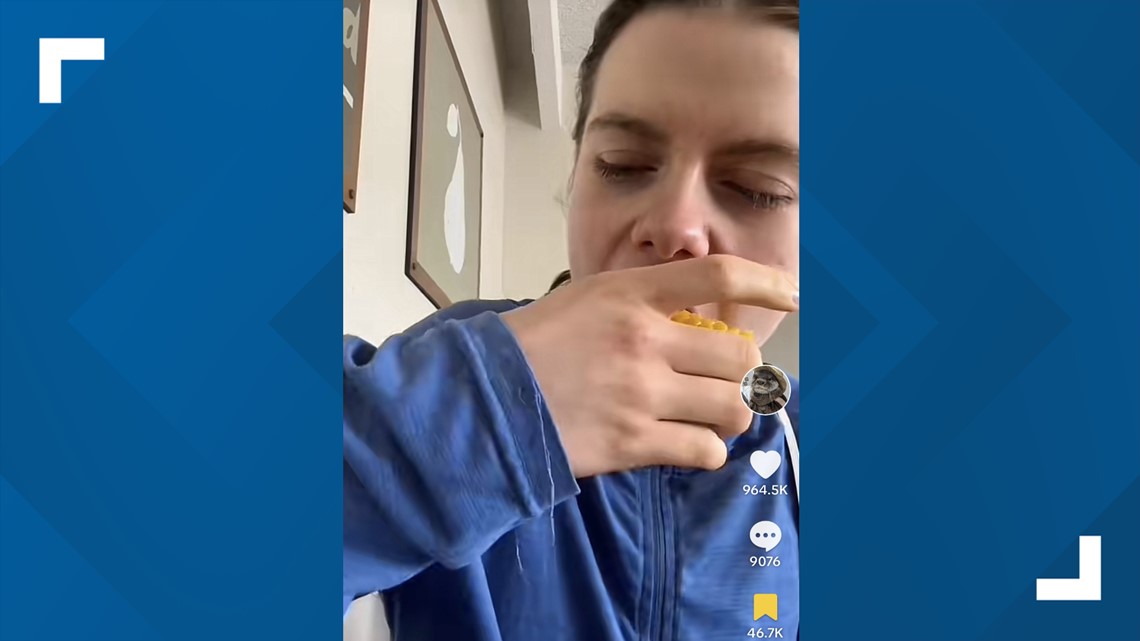 One final flash of her watch at 8:30 p.m. showed she left the Golden Corral a full 12 hours after first stepping inside.
"I ate more than I ever ate, in a whole day, in my whole life on that day," Madison said.
"What an accomplishment — unlimited food and drink for $1 an hour. Best day ever. I think I got my money's worth, but let me know what you think," she narrated in the video.
Let her know, they did. Her video now boasts 8.5 million views, with most TikTokers applauding her efforts, saying she probably made the waitstaff's day and requesting more buffet tips.
"Bro please make a series of this. I followed just for it," one user commented.
Others were less amused, saying she took up waitstaff's time with her half-daylong presence.
"When I was a server, management wouldn't let you leave until your last table did. NO MATTER WHAT. Glad for your server that this wasn't the policy here," one user commented.
But Madison said the waitstaff was kind to her, especially considering they did not kick her out as she anticipated at the start of her challenge.
"They were all super nice. And I asked if I have to pay, and they didn't end up making me pay again. The manager saw me multiple times, and he was super nice to me every time. And I was really confused by why they were so nice in letting me stay that long. But I appreciate it," Madison said.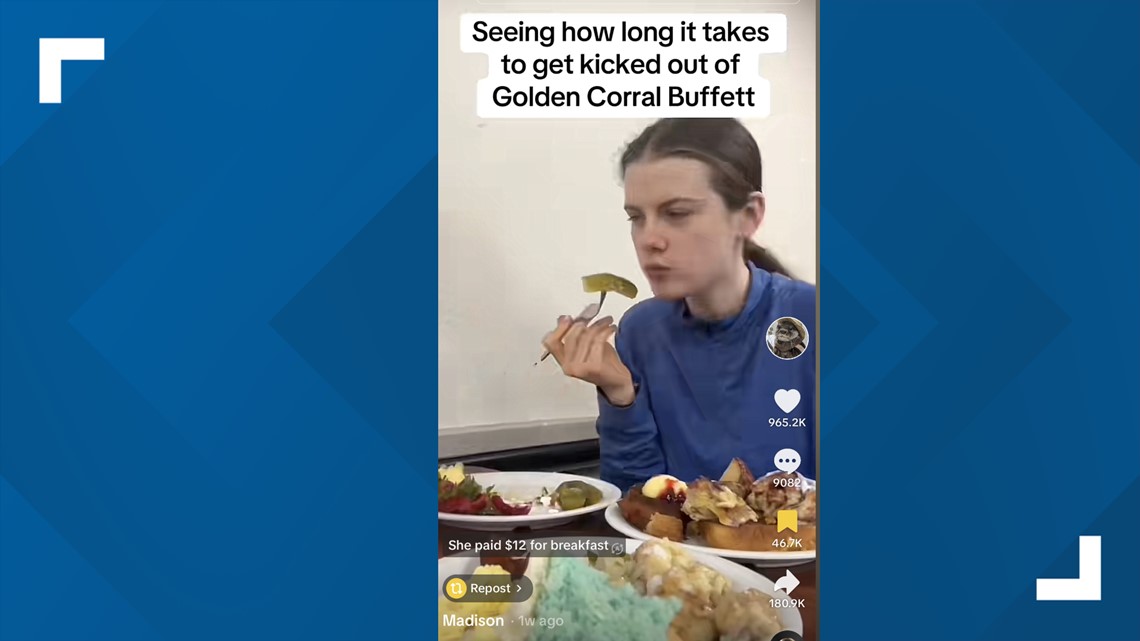 After her grueling 12-hour stint, Madison cannot in good faith recommend staying all day at Golden Corral. One meal, she believes, will satisfy.
"I would go eat at Golden Corral again. But, maybe not 12 hours. Maybe six hours or something," Madison said.
Other buffets though? Fair game. The creator kept mum about which Indy spots she would challenge herself to next.
"I think I might go to more buffets. But I think, if I say their name, then they might be on the lookout for me. I gotta keep it low-key," Madison said.
Golden Corral has more than 400 locations, according to its website. It was founded in North Carolina as a steak diner in 1972, before transitioning to a buffet-style diner in the 1980s. Signature dishes include pot roast, yeast rolls, fried chicken and the chocolate waterfall.
While Madison claimed to pay $12 for her three meals, the actual price may vary by location.
"There are no hidden costs or fees when dining at Golden Corral. Customers pay a flat fee for their meal, which includes unlimited servings of food and non-alcoholic beverages," according to a site that tracks Golden Corral prices. "The price of the meal varies depending on the time of day and the location of the restaurant."